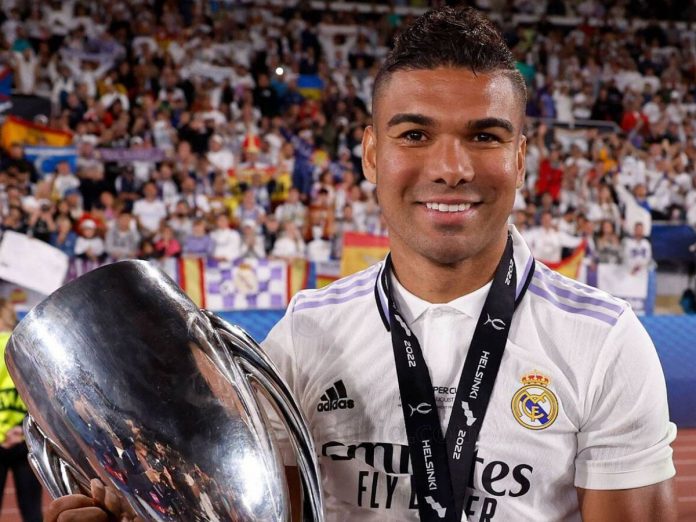 Manchester United presently are in dire straits and several senior players at Old Trafford have pressurized the Glazers family to make new signings for this season. United already have had 2 dismal performances in the Premier League and their shortcomings have been heavily highlighted and exposed. Erik Ten Hag already has an enormous amount of pressure on his back and the light at the end of the tunnel has finally manifested in the form of a signing of Brazilian mid-fielder Casemiro.
In this article, we take a look at 3 possible reasons as to why Manchester United have signed Brazilian mid-fielder Casemiro:
1. Casemiro has the golden touch: Has won 5 Champions League titles for Real Madrid
Casemiro was no short of a legend at Real Madrid. His surpassing skill and power as a defensive midfielder earned him a spot among the greatest midfielders to have ever played for Real Madrid. In 9 years, he made sure Real Madrid lift 5 UEFA Champions League Titles. He made Real Madrid win the elusive title in 2014, 2016, 2017, 2018 and 2022. The "Red Devils" would be hoping that his presence would make United qualify for the Champions League for the next season.
2. Manchester United were desperate for a defensive midfielder
One of the prime reasons why United lost against Brighton 0-4 was their lack of a good defensive midfielder. The midfielders were toothless and that ensured the Brighton strikers have a safe passage with the ball. With the inclusion of Casemiro, that problem gets solved. His knowledge about the sport and his experience would bode well for United.
1. Heavy pressure on Erik Ten Hag and the Glazers family to make quality additions
Even though United signed Christian Eriksen, Andreas Pereira and Lisandro Martinez, the United players and fans wanted more quality signings to help the club lift itself from danger waters. Erik Ten Hag and the owners of Manchester United, the Glazers family were under severe pressure to make a quality move. With the signing of the Brazilian stalwart, things might just fall into place at Old Trafford.
Also read: 'The Media is Telling Lies', Cristiano Ronaldo on a mission to expose truths