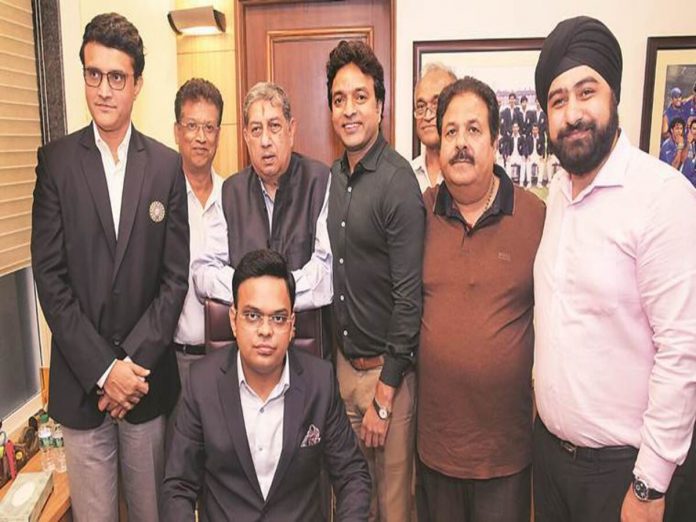 Everyone assumed that the current BCCI office bearers would remain in their positions for an additional term when the Supreme Court permitted the Indian Cricket Board to change its constitution.
However, Sourav Ganguly is about to call it quits with the BCCI. According to circulating rumours, Ganguly won't run in the BCCI elections scheduled for October 18. Ganguly is expected to represent India in the position of International Cricket Council Chairman.
Ganguly won't run for re-election as BCCI president, it was agreed at a recent meeting of the top BCCI officials held in New Delhi.
In addition to the current office holders, numerous veteran officials were also present at the meeting, including vice president Rajeev Shukla and the former BCCI president N Srinivasan, according to a story in Dainik Jagran.
According to the report, the first meeting took place in a hotel in New Delhi, and the second one was held at the home of a prominent BJP official.
The big question is, Who will take control of the world's richest cricket board? Know the top 3 faces who can be the new BCCI president.
3 Big Names Who Can Replace Ganguly 
The most likely contender to become BCCI president is Jay Shah. Along with him, the first contender is the former India all-rounder and selector Roger Binny, and the second candidate is Rajeev Shukla, the current vice president, and former treasurer of the BCCI.
All the contenders have prior experience working for the BCCI in some capacity, and one of them is expected to take over as BCCI president while the other could take over as IPL chairman.
Jay shah
The BCCI is also loomed by an intriguing era. A new election is scheduled for this month, and there is a potential that Jay Shah, the current secretary, may win. Many of the state associations want Shah to be the BCCI's president as well. Jay Shah, 33, is most likely to become the BCCI's (Board of Control for Cricket in India) youngest president.
Rajeev Shukla
Rajeev Shukla, a Congress politician, would be eager to participate as a cricket administrator in various capacities. Shukla might be considering a comeback to the board. It is significant to remember that he has recently participated in board activities. He was once the chairman of the IPL.
Roger Binny
According to media reports, Roger Binny is the clear frontrunner to become the next president of the BCCI. The state associations have begun proposing their candidates to the BCCI AGM as the deadline of October 12 draws near. Unexpectedly, Roger Binny has been chosen by the Karnataka State Cricket Association (KSCA) to represent them in the upcoming elections.
Also Read: IPL 2023 Trading Window: 5 Players That IPL Teams Might Retain In Upcoming Auction