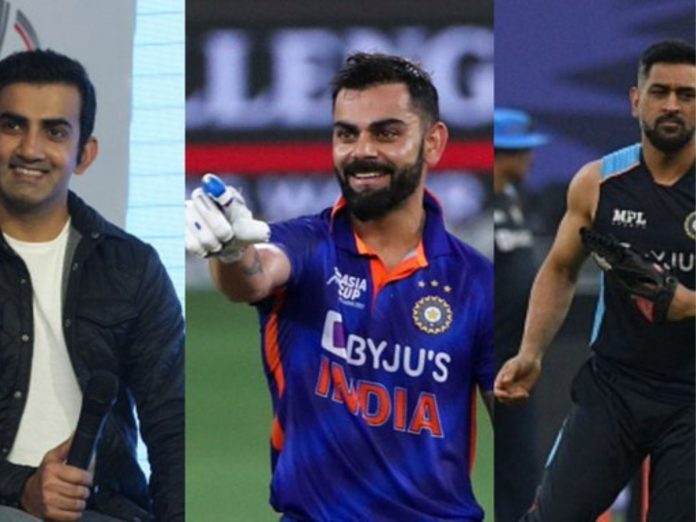 Gautam Gambhir on Star Culture: Former Indian cricketer Gautam Gambhir has fiercely criticized India's 'star culture'. He has said that players should not be made superstars in Indian cricket. This hurts the rest of the players. Because of the big players, the contribution of their fellow players remains unnoticed. He said that in the 1983 World Cup, the stature of Kapil Dev, then Mahendra Singh Dhoni, and now Virat Kohli is so big that whenever these players perform well, the contribution of other players remains unnoticed.
The Former India Opening batter Gautam Gambhir told a media house that no one should be made a superstar in the dressing room. Indian cricket should be the only superstar and not a player.
Earlier there was Dhoni, now there is Virat
When Gautam Gambhir was asked if the arrival of big players makes it difficult for young players to make a name for themselves, Gambhir said, "No one has progressed in such an environment. Earlier there was Mahendra Singh Dhoni, now there is Virat Kohli."
Referring to the match between India and Afghanistan, he said that Bhuvneshwar Kumar of Meerut also took five wickets when Kohli scored a century, but no one paid attention to him. This is unfortunate. Gambhir was the only commentator who spoke about him. He took five wickets in four overs, but hardly anyone knows about it.
At the same time, Virat scored a century, and celebrations were held everywhere in the country. India needs to come out of this custom of worshiping heroes. Be it Indian cricket, politics, or Delhi cricket. We have to stop worshiping the hero. We just need to worship Indian cricket. Or in the case of India or Delhi, Delhi Cricket.
Who creates this culture?
Regarding hero culture, Gambhir said that it is formed due to two reasons. First social media followers and this is probably the fakest thing in the country. Because you are judged based on how many followers you have. Brands are built on this basis.
The hero culture in Indian cricket has been around since 1983. People only talk about the captain of the team, Kapil Dev. The same thing happened in 2007 and 2011 when India won two World Cups under Dhoni's captaincy.
Gambhir said that the second reason for hero culture is the media and broadcasters. He said, "If you talk about one player every day, it will automatically become a brand. It was like this in 1983, then it happened in 2007 and 2011. Who did it?
None of our players, nor did BCCI. Did news channels and broadcasters ever talk about Indian cricket? Did we ever say that Indian cricket needs to shine? There are two or more people who are taking Indian cricket forward. These two-three people Indian cricket is not ruling and shouldn't. This has been my biggest problem. The media and the broadcaster make the brand, no one else."
Also Read: IND vs AUS T20I 2022 Hindi Commentary Team: Commentators Name, Full List, Robin Uthappa Joins The List