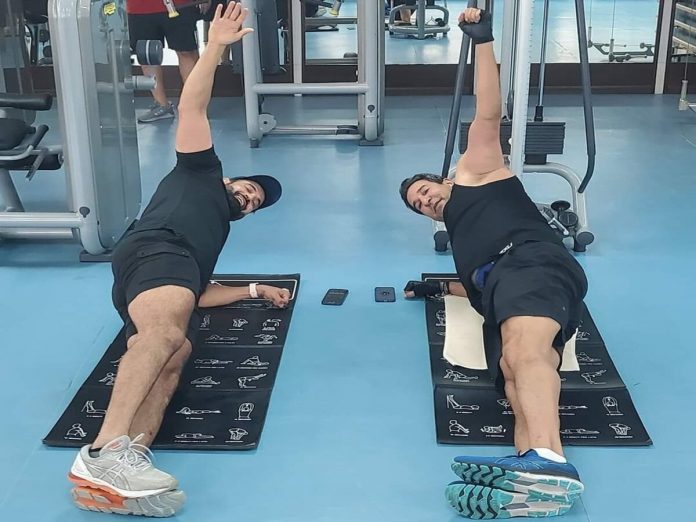 Despite having retired from cricket, Irfan Pathan, a former all-rounder for the Indian team, continues to make news. On social media, Irfan continues to be highly active. Fans continue to watch his amusing images and videos because of this. He recently posted a video with famous Pakistani fast bowler Wasim Akram on social media. when both of the seasoned professionals are seen enjoying themselves.
Irfan Pathan, a former all-rounder for India, and Wasim Akram, a former cricketer for Pakistan, took on the Plank Challenge on Sunday at the Dubai International Stadium prior to the India vs Pakistan Super 4 match. Wasim, 56, is still one of Pakistan's fittest cricket players, but Irfan Pathan, 37, bested the country's pundit in the plank challenge.
Irfan Pathan vs Wasim Akram – Watch Video
Before the important bout on Sunday, Pathan and Akram worked out at the gym and completed the plank challenge in a video that was released to his official Instagram account. Wasim Akram, a former fast bowler for Pakistan, is regarded as the swing king.
Whose bowling used to cause the biggest batsman to perspire. However, Indian player Ifan Pathan defeated him on the gym floor rather than the cricket field. Additionally, the film depicts an upbeat Akram pushing Pathan to the ground after failing the challenge.
Pakistan defeated India by 5-Wickets
In the second of possibly three games between the two longtime rivals in the 2022 Asia Cup, Pakistan pulled off an incredible pursuit to get back at India. India reached 181/7 thanks to Virat Kohli's 60 off 44 balls and two misfields in the last over from Fakhar Zaman.
India dismissed Pakistan's skipper Babar Azam and Fakhar before they could do too much damage, putting Pakistan on the back foot for the majority of the first half of their chase. However, a 73-run partnership between Mohammad Nawaz and Mohammad Rizwan in just 41 balls altered the game's outcome.
After Arshdeep Singh dropped a ball off of him, Asif Ali nearly brought Pakistan home. Arshdeep, however, caught him with only two balls remaining, and Pakistan still needed two runs to win. The next ball saw two runs scored by Pakistan, who went on to win the match by five wickets.
Also Read: IND vs SL Today Match Prediction, Super 4, Asia Cup 2022, 6th September