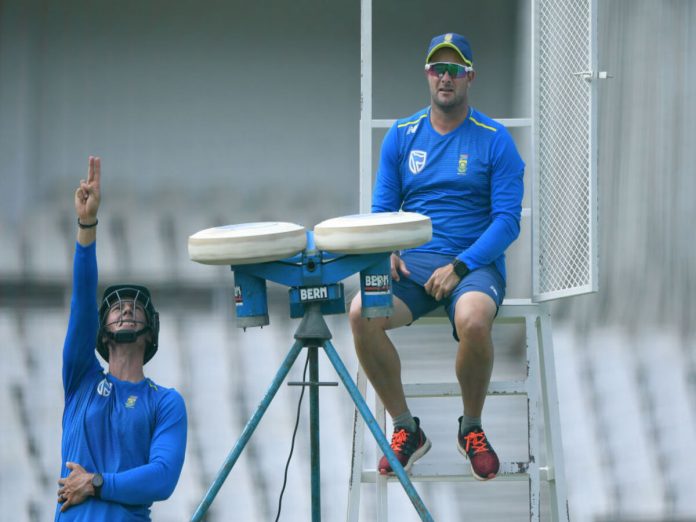 After the 2022 T20 World Cup is over, South African Men's Cricket Squad Head Coach Mark Boucher plans to retire from guiding the team. Cricket South Africa (CSA) confirmed the news on Monday.
Boucher, who took over in December 2019, had a formal agreement with Cricket South Africa (CSA) till the 2023 World Cup. He has, however, made the decision to leave his position with the national cricket body in order to pursue other options.
11 Test matches have been won by South Africa under him, including a 2-1 triumph over India. Additionally, he guided his team to the brink of the 2021 T20 World Cup semifinals.
Notably, there are rumours that Mark Boucher has been approached by a few teams for a coaching position in both the recently formed CSA T20 as well as the Indian Premier League (IPL). According to rumours, Boucher has received several attractive employment offers directly from the IPL and is thought to have chosen one of them. However, both parties are currently engaged in additional negotiations.
Jonty Rhodes
For his mystical prowess on the pitch, Jonty Rhodes will always be remembered. He was one of the greatest fielders in the history of cricket. He had a long history with the Mumbai Indians as their fielding coach. He has also been named the Swedish National Team's coach. He is the Punjab Kings' IPL assistant coach at the moment.
Dale Steyn
One of the finest fast bowlers is thought to be Dale Steyn. During his heyday, he held the top spot among Test bowlers for a record-breaking 263 weeks. For South Africa in Test Cricket, he has taken the most wickets. He declared his retirement from all game formats in 2021 after the last phase of his career that was plagued by injuries.
He was hired as the IPL's Sunrisers Hyderabad team's fast bowling coach in December of 2021. He was frequently attributed with Umran Malik's success in the league as a fast bowling sensation.
Lance Klusener
The 1999 World Cup's infamous run-in between Lance Klusener and Alan Donald, which caused South Africa to lose the match, will live in infamy forever. He has, however, had a distinguished career with both the bat and the ball.
His fierce batting and ability to end partnerships with the ball made South Africa a fearsome opponent in the late 1990s. He has worked for teams like the Dolphins, Glasgow Giants, Delhi Capitals, Bangla Tigers, and others. He has worked internationally for Afghanistan, South Africa, and most recently for the Zimbabwe Men's National Team as their batting coach.
Also Read: IPL 2023 Trading Window: 3 All-Rounders CSK Can Bid For Upcoming Auction