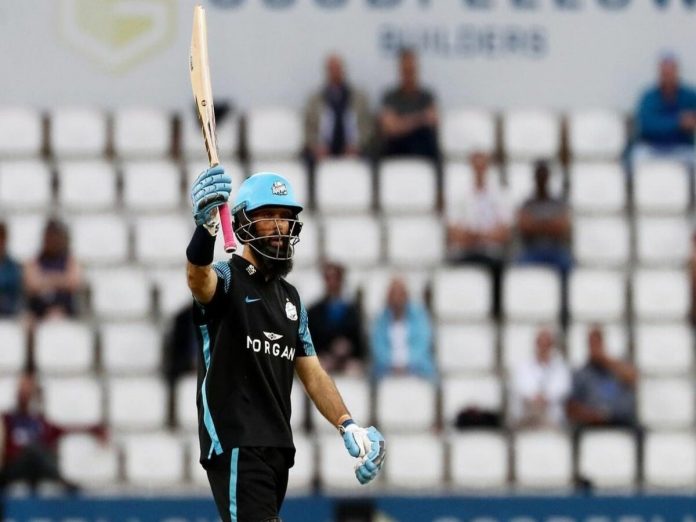 The mystery surrounding Moeen Ali appears to have been resolved, as the English all-rounder will now participate in the UAE-based International League T20 (ILT20). He had been signed by both ILT20 and Cricket South Africa's SA20.
Following a clash with Johannesburg Super Kings in the forthcoming South Africa T20 league, England all-rounder Moeen Ali has confirmed his signing with Sharjah Warriors in the UAE International League T20. Notably, the dates of both the franchise league are expected to overlap, giving the Englishman the option to choose which competition he wishes to compete in.
Most likely that Moeen will play in UAE
According to Cricbuzz, signs to this effect have come from the Chennai Super Kings, whose official has stated that the player could play for the Sharjah Warriors.
"It's most likely that he will play in UAE," the CSK official said on Thursday.
The confusion and overlap are thought to have resulted from a misunderstanding between the CSK franchise and Moeen's managers, who appeared to be unaware that the all-rounder had committed to the UAE league when they were talking with Chennai officials.
I will be playing for the Sharjah Warriors, said Moeen Ali
Meanwhile, the Sharjah Warriors team released a video in which Moeen declares his intention to play for them. Moeen is thought to have signed for $340,000, the highest fee slab for the tournament players.
"Hi everyone, (this is) Moeen Ali here. I just want to let you all know that I will be playing for the Sharjah Warriors in the up-and-coming first edition of the ILT20 in the UAE. (It) should be a great tournament. I am looking forward to seeing you all there in the United Aram Emirates (sic)," Moeen was seen saying in the video.
Welcome to the Sharjah Warriors family, Moeen Ali!

The spin wizard from England is all set to wreck havoc in #ILT20!#SharjahWarriors #CapriGlobal #Internationalleaguet20 #ilt20 #uae #cricket #uaecricket #sharjah @ILT20Official pic.twitter.com/ySwPeAtXsZ

— Sharjah Warriors (@SharjahWarriors) August 31, 2022
Earlier, Graeme Smith, the league's commissioner for the newly renamed SA20 in South Africa, acknowledged the difficult circumstances surrounding Moeen Ali and said that they had agreed on a plan to allow the players to choose the competition that most comfortably suited them.
Also Read: All T20 cricket Leagues 2023: Complete Calendar, SA20, UAE T20 League, IPL, BBL, CPL, PSL, The Sixty, The Hundred, and others