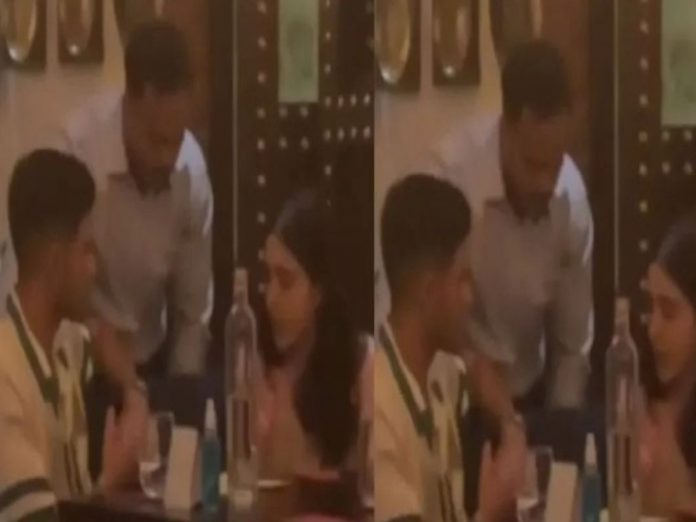 After being seen together in Dubai, Bollywood star Saif Ali Khan's daughter Sara Ali Khan is believed to be dating Team India's top opener, Shubman Gill. They were both spotted together in a restaurant, contributing to the rumours of Gill's new relationship despite the lack of official confirmation. Sara Tendulkar and Gill recently called it quits on their unofficial romance.
A video of actress Sara Ali Khan and India's opening batter Shubman Gill dining out has gone viral on social media, igniting rumors that the two are dating.
The brief footage, posted on TikTok, begins with a woman claiming she just 'saw Sara at Bastian', followed by a clip and a still of the actor sitting across the table from the cricketer. While the woman in the video identifies the restaurant as Bastian in Mumbai, other reports suggest that the two were in Dubai.
Sara and Shubman Gill were seen in the video putting an order with a server next to their table at Bastian in Mumbai, which was posted on TikToker by Uzma Merchant (@uxmiholics). Shubman was wearing a white and green shirt, while Sara was dressed in pink.
Shubman gill date sara ali khan ko kar eha tha aur hum kisi aur hi sara ko lapet rhe the🥲#Shubmangill #CricketTwitter pic.twitter.com/oEAAXqXgOz

— Arun (@ArunTuThikHoGya) August 29, 2022
Sara Ali, and her dating rumours
Earlier, there were rumours that Sara was dating her co-stars Sushant Singh Rajput and Kartik Aaryan. She dated Veer Pahariya before she started working in movies. On the other hand, Sara, the daughter of Sachin Tendulkar, and Gill were rumoured to be dating. The two, however, suddenly stopped following one another on social media, which led to rumours that their romance was over. Sara recently confessed to having love with Vijay Deverakonda on Koffee with Karan.
Also Read: IPL 2023 trading window: Will Jofra Archer, Sam Curran, and Mitchell Starc be the Hotpicks for upcoming auction?