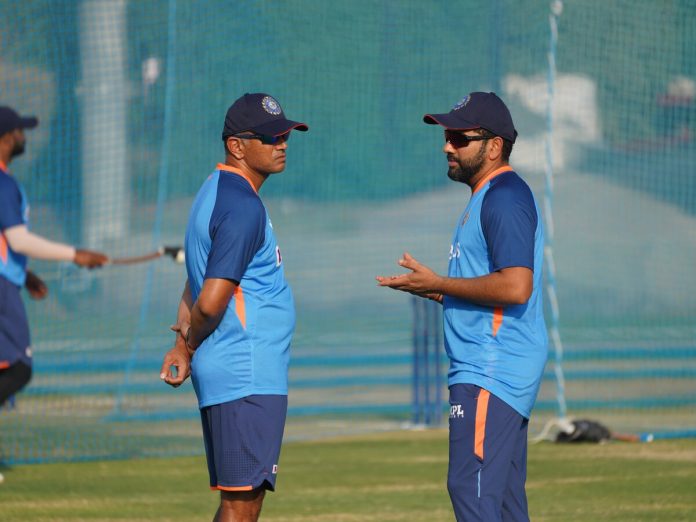 On Sunday, August 4, India will play Pakistan in their opening Super 4s match. The teams battled out a thrilling encounter in the group stages, and when they hit the field on a Sunday evening with the entire world watching them, the expectation will be the same as it was then.
Rahul Dravid, whose participation in the Asia Cup was in doubt after he became ill with the Covid-19 virus only days before the competition began, made a quick recovery and returned to leading the Indian squad.
Prior to the match against Pakistan, the former Indian captain spoke to the media on Saturday evening. His unusual reaction regarding the bowlers' performance left the reporters in splits.
It is a four-letter word that starts with 'S' – Watch
Jammy Sir trying to avoid using 'Sexy' for pak bowlers 🤣 #indvPakpic.twitter.com/lT2AAmnNuv

— Mon (@4sacinom) September 3, 2022
"I wanted to use the word, but I can't use that word, the word in my mind is coming out of my mouth, but I can't use it. The point I'm trying to make is… it is a four-letter word that starts with 'S', but ok. We might not look glamorous, but we have got the guys who produce results," Rahul Dravid said during his presser.
The Indian head coach reportedly wanted to convey that while the Indian bowlers were effective, they weren't as "sexy" as the Pakistani bowlers. Despite Dravid not using the phrase, the reporters in attendance knew what he was trying to say and started laughing.
The Indian bowling coach said that while his team's bowlers may not have as much pace as their rivals, their effectiveness is what counts.
Notably, Ravindra Jadeja's exclusion from the next T20 World Cup dealt India a significant setback earlier today, according to reports. When questioned about Jadeja's injury, Dravid replied that he was not necessarily out of the ICC competition and advised waiting for more information before making any final decisions.
Also Read: Will Ravindra Jadeja play in T20 WC 2022? Coach Rahul Dravid reacts; Watch