ODL vs ODJ Dream11 Team Prediction MGM Odisha T20 | Match 19 | 5th Jan 2021
Advertisement

Odisha Lions will take on Odisha Jaguars in the 19th match of the tournament. Both the teams are at the bottom half of the table with Jaguars yet to open their account and have lost five matches in a row. On the other hand, the Lions have won 2 out of their 5 matches and are at the fourth position. Since they have a good net run-rate, they can still move up in the points table if either Pumas or Cheetahs lose on 4th January. Let's go through our Dream11 Team Prediction for the upcoming game of MG, Odisha T20 between Odisha Lions and Odisha Jaguars.
Match Details:
Date & Time: 5th January 2021, 11:30 AM IST
Venue: Barabati Stadium, Cuttack, Cuttack
Pitch condition:
So far, the conditions have assisted the bowlers more and the batsmen have struggled to time the ball. However, we did see a few batsmen doing well here as well and one cannot simply predict the day.
Venue Stats
Number of matches so far- 16
Avg 1st innings score(recent five matches)- 127
Matches won by the team batting first- 8
Matches won by the team batting second- 7
Recent Form-
ODJ- L, L, L, L, L
ODL- W, L, N/A, W, L
Squads:
Odisha Jaguars: Lagnajit Samal, Girija Rout, Rashmi Sahoo, Sunil Sahoo, Shamsul Khan, Kshyama Bal, Sandeep Chauhan, Rahul Choudhary, Manoj Kashyap, Nirbishankar Barik, Abhijit Barik, Anwesh Das, Dibya Das, Nihar Bhuyan, Bibhu Mallick
Odisha Lions: Rakesh Pattanaik, Saroja Panda, Subhrajyoti Mishra, Swastik Samal, Biswabhusan Bihari, Bikash Rout, Ajay Goura (WK), Sujit Skhetra Lenka (C & WK), Alok Mangaraj, Chinmay Sahoo, Nauttam Bhanja, Ansuman Tripathy, Deepak Behera, Sibhasish Sahoo, Durgaprasad Behera and Abhishek Giri.
ODL vs ODJ Dream11 Team News:
Odisha Lions:
Despite having some of the best players from Odisha, The Lions have found it difficult to win matches and are lacking consistency here. However, they will come into this contest after a big win over the Tigers, one of the strongest teams in the tournament. They went on to win the match by 67 runs.
Odisha Jaguars:
It is not like Jaguars are a poor form. Though they have lost all their five matches, they didn't go down without a fight. In fact, in their last outing, the team had managed to take Odisha Panthers, the top team, to the super over. Jaguars do have quality players but it is just the timing.
ODL vs ODJ Dream11 Prediction, Line-Ups:
ODL Playing 11:
Wicket-keeper: SS Lenka
Batsmen: S Samal, S Mishra, B Rout,
All-rounders: R Pattanaik, D Behera, B Bihari
Bowlers: S Sahoo, N Bhanja, A Giri, A Mangaraj
ODJ Playing 11:
Wicket-keeper: K Bal
Batsmen: A Barik, R Sahoo, S Sahoo, S Khan
All-rounders: G Rout, N Barik
Bowlers: L Samal, M Kashyap, R Choudary, S Chauhan
Captain Pick for ODL vs ODJ Dream11 Team
Option 1: Lagnajit Samal
Lagnajit Samal is one of the top choices for the captain on the fantasy side. He has contributed with both bat and ball and has a decent economy rate as well.
Option 2: Pattanaik
Pattanaik is the best all-rounder available in this fixture. He is an attacking batsman and has a strike-rate well over 100 and has produced dots at regular intervals.
Vice-Captain Choice:
Option 1: Girija Rout
Girija Rout is the leading run-scorer for Jaguars. He so far has 117 runs with an average of 29.25.
Option 2: Subhash Saho
Subhash Sahoo is the leading wicket-taker for the Lions. He has done well to grab 8 wickets from his 5 outings. He has an economic rate of 4.53.
Top three Picks For ODL vs ODJ Dream11 Team:
Deepak Behera- 5 matches- 56 runs- 4 wickets
Manoj Kashyap- 5 matches- 6 wickets- 21 runs
Bikash Rout- 5 matches- 82 runs- 109.11 strike-rate
Best ODL vs ODJ Dream11 Fantasy Team Combinations:
Head To Head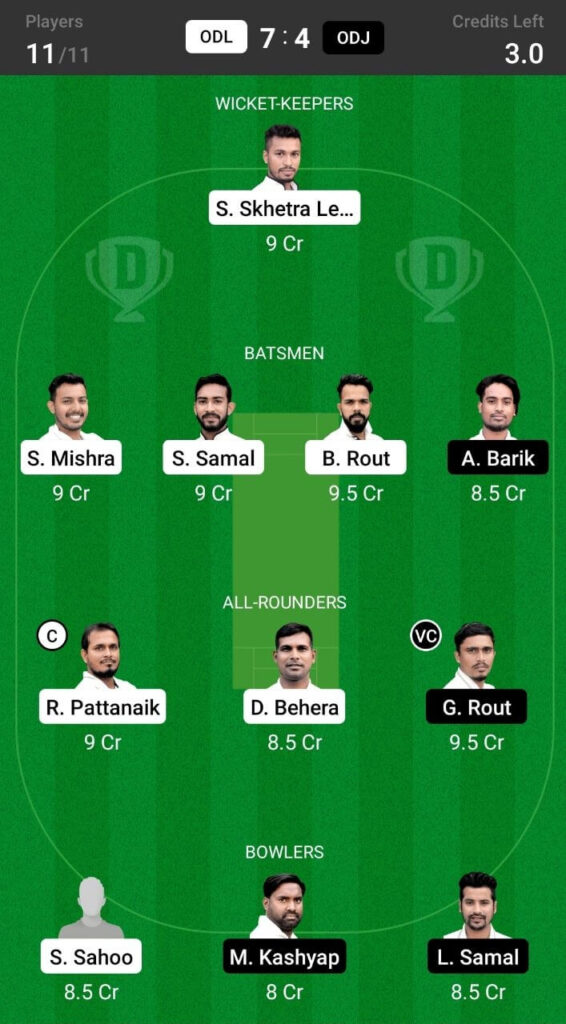 Grand League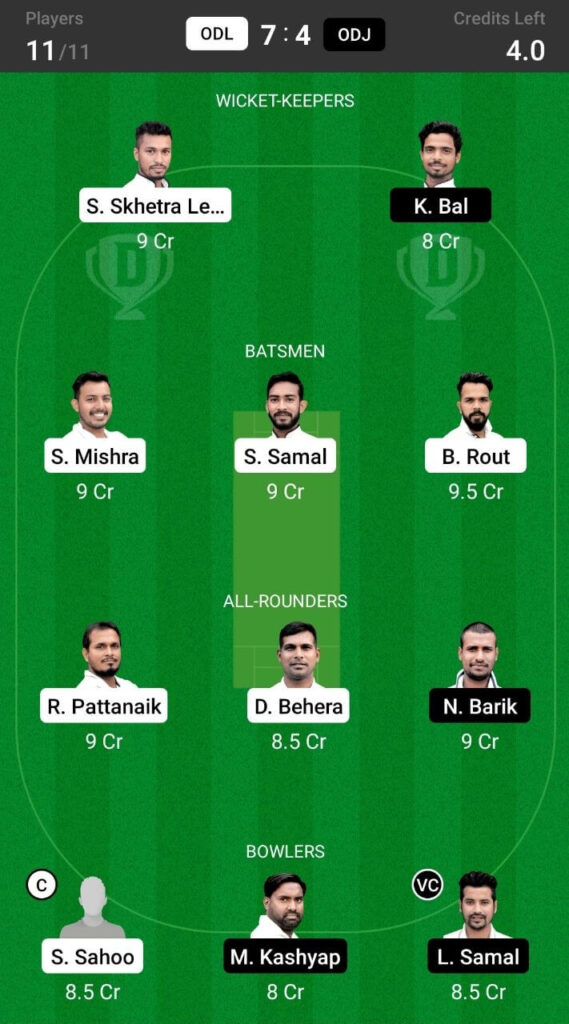 ODL vs ODJ Dream11 Team Prediction: Who will win the match
With no doubt, Odisha Lions will begin this contest as the favorites according to our Dream11 Team Prediction experts. They have done well here compared to Odisha Jaguars. The latter, however, are capable of producing surprises, something they did in the last outing as well. In the last outing, Jaguars managed to reduce Panthers to just 105 and almost won the match.