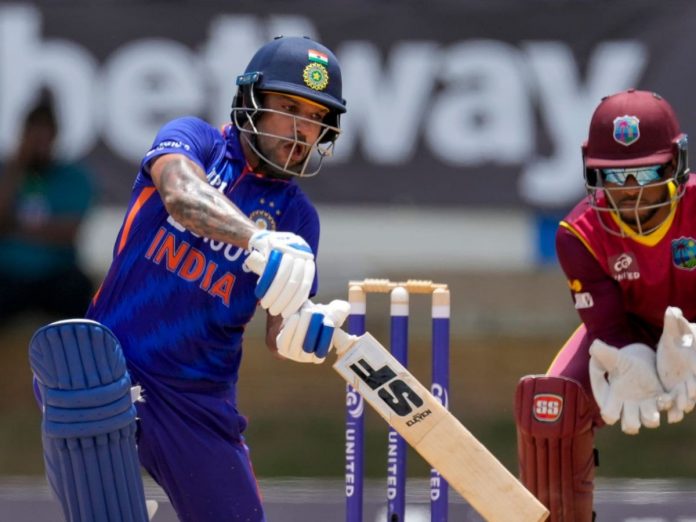 India vs West Indies 3rd ODI match will take place today in Port of Spain at 07:00 PM IST. The Indian team would still like to clean the West Indies in the entire series by winning today. The Indian team has won two matches so far and has also won the series. Men in the Blue have a chance to create history today if India defeats the West Indies in this 3rd ODI, then it will be the first time that Team India will clean sweep the West Indies on their homeland which has never happened before. If the team does this, then Shikhar Dhawan will become the first captain who has done this work. Although this task is not easy, because the West Indies team is giving a good fight to India.
For this, you have to look at the last two matches. Captain Shikhar Dhawan has been batting well. In the first match, he had come very close to the century but became a victim of nervous nineties. However, his bat did not perform well in the second match. Dhawan can be included in his team. After this, the second batter could be Shai Hope. Shai Hope had scored a century in the last match, which was the reason why the West Indies team managed to score more than 300 runs. Brendan King can also be kept on the team, when he plays, a very aggressive inning comes out of his bat. Shreyas Iyer's bat plays well against the West Indies and in this series he has also tried his best to overcome his weaknesses. His bat can run in today's match as well.
Also Read: WI vs IND: KL Rahul set to miss all the five T20is against WI, Pant or Kishan to open with Rohit Sharma
Nicholas Pooran and Sanju Samson can also get points

After this, you should also have Nicholas Pooran in your special team and will definitely include Sanju Samson, the wicket keeper of the Indian team, maybe he will play a big inning today. The way Axar Patel batted in the last match and got the Indian team back in the out-of-hand match, it is commendable. In such a situation, keeping him out of the team can be free from danger. As bowlers, you can keep Yuzvendra Chahal, Alzarri Joseph, Mohammad Siraj and Avesh Khan in the team. However, the final decision will be taken only after both the captains come for the toss and announce their playing XI. As far as the captain is concerned, Shreyas Iyer can be a better option. At the same time, you can make Shay Hope as the vice-captain.
This could be your special XI: Shikhar Dhawan, Shay Hope, Brendan King, Shreyas Iyer, Nicholas Pooran, Sanju Samson, Axar Patel, Yuzvendra Chahal, Alzarri Joseph, Mohammad Siraj, Avesh Khan.