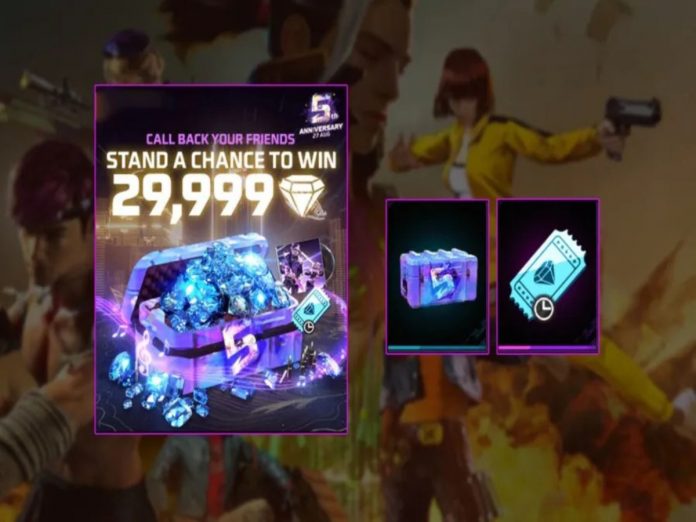 One of the most widely played battle royale games in India is Garena Free Fire MAX. This game has a huge amount of in-game rewards, some of which can be obtained by players during various events. Garena Free Fire has launched a new special event for the players.
Free Fire 5th Anniversary Music, crates, and coupons are available to gamers that take part in the Call Back Your Friends event. Users who are lucky might even win gifts and as many as 29,999 diamonds.
The event is already live in-game and will be accessible till September 1st. These events are regularly announced by Garena to keep players interested. Players can call back a certain amount of their friends as part of the recent Call Back Your Friends Event, which includes simple objectives. If they each return the calls, they will receive benefits. Players will therefore have ample opportunity to acquire rewards.
Diamond Royale Vouchers, a Voilet Breams Crate, and the soundtrack from Unite – Free Fire 5th Anniversary are the incentives that are now on offer. In essence, players can call back one buddy to receive a Diamond Royale Voucher and a Voilet Breams Crate.
By calling back three friends, they will also receive an additional 3x Voilet Breams Crate, Unite – FF 5th Anniversary soundtrack, and 2x Diamond Royale Vouchers in Garena Free Fire. By calling back 5 friends, they will also receive 3 additional Diamond Royale Vouchers and 5 additional Violet Bream Crates. Finally, they can call back seven pals to receive a further 7x Violet Breams Crate and 5x Diamond Royale Vouchers.
These are the benefits and rewards of the ongoing Call back event. There will be more rewards available, such as Justin Bieber collaboration items, Mystery Shop events, and more.
Also Read: Garena Free Fire Partner Program: Requirements, perks, and procedure to apply in 2022