One of the biggest names in football and one of the biggest names in the gaming sector – two worlds collide, and fans could not be more filled with excitement! In a delightful and sensational move, PUBG Mobile has announced its collaboration with Lionel Messi. PUBG Mobile and soccer fans are over the moon about this partnership with Messi, which has to be the largest in the game's history.
One of the most well-known figures in football, Messi is regarded as one of the all-time greats. He has won various awards, including a record seven Ballon d'Ors and a record six European Golden Shoe while representing some of the greatest teams in the world and leading the Argentina national team. This PUBG Mobile x Messi partnership will undoubtedly be a treat for all Messi fans. It is also an opportune path for PUBG Mobile to expand its reach far and wide.
Leo Messi on the collaboration
Messi stated, "Video games have always been a huge part of my life. I find them incredibly helpful to relax and enjoy myself when I'm not training, and to connect with my teammates, friends, and family. PUBG MOBILE is so much fun, and I am personally amongst its millions of fans all over the world. I am proud of what we've been working on and want to invite all players to join me in PUBG MOBILE."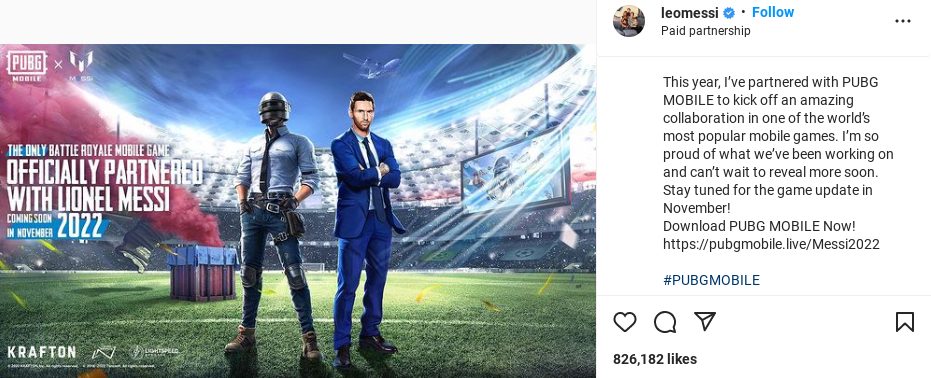 Statement by Tencent Games
Vincent Wang, Head of PUBG MOBILE Publishing, Tencent Games said, "We're incredibly lucky to have such a global sporting superstar join PUBG MOBILE. Knowing that many of PUBG MOBILE players are big football enthusiasts as it is, we can't wait to champion the sport in-game, as well as spread its joy to new fans."
PUBG Mobile officially announced the collaboration on their Twitter handle. You can find the tweet here below.
What does the collaboration entail?
The collaboration with Messi will bring in a special selection of in-game outfits and other unique items. These items will be available for a brief period of time. Not much has been revealed apart from this about the collaboration yet, but it will definitely be revealed in the coming weeks.
Collaboration Date
PUBG Mobile revealed that the partnership will take place in the Version 2.3 update that will come this November.
Also Read: PUBG 2.2 Update: Is It Coming To BGMI? When Is BGMI Returning?