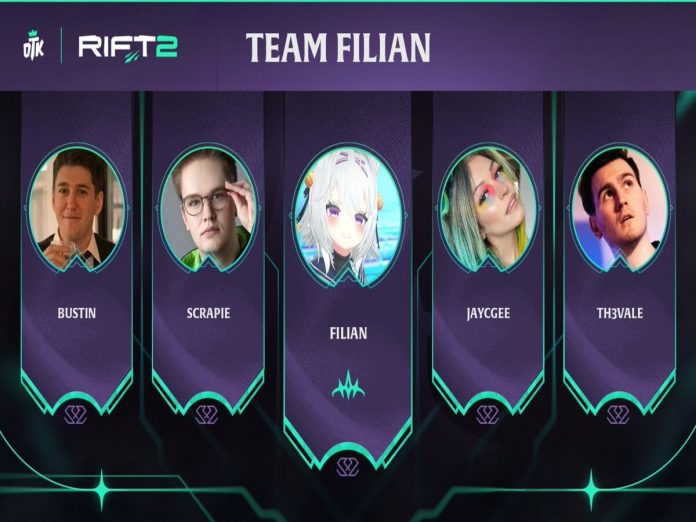 OTK Rift 2 is a League of Legends tournament comprising 8 teams of five streamers each, under the leadership of their individual team captains. Hosted by OTK and Starforge PCs, the teams compete for a $25,000 prize pool.
The various teams were categorized into two groups. The OKT Rift 2 tournament culminated with a win for Team Filian. Keep reading to learn more details about the tournament, the teams, etc.
Teams
Group A
Team Sodapoppin
Team Tectone
Team Buddha
Team CrazySlick
Group B
Team Filian
Team Clint
Team Ludwig
Team Mizkif
Format
The live-streamed competition was divided into two unique phases, the first of which was a group stage with two groups of four teams competing against one another in a single round-robin format. The top two teams from each group then moved on to the playoff round, while the worst two were automatically eliminated. The final four teams played in a single elimination bracket in a best-of-three series during the playoffs.
Winners
Team Filian swept through the playoffs after finishing each group unbeaten to take home the OTK Rift 2 championship. The elimination bracket seemed more open than anticipated for a Filian run after the shock elimination of the defending champions Team Buddha in the group stage.
Road To Finals
Team Filian encountered its toughest challenge when it met Team Clint Stevens in the championship round. Game one was easily won by Team Filian in just 25 minutes, but Team Clint Stevens surprised everyone by displaying greater tenacity. Having been on the back foot for the majority of game two, Lacari used a backdoor teleport to enter Team Filian's base and give his team the tying victory.
Teams Clint and Filian engaged in team fights in the third and final game of the series. Even as the fight progressed, neither team was able to gain a meaningful advantage through cash, kills, or objectives. Team Filian won the tournament after an opportunistic call by the team which caused the top-laner to teleport into Team Clint's base while the team was focused on the Elder Dragon. Team Filian immediately destroyed the enemy nexus and won the match.
Also Read: VCT Champions 2022 Istanbul: LOUD Beats Optic Gaming In Istanbul, Final Matches Result