February 8, 2021 by KhelTalk
Pros
+ Instant Withdrawal Option + 12th Man Feature + Good Promotional Offers
Cons
- Confusing App Interface - Dated UI
11 Wickets Review: What it is all about?
The hype and craze around fantasy sports in India is gradually increasing. What started with Dream11 earlier in India has more than 60 online fantasy gaming platforms now.
People are now turning up to an online fantasy sports podium like never before. It has become possible because they not only get a platform to play out their favorite sports but even win some cash legally. It was not possible when they used to place bets on a Live Cricket match via gambling mode to win money.
Since there is no luck factor involved and all that matter is your skills and knowledge about the game, it is now legal to put it into action and win some cool cash.
If you have knowledge about a sport that you are passionate about, then you can create your fantasy Team, participate in Live leagues and other contests to win quick money.
There are many leading online fantasy sports platforms in India such as Dream11, HalaPlay, Mobile Premier League (MPL), FanFight and 11Wickets is one of them.
11Wickets is India's one of the fastest-growing online fantasy sports websites and apps. The website has been created for sports lovers particularly for Cricket and Football fans of India.
11Wickets believes that a healthy and legal way of winning cash is a valid reason for its user base to indulge in fantasy sports in India. However, it is not the only reason! Fantasy is super fun as it simply enhances the excitement of watching an ongoing game, and it is what attracts people to take part in fantasy encounters.
11Wickets is an initiative of the Ability Games Pvt. Ltd and was started in 2018. Mr. Navneet Makharia is the Founder and CEO of 11Wickets.
11Wickets aims to provide its broader customer base with fun and become India's most trusted online fantasy sports platform. It is improving the quality of its products and services range consistently. It has helped 11Wickets to emerge as one of the known brands in a short span of time.
11Wickets has recently collaborated with a famous Bollywood celebrity Sunny Leone as its Brand Ambassador to help the brand increase its footprints in India.
Let's see more about other elements of 11Wickets in this quick review!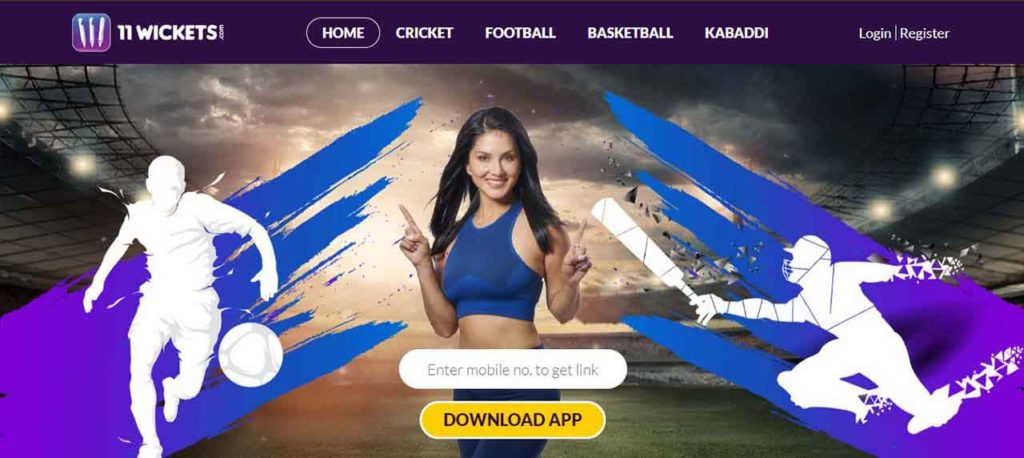 11 Wickets Overview – Everything you need to know
Here is our Brief 11 Wickets Review, here you'll find everything you need to know about this platform.
11Wickets Review: How do you register on 11Wickets?
Joining 11Wickets to start playing your preferred fantasy sports game and winning cash is dead easy! All that you have to do is follow a few simple steps. Have a look:
Step 1: Click on 'How to Join' button on the 11Wickets website or app
Enter your preferred username, valid personal email and mobile number
Enter your referral code if any
Click 'NEXT'
Step 2: You will now need to verify your account to get started
Enter the One-Time Password (OTP) received on your mobile number and verify it
Choose your password as per your preferences
Your 11Wickets account will now be created, and you are now ready to start playing
Here is the 11 Wickets Login Link to get you started – https://www.11wickets.com/game/login
What sports are offered on 11 Wickets?
11Wickets provides its users with many popular gaming options to begin playing and taking home handsome cash prizes. Take a look:
Cricket
Football
Basketball
Kabaddi
11 Wickets App Download link
11 Wickets App is available for both Android and IOS. Here are their respective download links.
11 Wickets APK download Link – https://go.aws/2wnXT38
11 Wickets IOS App Download Link – https://apple.co/37Hbv6a
How to start playing on 11Wickets right away?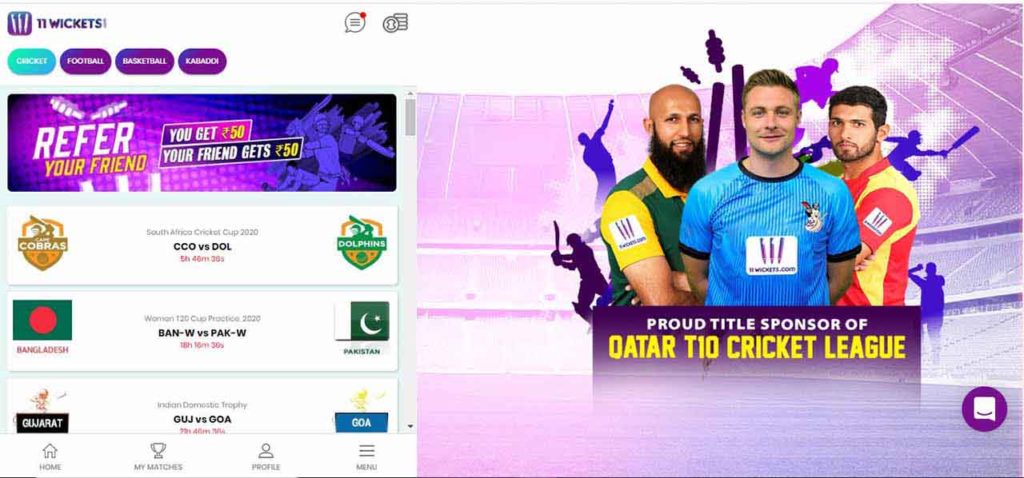 Once your account on 11Wickets is active, you can start playing multiple sports as per your wish. Here are the steps that you can follow to start playing quickly:
Step 1: Select a match
You will need to choose any game that is Live or ongoing and one that is a part of the Future Cricket/other sports Series from the Match Centre platform of 11Wickets.
Step 2: Create your Team
It is now the time to showcase your skills of a sport that you are ardent about. You will now need to employ your sports knowledge to build your 11Wickets Team. You will have a budget of 100 credits to begin forming your squad.
Step 3: Join a contest
You are now free to go ahead and join cash or 11Wickets free sport to exhibit your perfection in skills and begin to win cash.
Step 4: Follow the game
Watch Live games and keep tracking your own fantasy scorecard. The fantasy scorecard on 11Wickets Review gets updated every 5 minutes automatically.
Step 5: Withdraw your winnings
Once the match finishes and the final scorecard gets displayed, you are now ready to withdraw your winnings from the 11Wickets account straightaway.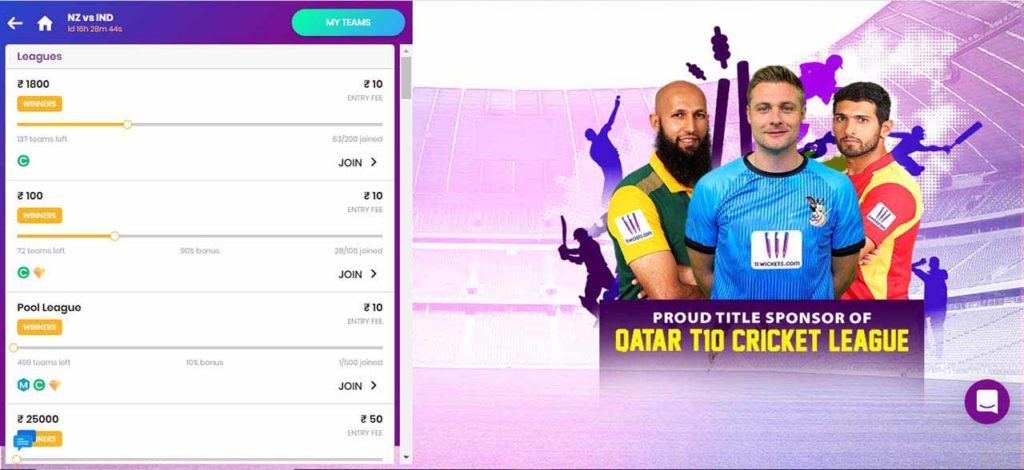 11 Wickets Referral Code
Here is our 11Wickets Referral Code – 368cd84
You can use this code during signup and get an extra ₹50 referral Bonus on top of your ₹50 Signup Bonus. It is very simple just click on the link here and start the Signup process
How to deposit money in the 11Wickets account?
There are various ways via which you can deposit money on 11 Wickets –
Debit / Credit Card
Amazon Pay
Paytm
MobiKwik
FreeCharge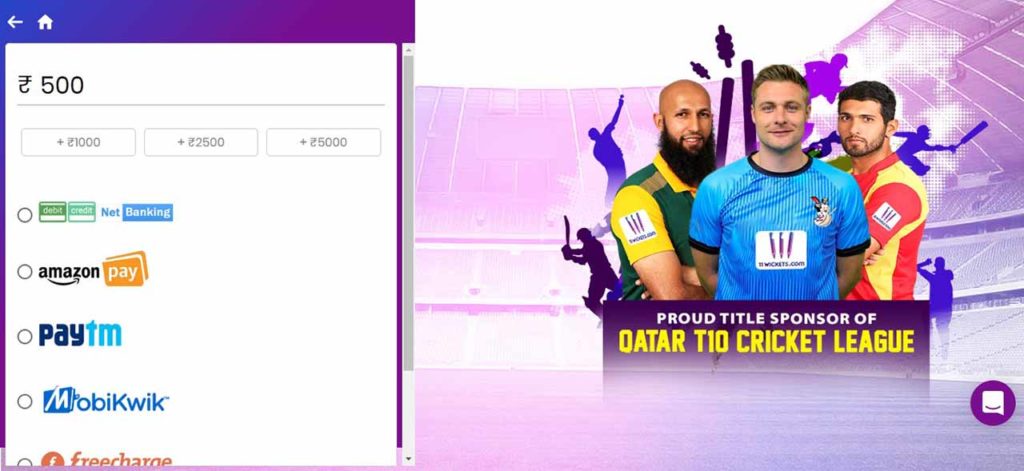 As and when you engage in playing on 11Wickets, you will need to deposit an amount as per your choice. It is now possible to do that by following a few easy steps:
Step 1
The first step is logging to your account on 11Wickets. Once done, you will need to click on the 'Cashier' button.
Step 2
Enter an amount that you were looking to deposit into the 11Wickets account. If you have any Promo Code to enjoy extra deposits, it is the time to enter here. You can now choose the Payment Gateway Mode and then click on 'Proceed to Deposit.'
Step 3
After you have undergone the above two steps successfully, you will now be redirected to the 11Wickets window if your payment is successful.
That's it! You have added money into your 11Wickets account successfully and start playing your favorite play fantasy sports right away!
Here are some KhelTalk exclusive 11 wickets Promo Code & 11wickets Offers that'll help you gain maximum rewards from your deposit!
| | | | |
| --- | --- | --- | --- |
| Code | Offer | Validity | Condition |
| FIRST50 | Get 50% Bonus on your first Deposit | Offer valid till 31st March 2020 | 1st Deposit Only |
| No code | Deposit via FreeCharge and get 10% CashBack of upto  ₹50 | Offer valid till 31st March 2020 | 1st Transaction only |
| No code | Deposit via MobiKwik and get 50% SuperCash | Offer valid till 30th April 2020 | Unlimited Use |
What are the steps to follow to withdraw your winnings on 11Wickets?
Once you think you have won enough and want it in your bank account, it can be done easily by following a few simple steps. Here's how:
Step 1:
Open your profile page on 11Wickets for KYC verification
Enter your bank details (Bank name, bank branch name, account number, account holder name and IFSC Code) and the amount that you wish to withdraw
Step 2:
You can now choose 'Instant Withdrawal,' which is chargeable at Rs.10 or opt for 'Scheduled Withdrawal' (24×7). Once selected, click on the 'Confirm' button.
Step 3:
Your request for withdrawal of your desired amount is now successful. You will get the amount credited into your bank account soon.
11Wickets Review: Final Verdict
11Wickets is one of the fastest emerging online fantasy gaming platforms in India, where you can use your sports skills for Cricket, Football and more to win cool cash.
From downloading the app from the App Store or Google Play Store to using its website to its attractive user interface to withdrawals and deposits, 11Wickets has all!
Some of the key points that make 11Wickets one of the best in the business include:
User-friendly interface
100% genuine and legal platform
Creating a fantasy Team without restrictions
High performing users are lower than other similar platforms on 11Wickets
Easier to build a squad with more high performing players
Playing and winning daily free leagues is possible
Instant and hassle-free money withdrawal system available for users
Comes with an incredible feature of the 12th player – no other similar websites or apps provide in India, this feature lets you add an extra player to use in case any of selected 11 players are not in the playing 11.
Contacting the Customer Support Team for the resolution of any query is easy
Do you have good knowledge about the game of Cricket, Football, Basketball and Kabaddi? Then you can use it and win handsome cash prizes legally and without issues on 11Wickets
So, is 11Wickets worth your time, efforts and money? With so many things going in favor of 11Wickets to let you play and win, you may try it! Yes, the recommendation is to surely give 11Wickets a chance and see how much you are able to make daily!
The scope of online fantasy sports gaming platform is consistently on the rise in India, and even you can join the bandwagon.
The 13th season of the Indian Premier League (IPL) is set to begin on 29th March 2020. It is also the time when the Cricket fest continues for a long time of around 50-60 days.
If you always keep a tab on what's in and out in a day's match in IPL or any other Series, then you have the required knowledge to begin using it to your advantage. Would you mind winning some real cash using your skills of Cricket and other sports? 11Wickets can help you get started today!
Instant Withdrawal Option
12th Man Feature
Good Promotional Offers