February 8, 2021 by KhelTalk
Pros
+ Less Competition + Multiple Contest Options + Good UI
Cons
- Very New Brand
Gamezy Review
One of the fastest-growing game developers of India, Gameskraft launched Gamezy. The Bangalore based company recently released a fantasy cricket platform. The new platform promises more fun and a better fantasy experience than ever.
Gamezy is the latest fantasy cricket gaming platform developed by Gameskraft. The game is all set to offer more prizes than any of its competitors. It is a platform for winners. It is set to be launched soon before the new IPL season begins. T-20 is the most preferred format for fantasy players.
The timing of the release of Gamezy could not be any better. It will bring lots of new exciting rewards and rules. Gamezy is dedicated to increasing the chances of winning for players. Compared to other cricket fantasy apps, Gamezy offers a lot more rewards and bonus events. There are events that offer guaranteed rewards to players.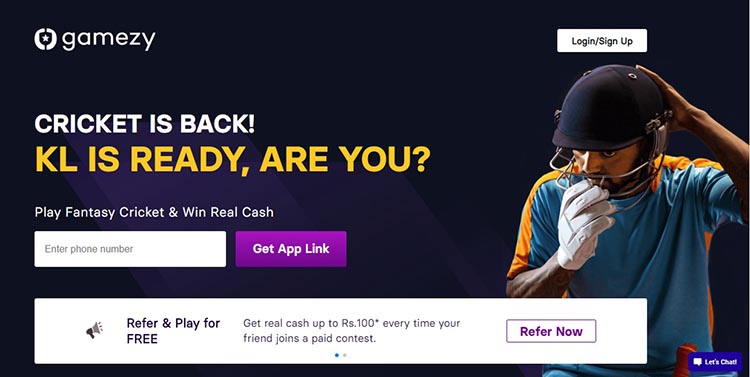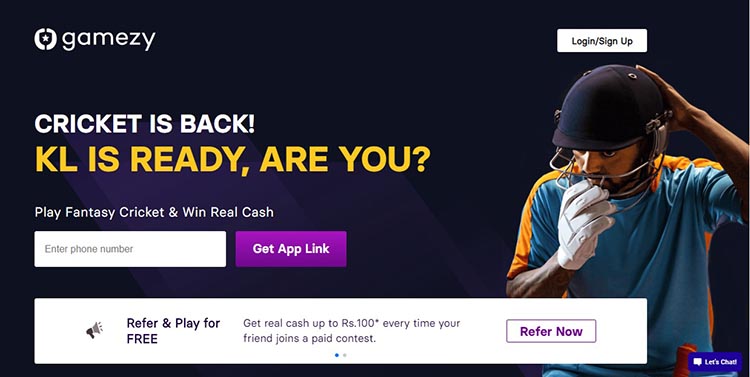 Gamezy Overview – Everything you need to know
Here is our brief Gamezy Review, here you'll find everything you need to know about this platform.
| | |
| --- | --- |
| Brand Name | Gamezy |
| Owner Name | Prithvi Singh |
| Parent Organisation | Gameskraft |
| Headquarters | Bengaluru |
| Signup Bonus | ₹ 50 |
| Login Link | here |
| Referral Bonus | ₹ 100 |
| Referral Code | YPBJY4 |
| Referral Link | |
| Gamezy APK Download | https://bit.ly/2Pvwi6g |
| Gamezy IOS App Download | https://apple.co/2DGHYQM |
How to Download Gamezy App and Earn Money Online?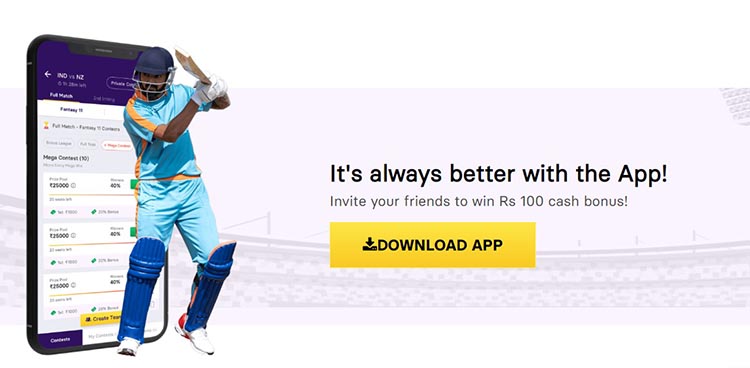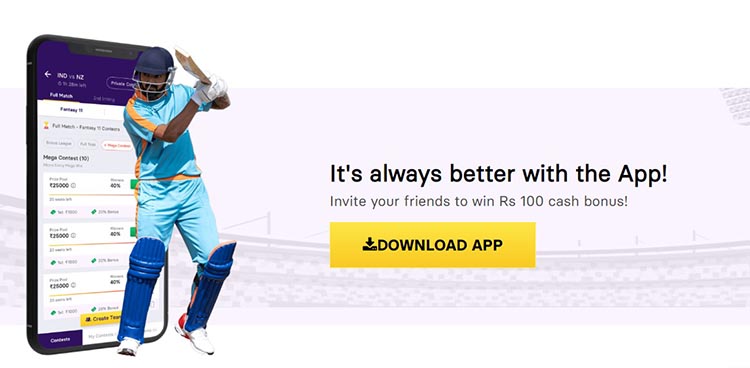 The app can be downloaded from the official website of Gamezy. It is available for both IOS and Android Platform. Alternatively, the app can be installed directly from the PlayStore. Players can earn real money as well as exciting in-game cash bonuses by participating in various events.
Users get a welcome bonus of 50 INR after successfully signing up with Gamezy. The primary way to earn money is by winning fantasy leagues. However, users are rewarded with a cash bonus for writing articles, answers, and winning cricket quizzes.
Here are the Gamezy App Download links
Gamezy APK Download link – https://bit.ly/2Pvwi6g
Gamezy IOS App Download Link – https://apple.co/2DGHYQM
Features of Gamezy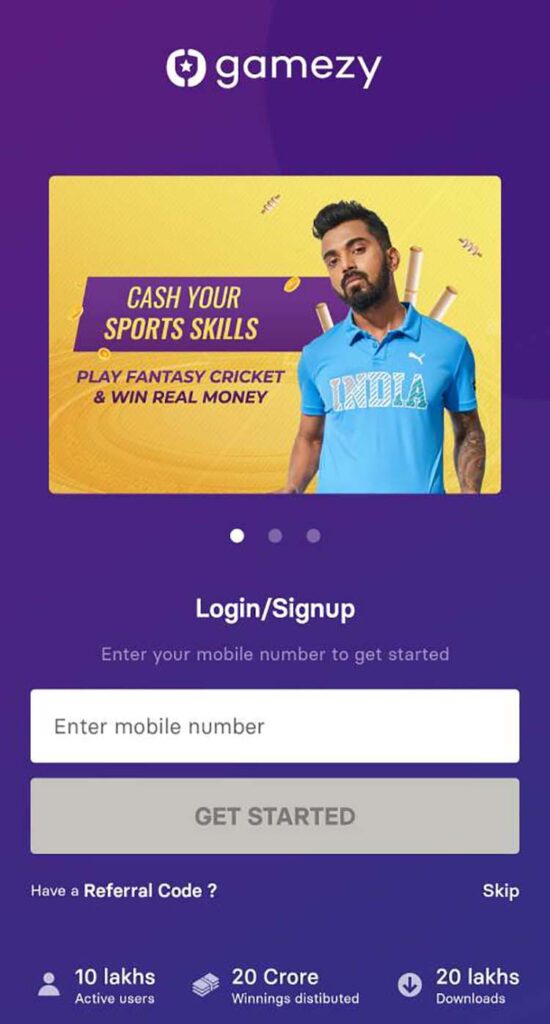 One of the most exciting and distinctive features of Gamezy is its association with established brands. Other than winning cash rewards, players can win coupons and discount codes to shop at their favorite brand. These coupons can be earned from several contests held regularly. The developers have taken into account the global audience and the app is available in 8 different regional and global languages.
What sets Gamezy apart from other platforms?
One of the unique features in Gamezy allows users to alter the chosen line-up infinite times until the game begins. This helps users to choose the best squad following the regular updates of the cricketing world.
Another great feature is the ease of withdrawing money to your account. Gamezy supports instant and easy withdrawals. To top that, it rewards new users with a 100% cashback bonus on the first successful deposit.
The app is set to be launched before the IPL season goes underway. Gamezy has a friends lobby where you can host a contest and invite your friends to join and compete against you. Of course there are global fantasy leagues for every match. It is the only app that hosts the Winsure event that offers a guaranteed prize to all participants.
What is the Winsure contest?
Winsure is the exclusive event hosted by Gamezy. Any user of Gamezy can take a part in this contest. Winsure rewards all the participants with at least a minimum guaranteed prize. One lucky winner goes away with a huge sum of INR 1 lakh.
How to play Gamezy fantasy 
To enjoy fantasy gaming, you require a minimum deposit in your account. Most of the real money fantasy leagues have a small entry fee. Later you can join any match/event and pick your best-11. You need to assign a captain and vice-captain to the team. First of all, you need to deposit some money into your Gamezy account.
How to make a deposit on Gamezy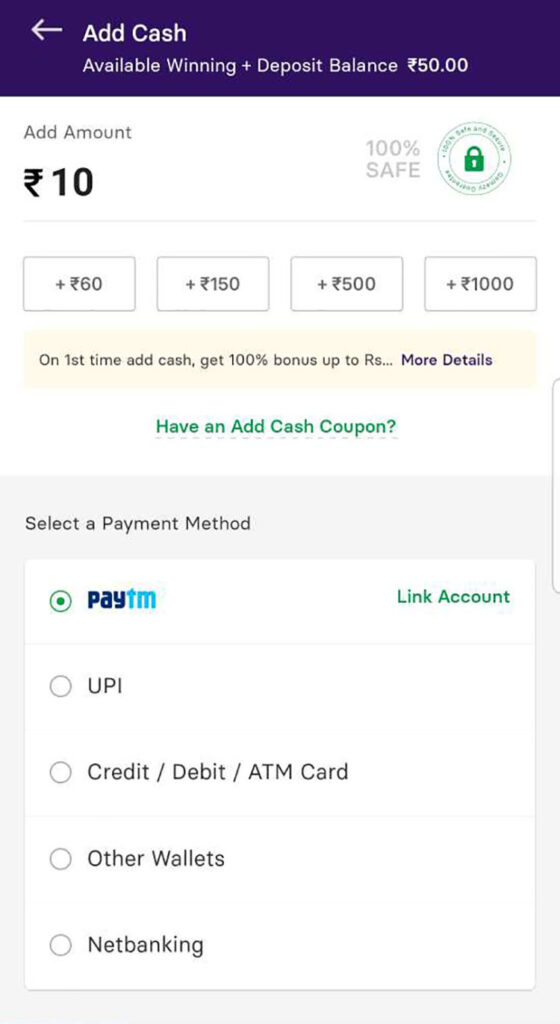 Open the app and click on the add money icon on the top right of the screen. Later you can proceed to deposit the money using various options such as debit/credit card, net banking, e-wallets. Enter the required details and add money to your "wallet". This amount can now be used to play fantasy leagues.
When you win a league, you earn some cash reward. This cash reward can be withdrawn into your bank account from the Gamezy wallet.
How to withdraw money
Open the Gamezy app and touch the "account" icon on the top left of the screen. Now touch the "my wallet" option. Now you can progress ahead to withdraw money from the wallet to your bank account. This Platform supports quick withdrawals and the money is credited to your bank account within one working day. However, there is a limit on the withdrawal amount. The minimum withdrawal amount is INR 25. Only cash won from winning the leagues can be withdrawn. Gamezy does not require a document verification for you to complete a withdrawal.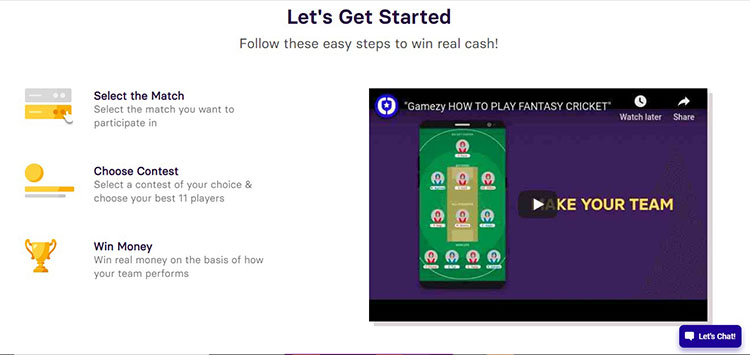 Gamezy Referral Code
Here is our Gamezy Referral code – YPBJY4
Or you can simply use this Referral Link here for easy access.
Players can refer to the Gamezy app to their friends and earn exciting prizes for every successful referral. There are two ways that refer and earn works in Gamezy:
1. Regular Users:
A Gamezy user is rewarded with a cash bonus of INR 220 for every successful referral. Your referred friend must enter the invitation code provided by you in order for you to earn the reward.
Here's how to get the invitation code:
● Open the Gamezy app and tap on the "refer" button on the bottom of the screen.
● You can find the invitation code/link.
● This code/link can be shared among your contacts/friends on various social media platforms such as Facebook, Instagram, Telegram etc.
● Whenever a new user will join the Gamezy app using your invitation link, you'll receive a cash bonus of INR 220.
● You will get Rs.100 one time bonus, your friend earns Rs.100 (Rs.50 on sign up + Rs.50 on paid gameplay).
● You will get 5% of your friends' entry fee (excluding bonus, promotional code and instant cash) upto Rs.60.
● When your friend becomes a power user you get additional Rs.60 in instant cash.
● Instant cash is 100% usable in all public contests.
2. Power Users:
Power users receive a cash bonus of INR 300 for every successful referral made by inviting friends. It is a chain of referrals, the bonus is awarded when one of your friends uses your invitation to log in with Gamezy and invites his/her friends to do the same. Here is what you can earn:
● You receive a cash bonus of INR 100 and your referred user earns INR 50 for joining and INR 50 for the first event played.
● You will get 7% of your friend's entry fee (excluding bonus, promotional code and instant cash) upto Rs.100 in instant cash wallet.
● You will receive another INR 100 cash bonus when one of your referrals becomes a power user.
● Instant cash is 100% usable in all public contests.
Unique features of Gamezy
● Gamezy offers more rewards per head than any other platform.
● The app is easy to navigate and works smoothly.
● If a player missed the 1st innings, he/she can be a part of the 2nd inning.
● You do not need to provide a document for verification in order to make a withdrawal.
● ​Users can play 5-A-side tournaments that allow 5 players to play as one team.
● ​The app rewards new players with a welcome bonus of INR 50.
● Players can take part in multiple teams to win big prizes.
● Excellent customer care service that is available 24×7.
How to Play at Gamezy Fantasy Cricket App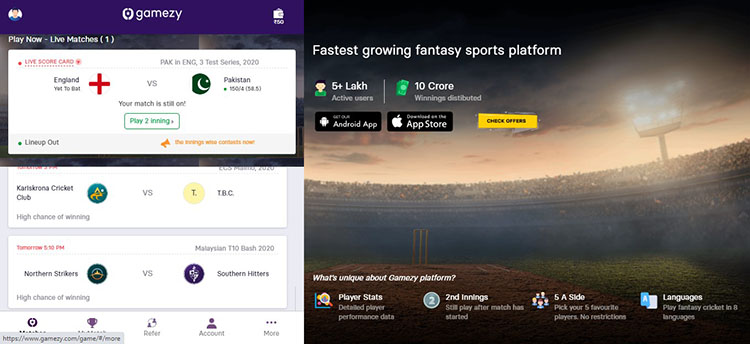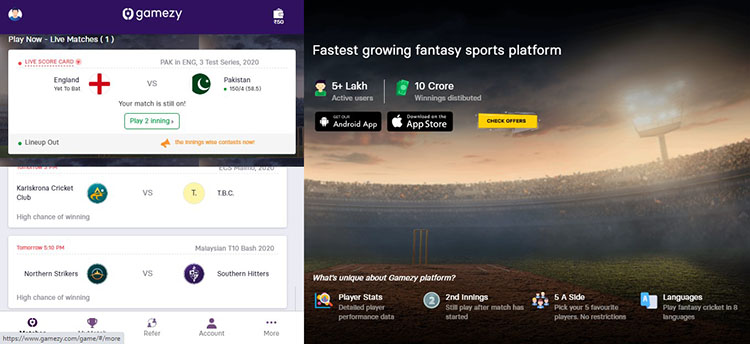 To enjoy fantasy gaming at Gamezy, you need to choose an event. Choose among multiple matches/events and leagues. Pick your best-11 for the game and assign a captain and a vice-captain. Earn points based on your players' performance and win rewards.
Types of contests
There are always several contests (events) running at Gamezy. You can choose from the following events and join the event with an entry fee.
●   Mini-Contest: This event is a crowd-pleaser, it has a small entry fee but gives away big rewards.
●       Fantastic 55: In this event, 55 players can compete simultaneously. The entry fee is also INR 55 while the winning prize is quite handsome.
●       Full Toss: This event involves multiple players. There are multiple winners and rewards of varying quantities.
●       10 ka 500: This event has an entry fee of INR 10 while the winning prize of INR 500. Players stand a chance to win 50 times more.
●       Head to Head: This is the most basic competition hosted by Gamezy. It involves two players who go head to head. In the end, one winner is announced.
●       3 Players 1 Champ: In this event, 3 players compete for one prize. There is one 'champion' or winner in every 3 participants
●       Fantastic 4: This event involves 4 players competing with one another. Two winners are selected in this event who receive an equal prize.
●       Double Up: This event involves a certain value of entry fees. Winners are rewarded with twice the sum of entry fees.
●       Triple Up: Another exciting event by Gamezy, Triple Up rewards players with thrice the amount of entry fees.
●       Winner takes all: As the name suggests, there is only one winner in this event who walks away with the prize.
●       Safe Contest: This event sees multiple winners walking away with big prizes
●       Micro Contest: Micro contests are the real deal, they have small entry fees but give away big rewards.
●       Practice Contest: New players can get familiar with the rules of the game in the practice mode before playing for real money. This is a brilliant option for players who do not have much experience in fantasy gaming.
Good UI
Less Competition
More Rewards