February 8, 2021 by KhelTalk
Pros
+ Less Competition + Multiple League Options + Multiple sports offered
Cons
- Bad UI - Small price pool
HalaPlay Review
Halaplay is a successful fantasy platform in the market. It was helmed by Swapnil Saurav, Ananya Singhal, Aman Kesari, and Prateek Anand. Halaplay app was started by 2017 and has emerged as one of the major fantasy sports podiums.
Fantasy contests in football and cricket are being promoted by the platform. This is also known as for offering match line-ups and updates on Twitter handles and other social media platforms. In March, they managed to raise funds with Delta Group and Nazara Technology.
It may not have the same strength and reach as Dream11, but a large number of contests opened for their fantasy users. It was one of the first platforms to let a user change team until the beginning of a match. It was not the case with Dream11 until a few months before.
Halaplay is a brand new fantasy site and an able competitor of Dream11. The platform has contests of cricket and football. You may be surprised to know that many players switched to this platform because of the ease of its playing. One of the biggest features of Halaplay is that contestants could change a team until the starting of a match.
Halaplay is almost the same as other fantasy websites such as MyTeam11 and Dream11. Thus, if you own sports knowledge, then you can easily use it to your advantage and enjoy by winning real cash. If your built team performs better, then you can easily make lots of money from it. It is also possible to earn Rs.50 as a referral via Halaplay Refer and Earn Program.
In this Halaplay review article, you will come to know more about the Halaplay website, Refer and Earn and how to create teams on this platform. Read on!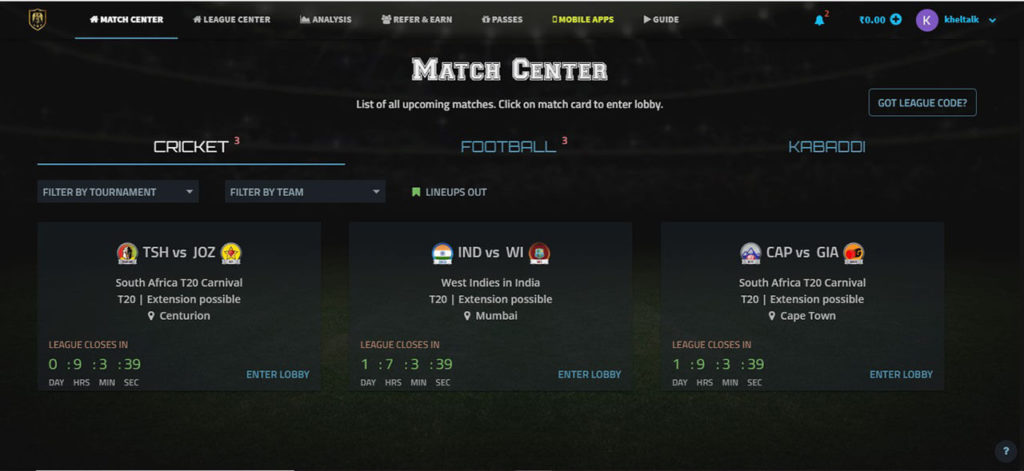 Halaplay Overview – Everything you need to know
Here is our Brief Halaplay Review, here you'll find everything you need to know about this platform.
Types of leagues at a glance
Normal vs reverse fantasy league
In the normal league, you need to select the best performing player. On the other hand, for the reverse fantasy league, you need to select a team with players that are not expected to perform well or less in a game.
Public and private leagues
Public leagues are open for all types of users. On the other hand, Private league enables you to invite and challenge your own friends in the same league.
HalaPlay App
Halaplay is a Daily Fantasy Sports (DFS) stage that lets casual and serious aficionados to play simple, cash-based quick yet interesting games. You should know that DFS is the quickest and shortest version of fantasy sports where competitors can build a team. Hence, they can enter leagues and grab cash prizes after the conclusion of every game. Yes, you read that absolutely correct – after the end of each match! This way, you won't ever have to wait for a season to end to start winning cash.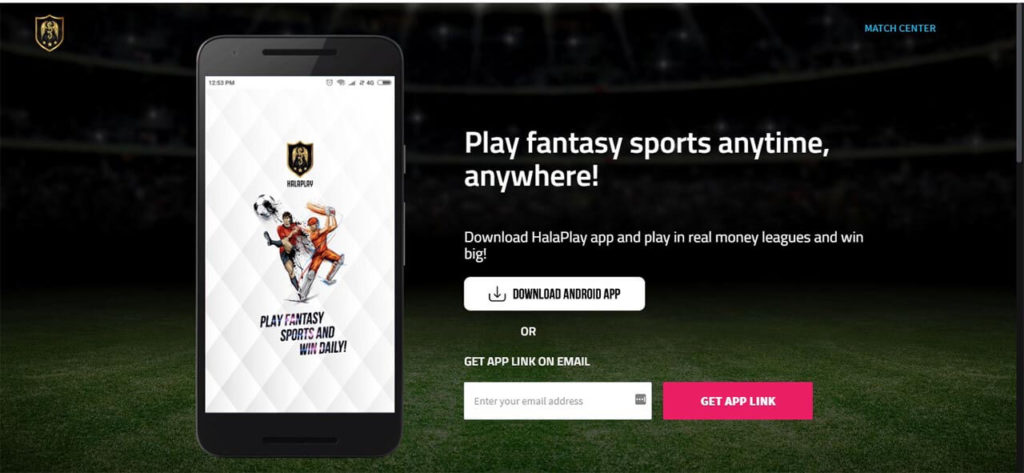 Halaplay is a 100% legal in India in operations, and it is totally safe to play as contestants of cricket and football with Refer and Earn program. Thus, you can easily download Halaplay Apk app, make an account on it and start winning super easy!
HalaPlay APK Download link – https://bit.ly/2JaBoBE
HalaPlay IOS App Download Link – https://apple.co/2xm4Q52
HalaPlay Referral Code –
Here is our Halaplay Referral code – 5C9159Z8
Or you can simply use this Referral Link here for easy access.
You can follow these steps given below to get Halaplay Referral Bonus –
You can click here and download HalaplayApk app for Android after getting downloaded the APK file
Click allow the unknown sources and provide all access required by the app
Sign up after using Halaplay refer code 5C9159Z8 and kick off playing right away
Here's how you can download HalaplayApk app and grab Rs.100 bonus
Enter your name, email and create a password for the app
Choose a username
Verify your mobile number and get a free bonus for sign up
Ensure to enter your Halaplay refer code  5C9159Z8 and start enjoying Rs.100 bonus – you will need to enter the Halaplay refer code in Capital letter to become eligible for the bonus cash prize
You can now click on the 'Submit' button and get your details verified
Once you are verified, you can seize Rs.50 in your account Free
Once you make a transaction of Rs.150 and above, you will also get Rs.50 more
Halaplay refer code – Refer and earn free cash of Rs.100
You can open Halaplay and land on the Halaplay Refer and Earn section
You will now be able to see the Halaplay referral code or link
To get a bonus amount, you will need to share it with your friends
Once they join this platform using your referral code, you will also be able to grab free referral credit
It is possible for a contestant to invite unlimited people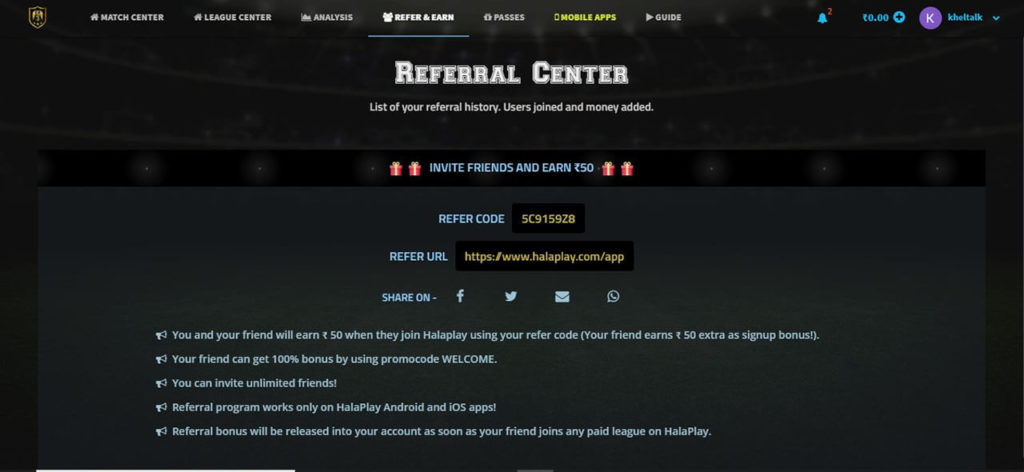 What are the types of fantasy sports available at Halaplay for players?
On Halaplay app, you can easily access three types of fantasy sports such as:
Fantasy cricket
Fantasy football, and
Fantasy Kabaddi
What are the eligibility criteria to play fantasy cricket at Halaplay?
Here are the eligibility criteria of indulging in fantasy cricket at Halaplay:
Your age should be at least 18+
You must have a valid Email ID and Mobile Number
You must be enrolled with the Income Tax Department of India and should have a valid PAN Card – it is to verify your ID proof and tax deductions
You need to be an account holder of any bank in India
You need to have some cash and use PayTm cash, PhonePe or a debit/credit card so that you can load cash
And most importantly – a lot of patience and basic to advanced cricket skills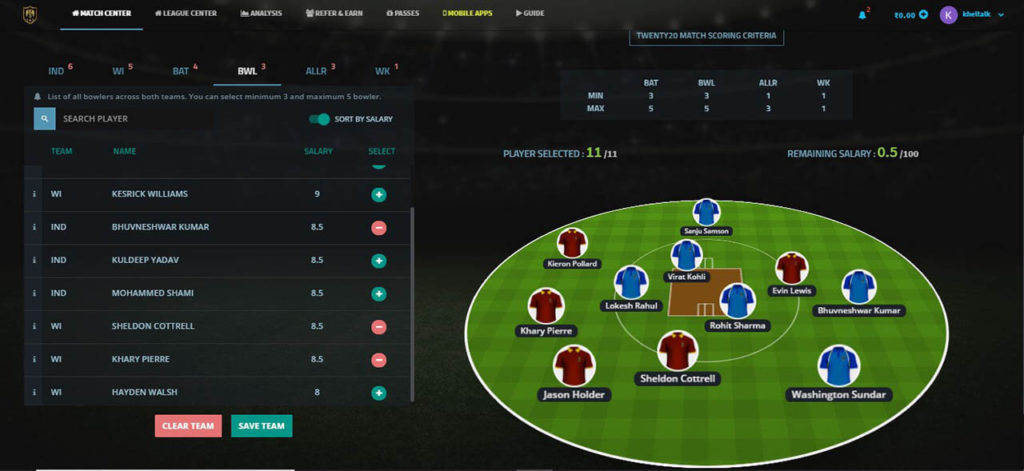 What makes the Halaplay better than other fantasy apps available in India?
Have a look at some key points of Halaplay that makes it one of the best fantasy platforms available:
A contestant can easily edit their team and make changes to it even after the toss of a game. On the other hand, you can make changes in your team only before 1 hour before the commencement of a game on platforms like Dream11
You are allowed to choose Captain from your team and it means that you don't have the option, and benefits to select Vice-Captain.
On this Platform, you are also allowed to play reverse league, and in this, you can pick players that are not expected to perform well. You can easily create a weak team to simply increase your chance of winning and this is opposite to normal leagues. However, in other popular leagues such as MyTeam11 and Dream11, you are entitled to enjoy playing only normal leagues
It is also possible to create your own private leagues – it is easier to play with your friends easily in any leagues head to head or reverse league. What's more, you can also earn 5% of that league amount from Halaplay
A user can easily withdraw winning amount earned in any bank accounts, but there is no need to upload bank passbook
It is possible to play Fantasy cricket, Fantasy Football and Fantasy Kabaddi as all these formats are available here.
A user can also earn by sharing the Halaplay refer code and even Affiliate Programs for new publishers
What are the easy steps to start playing Fantasy cricket on Halaplay?
You will need to choose matches across football and cricket and enter the lobby to join live associations
A player can also join across many formats
You can build your team and choose your Captain
Tracking of completed, as well as live matches, is available
You can also check leaderboard and performance in real time
You can also analyze your style of playing and compare with other players
What tips are given for new joiners/fantasy users on Halaplay?
They can play daily and weekly games
Creation of leagues and inviting friends to join in no time
You can decide your winning conditions and count of league members
Tracking of the leaderboard with your friends is super possible
Analyzing a contestant's playing style is available
You can withdraw your won amount anytime
No issues of a long season being played live
How can we deposit money on HalaPlay?
This Platform provides various methods to deposit money on the platform. The methods offered by Halaplay are –
Amazon Pay
PhonePe
UPI
Patym
Credit / Debit Card
The method to deposit money on HalaPlay is also very simple.
Click on the rupee icon in the lobby.
After that, a pop-up window will open, in that window click on "Add Balance".
By clicking that you'll be given the option to enter to the amount you want to deposit. You will also be given an option to add the Promo code.
After that, you get multiple deposit options. From these options, you can select your favorite method and complete the deposit.
Halaplay Promo Code
Here is the list of all available Halaplay promo code
| | | |
| --- | --- | --- |
| Coupon | Offer | Condition |
| WELCOME | Deposit b/w ₹10 to ₹50  & get 100% Bonus |  1st Deposit Only |
| SHARK | Deposit b/w ₹10 K to ₹ 5 Lacs  & get 5% Bonus |  Unlimited Uses |
How to withdraw your winning money at Halaplay?
It is easier to withdraw the won amount at Halaplay without issues by following the simple tips, such as:
You can land on the 'withdraw' part when you click on Top Right Menu
You will now able to see three options such as account verification, transaction and account balance
Go ahead and verify the Halaplay account by tapping on account verification
Submit the details of your PAN Card, which may take about 12-24 hours for verification
Once the verification is complete, you can easily withdraw the winning amount into any bank account of your choice
The minimum amount that you can withdraw is Rs.300
You need to enter your bank details such as account number and IFSC details
Now, the amount will be credited into your bank account in only 2-3 days
Important things to note regarding the Halaplay app
You and your friend will grab Rs.50 once he/she joins the Halaplay using the Halaplay referral code
Both will grab an additional Rs.50 when your friends do the first transaction of Rs.100 or more
It is dead easy to invite an unlimited number of friends
The referral bonus will now be credited once your friend gets his/her PAN details verified
What are the steps to create a cricket squad on Halaplay?
You can choose any cricket match from the dashboard.
You will then need to click on 'My Teams' and build a new one
You will need to select 11 players to compose the team and choose 1 wicket-keeper from both squads
The selection of at least 3 batsmen and 5 maximum are available
It is easier to choose at least 1 and maximum 3 all-rounder
A minimum of 3 bowlers and a maximum of 5 bowlers are allowed
Once you have chosen the team, then you should select the Captain of your team, which will also let you earn x2 points
Click on 'Join Leagues' after you have created the team and choose the leagues that you are looking to play with
What steps do you need to follow to create a football fantasy team on Halaplay?
Land on Arena>Football and create a team
Select one goalkeeper after selecting one team of 11 players
Choose your defenders, and it is fine to pick a maximum of  5
Selection of up to 5 midfielders is possible
A maximum of 4 forwards are allowed
To get x2 points, select your team's captain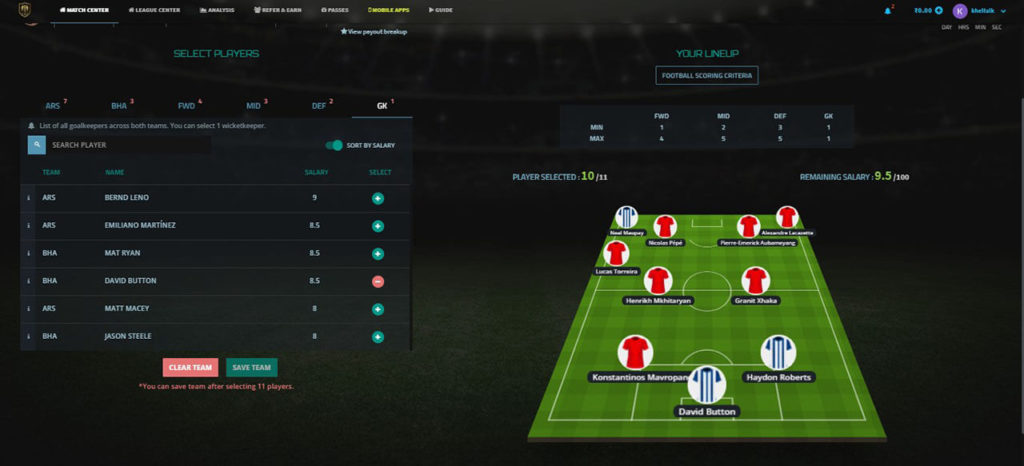 HalaPlay Review – What are the pros and cons of Halaplay?
Let's have a look at the advantages:
The availability of Halaplay on all three fantasy sports makes it unique
You can grab bonus codes on deposits daily and hence; if you select bonus codes, then you can easily get 10-20% bonus
People interested in football won't be able to find a platform as amazing as Halaplay
There is lesser competition with better prospects of winning for new players
Even for novice gamers, it is easier to change team even after the final eleven is announced and after the toss is done
Here a few of the disadvantages of playing fantasy sports at Halaplay:
Even when you are well experienced and have a knack of the game of cricket, the team creation and leagues joining is still a big task. It is because of the bad user interface of the platform
Monster leagues (also known as grand leagues) are too small and even compared to other websites and apps, the in general pool money is shockingly lower
Halaplay has no scope of a Vice-Captain that a player can choose in a squad. Hence, it increases the chances of a clash.
HalaPlay FAQ
What is Halaplay?
Halaplay is a fantasy sports platform, founded by Swapnil and Sourav in 2016. It is one of India's fastest growing Fantasy sports platform. One of the key features of this platform is that it offers various types of leagues in which a user can participate like Normal League, Head to Head league, Reverse League, Head to Head Reverse League. It also offers different sports options like Cricket, Football & Kabaddi.
What is Reverse League in Halaplay?
Reverse League on Halaplay is completely different from the normal fantasy league. Here you aim to score minimum points. Because in this league the user whose team scores the minimum number of points wins. Here if your player is not a part of playing 11 you get the highest number of points.
How to win in Halaplay?
You can improve your chances of winning on Halaplay, by paying very close attention to the following factor–
Pitch Condition
Player Performance
Your Halaplay Team's Captain & Vice-Captain
Weather Conditions
Player Selection
If you pay attention to these factors, your chances to win in Halaplay improves by a huge margin
How to play Halaplay?
So it is very easy to play on Halaplay, Here you just have to make a fantasy cricket team & enter a contest of a particular league. If players of your fantasy team, play well in the actual game, your team gets more points. At the end of a match, the team with the highest number of points, Wins the game. You can win real cash prizes if you enter a paid contest.
Good Referral Scheme
Less Competition
Better Chances of Winning