March 16, 2021 by KhelTalk
Pros
+ Intuitive Interface + Many Withdrawal Options + Good Refer & Earn Program
Cons
- Interface can be a little confusing - No Desktop Game Option
Mobile Premier League (MPL) Review
The advent of online fantasy sports gaming (OFSG) has been on a substantial rise in India over 4-5 years. It has been able to see a significant jump in India because of the craze and popularity of globally renowned Tournaments, especially the Indian Premier League (IPL). Earlier many people used to bet on an IPL game and other bilateral Series matches and others, but it was not a legal way to win money.
However, things got changed with the beginning of online fantasy sports gaming platforms like Dream11, Halaplay, FanFight, MyTeam11 and others. Now people could easily use their skills and knowledge of the game like Cricket and more, make a Team, and participate in multiple leagues on them. Since it was purely a matter of using skills to win, the legality of online fantasy gaming platforms was intact. This way, passionate fans of Cricket, Football, and other sports started taking part in cash and other leagues on online fantasy platforms and begun winning handsome cash.
Ever since the launch of Dream11, India has seen a jump in sites and apps offering online fantasy gaming to hordes of fans in India. Mobile Premier League (MPL) is one of the recent platforms that have joined the bandwagon. Mobile Premier League, also known as MPL is an online sports platform that is based in India. The Galactus Funware Technology Pvt. Ltd operates and manages the platform, which is a Company based out of Bengaluru.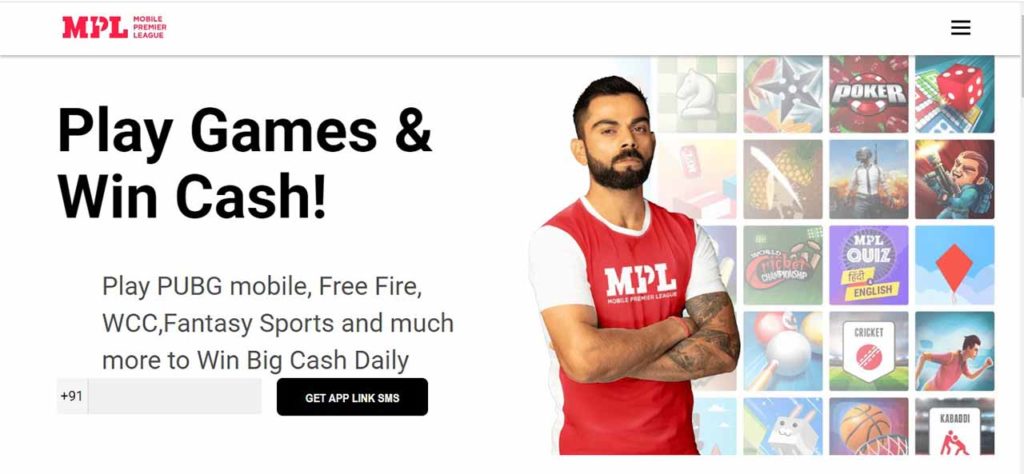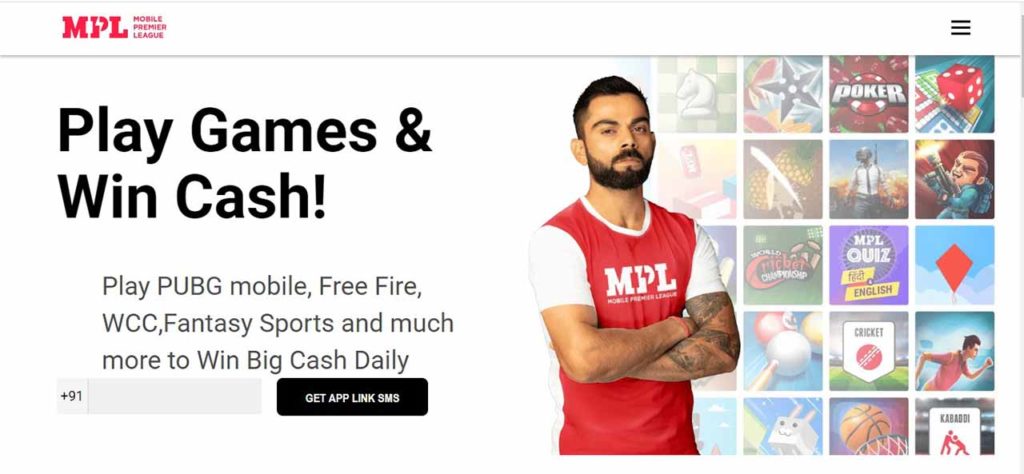 The e-Sport was launched in India in September 2018. As of April 2019, the Company claims to have more than 25 million users base. Mobile Premier League was initiated in September 2018 by Mr. Sai Srinivas Kiran Garimella and Mr. Shubham Malhotra. They were earlier working together in CREO, a Consumer Electronics Company. Mobile Premier League went on for downloads on Google Play Store in October 2018 and the Apple App Store in February 2019.
On April 15 2019, MPL got signed up as a Member of the All India Gaming Federation (AIGF). It is a body that is involved in setting policies and regulations to keep an eye on the Gaming Industry in India. MPL also announced making an entry into the Indonesian market in May 2019.
In March 2019, Mobile Premier League signed up the Captain of the Indian Cricket Team and Royal Challengers Bangalore (RCB) as its brand ambassador.
You must have seen him advertising for MPL during the 2019 IPL Season. KL Rahul was also signed up as the brand ambassador of SuperTeam, a play fantasy cricket league on it. The tagline of MPL #GameKheloHeroBano says all about its motto– you can play your favorite game on it and win cool cash and be a champion.  You can sign up on MPL and play skill-based games and win cash prizes in reward.
MPL Overview – Everything you need to know
Here is our Brief Mobile Premier League Review, here you'll find everything you need to know about this platform.
Mobile Premier League Review: How to register on it?
Joining the Mobile Premier League is an easy affair if you can follow the below steps:
You can go on the Mobile Premier League website and enter your mobile number to get a link to download the app from Google Play Store or the App Store
You can click on sign up and enter your personal email or social connections such as Facebook and more to connect
Once done, your account will be created
Mobile Premier League Review: What sports are offered?
The Mobile Premier League offers its users a plethora of sports to choose other than Cricket and Football. Here is the complete list:
Cricket
Football
Rummy
Ludo
Pool
Speed Chess
Exam Champs
Runner No.1
Space Breaker
Carrom
Go Ride
Monster Truck
Basketball
Bubble Shooter
Build Up
Fruit Chop
Can Jump
Bloxmash
Flipster
Maze up
MPL Pro & MPL App  Download Link –
There  are basically two versions of the MPL mobile Application. MPL Pro & MPL App. The only difference between them is that in MPL Pro you can add money and win cash Prizes.
Mobile Premier League (MPL) is available for both IOS and Andriod, you can download the MPL App directly from the respective App Stores, i.e Google Play store and Apple App store. Or you can go to the MPL website and get the download link for MPL Pro.
Or you can simple click on the links below to get the Mobile Premier League App for both Android and IOS.
MPL PRO APK Download Link – https://mpl.onelink.me/xNXA/v82
MPL PRO IOS App Download Link – https://apple.co/2UzKihp
Use these link above to get the latest version on MPL Mobile Apps.
Mobile Premier League (MPL) Review: How to start playing on MPL?
Playing a sport as per your choice on MPL is hassle-free. All that you need to do is follow a few methods and you are ready to take on the world! Have a look:
You can select from an exhaustive list of sports like Cricket, Football and others.
Join a Tournament or 1v1 battle
It is up to you to either register for a forthcoming or join a Tournament that's already Live.
You can now set a new score whenever you play. You can also get your winning amount super quick into your MPL Wallet after the end of a battle or Tournament.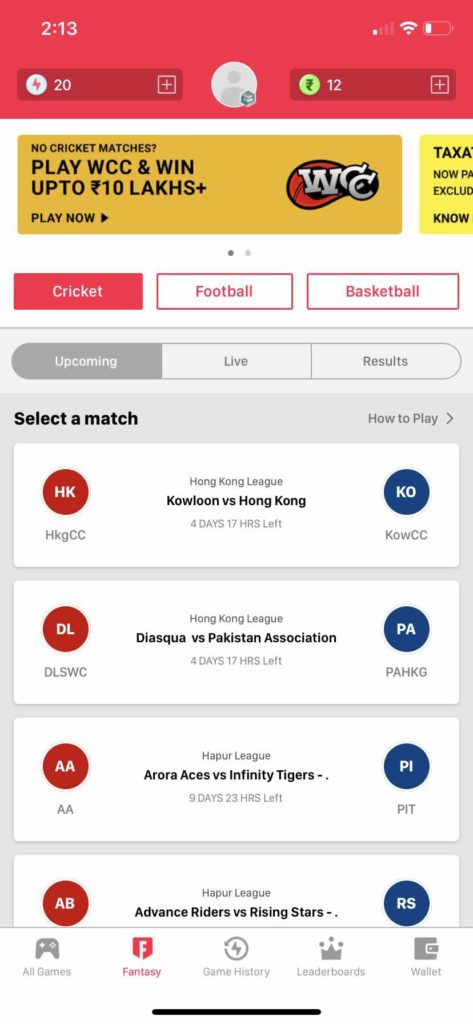 MPL Referral Code –
You can use KhelTalk's MPL Referral Code – N5GXAE7W to get extra ₹ 10 Bonus Cash when you Sign up. You can also use this MPL referral link here. Just Simply enter this code during Signup.
In Mobile Premier League you also earn extra Cash Bonus by referring your Friends. You can follow these simple steps and earn extra cash Bonus by sharing your Referral codes with your Friends –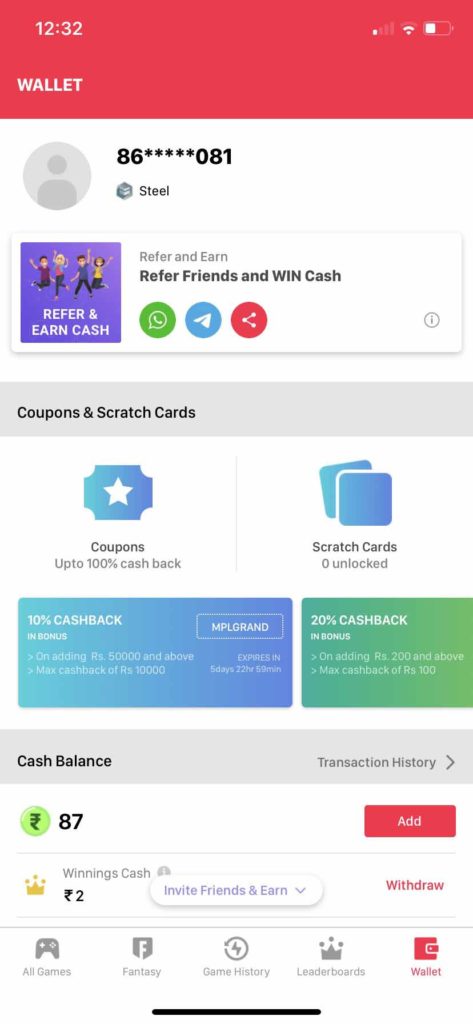 Open MPL App
Click on the wallet section
Then simply click on the Refer Friends and WIN Cash Tab.
Then simply use the social icons given below to share your Referral code with your friends.
Every time a friend signs up using your link, you'll get ₹75 Bonus Cash.
Not only that you'll get 30% of your friend's first deposit.
MPL Coupon Code and Offers-
Here are some exclusive MPL Coupon Code, that will help you to get extra Bonus when you make a deposit on MPL>
| | | | |
| --- | --- | --- | --- |
|  No | Code | Offer | Condition |
| 1 | MPLGRAND | 10% Cashback in Bonus on adding ₹50,000 and above | One Time use only, Max Cashback of ₹10,000 |
| 2 | MPLCBK20 | 20% Cashback in Bonus on adding ₹200 or above | One Time use only, Max Cashback of ₹100 |
| 3 | FIRST_200 | 200% Cashback in Bonus on adding ₹50 or above | One Time use only, Max Cashback of ₹500 |
Mobile Premier League Review: How to add money on MPL?
There are various options to deposit money on MPL-
Patym
PhonePe
BHIM UPI
Credit / Debit Card
NetBanking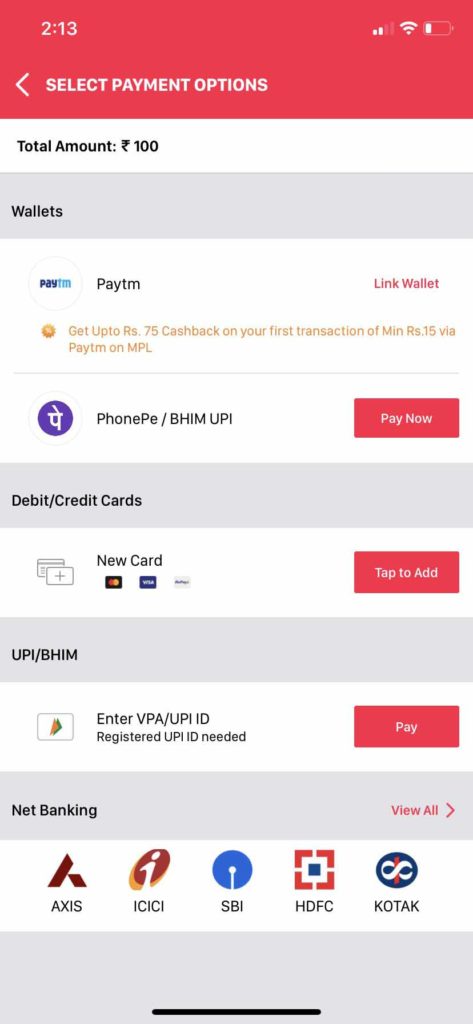 For being eligible to begin playing in a league or tournament, you will need to add money into your MPL Wallet from time to time. You can follow a few steps to start adding an amount into the MPL Wallet:
Open the Mobile Premier League App and ensure that you are logged in
Go to the Wallet section
Click on 'ADD MORE' option that you will see the right side of your Deposit Cash balance
Enter an amount that you are looking to add and click on the tab that says 'PAY & ADD CASH TO MPL
Once you have entered a denomination, it is now the time to complete the transaction. You can use payment methods such as Net Banking, UPI, Credit/Debit Cards and via digital wallets like PhonePe and PayTM
After the successful completion of the transaction, your desired amount will now be added into your Mobile Premier League Wallet. You can check your Cash balance to know an entire amount available into your MPL Wallet
Mobile Premier League Review: How to withdraw your winnings from MPL?
As and when you keep winning on MPL, your winning amount keeps accumulated in the MPL Wallet. You can always withdraw it by following the below steps:
Open your Mobile Premier League App
Go to the Wallet section
Here you will see your entire balance
Click on Withdraw button – you will see an amount that you will be able to withdraw
You can now choose from PayTM, UPI and bank transfer methods to withdraw the amount to your bank account
A minimum of Rs.20 and a maximum of Rs.1,00,000 is what you can withdraw
The final minimum and maximum amount depends on an individual's limit and can be different for others
Once done, you will need to wait for a period of up to 3 hours for the withdrawn amount to be reflected into your bank account
If you want to check the status of your transaction, then you can do that by having a look at the 'View Transaction History' option in the Mobile Premier League Wallet page/section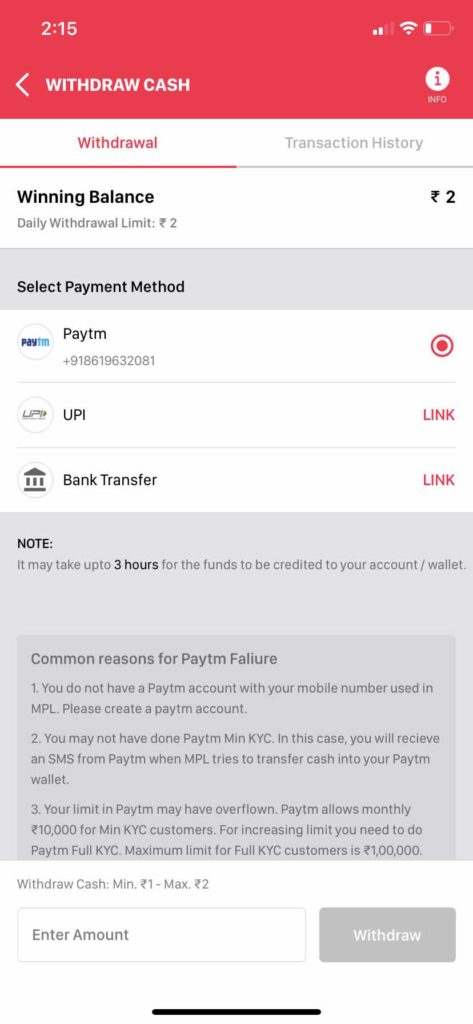 You will need to complete a one-time KYC verification process to become eligible to withdraw cash into your bank account.
There is no need to repeat this procedure unless you are changing your bank account for withdrawing money purposes. Once your Mobile Premier League account gets verified, you will find no issues in withdrawing money from your MPL account.
Mobile Premier League (MPL) Review: The final words
Mobile Premier League is among the top online fantasy sports platform in India that has found quite an acclaim in a short time. The platform has made sure that it has enough games to appeal all. It has almost all common games like Cricket, Football and more that have so many fans across India.
Along with conventional games, the podium also has almost all mobile games that have become common ever since smartphones came into the trend. You can easily spend your time on Mobile Premier League by indulging in the fun on Fruit Chop, Can Jump and many more.
From registering on the app to start playing to winning legal cash to adding fund to the Wallet to withdrawing winnings and more, the entire process on Mobile Premier League is hassle-free. The MPL app also comes with a robust Customer Support Service.
Should you have any issues, their Customer Service Executives are well-trained to handle your queries and help you out. They also provide the users with an exhaustive Frequently Asked Question (FAQs). Many times, it may happen that your query has already been answered and you only need to go through it. If your query is not covered, then you can also call them directly on their Customer Support Contact Number.
Overall, Mobile Premier League is a modern-day eSport platform that has everything to help you play and win your hearts out!
Good UI
Variety of Games
Good Offers