February 8, 2021 by KhelTalk
Pros
+ Many Withdrawal Options + Available on All Platforms + SignUp Bonus
Cons
- Limited Deposit Options
PlayerzPot Review
India has always been a Cricket-crazy country. In this country, you can find most of the Cricket fans having a basic knowledge of the game as many even have been playing it. But owing to work and other commitments, not many ardent fans get to play Cricket and other favorite sports in reality. But thanks to the advent and popularity of the Indian Premier League (IPL), many people have started to play fantasy Cricket on a large scale on many online platforms like Playerzpot.
Fantasy Cricket is a game type that lets you select players and create a virtual Team from a group of players who are about to compete in a Live and real match. If the chosen player scores, then you win some points and even earn cool cash.
What's more, the money that you have won can also be transferred into your bank accounts. It is because playing fantasy Cricket online and other sports and winning money is not illegal. It is one of the biggest reasons why you see a splurge in the number of people in India opening up to the concept of online fantasy sports nowadays.
Even though Cricket is the unofficial National game of India, sports lovers of Hockey, Football, Basketball and Kabaddi are also enjoying fantasy games on multiple apps.
Fantasy sports apps and websites have taken the arena of fantasy games to a new level. Now it is possible to download a sports fantasy game app right on your smartphone and enjoy on the go. Among so many online sports fantasy platforms in India, PlayerzPot is one of them.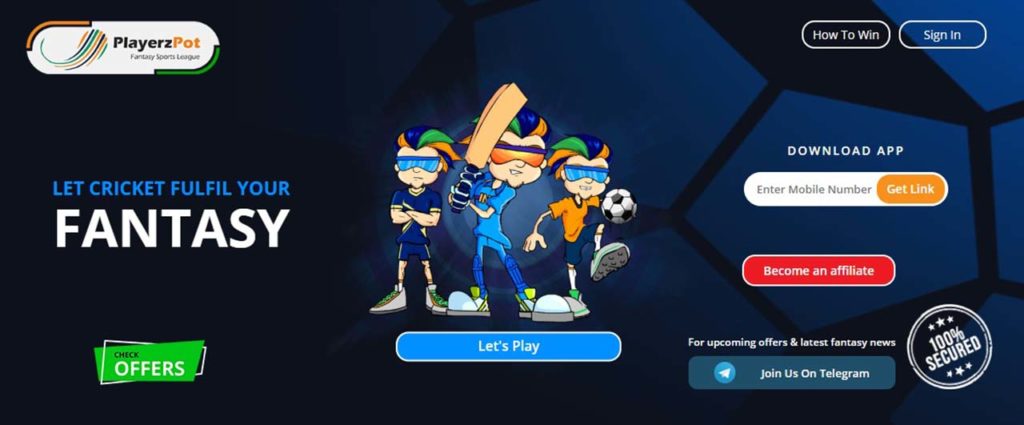 Nothing is better than enjoying by play Fantasy Cricket and other games on an app, score points using your skills and taking home some handsome cash. Yes, if you are passionate about Cricket and more, then you can follow it by registering on PlayerzPot and creating a virtual Team. Whenever your selected players perform excellently, you end up scoring points and earn cash. The fantasy sports options available on the platform provide you with amazing opportunities to start playing now!
PlayerzPot is a 100% legal and secure platform that follows all standard operating procedures and processes that it takes to ensure a better experience for its users. PlayerzPot is a Bronze member of the Indian Federation of Sports Gaming (IFSG).
If you want to know more about PlayerzPot, then you can go through a quick review of it.
Playerzpot Overview – Everything you need to know
Here is our Brief Playerzpot Review, here you'll find everything you need to know about this platform.
PlayerzPot Review: How to get you registered on it?
If you want to play online sports fantasy on PlayerzPot, then the first thing is that you will need to do – join it. Have a look at the simple process to do that:
You can land on the PlayerzPot website/app and click on 'Registration'/ playerzpot login.
You will be taken to a new page where you will be asked to sign in or sign up – click on the 'sign up' button.
A new page will open asking for your email ID and mobile number
An OTP will be sent to your mobile number, along with a link on your email ID for verification.
After you authenticate it, you will be asked to create your password.
That's it – your new account is created.
Alternatively, you can also sign up using Google and Facebook profiles.
On each successful sign, you will be provided Rs.100 Bonus Cash.
Here is the playerzpot login link here to get you started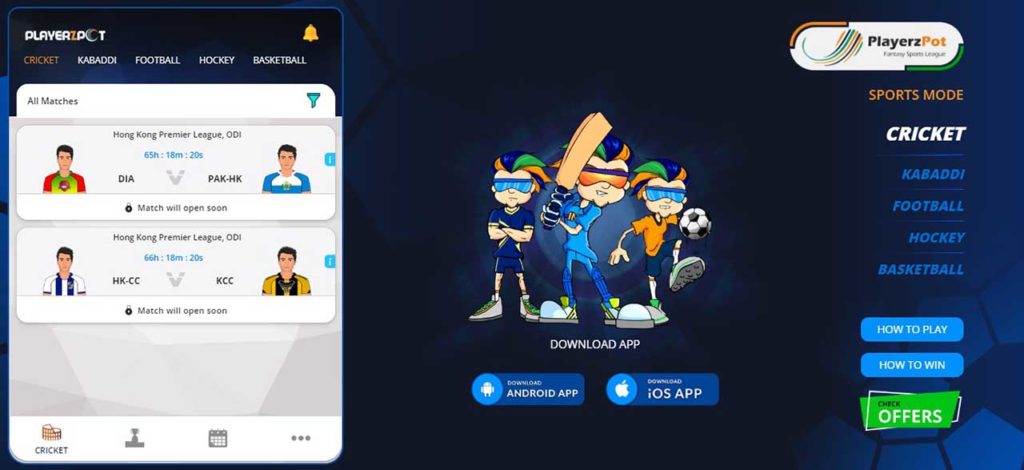 Playerzpot Referral Code
Here is our playerzpot referral code – S5C37E8D
You can use this code during Sign – Up & ger ₹ 30 Referral Bonus, you'll get ₹20 on mobile verification & ₹10 on email verification. But keep in mind this referral bonus expires in 30 days.
PlayerzPot Review: What sports you can play on it?
While Cricket is the ultimate favorite of most of the Indian users, you can also try your hands on other sports fantasy games, such as:
Cricket
Kabaddi
Football
Basketball, and
Hockey
They may soon add more sports to its list to help other users make the most of them.
Playerzpot app download
Playerzpot is available for both IOS & Android. You can simply use the links given below to download the App on your device.
Playerzpot APK Download link – http://bit.ly/2J90eoh
Playerzpot IOS App Download link – https://apple.co/2UrzoLG
How to begin playing on PlayerzPot?
It is dead easy to begin playing on PlayerzPot after you have created your account on it. Have a look at the vital steps to help you do that:
Create a Team of your choice consisting of real players that are about to compete in a Live match.
Based on real matches taking places, the players that you have selected will score points as per their performances in a Live game.
You can now compete with another user on PlayerzPot and beat him/her using our built Team.
You can start winning daily cash rewards and even some PlayerzPot goodies.
How to start adding money on the PlayerzPot account?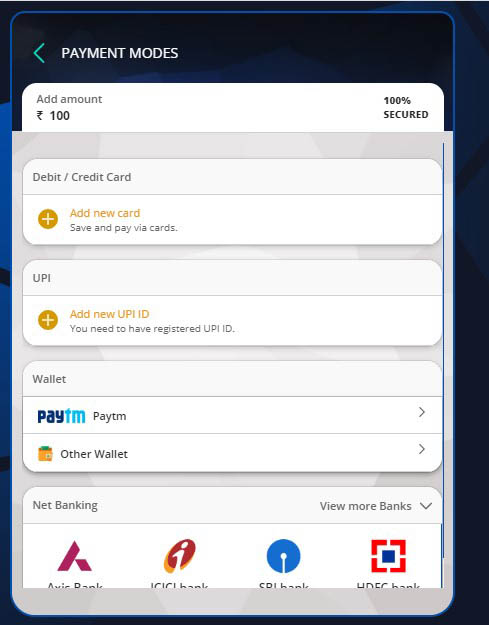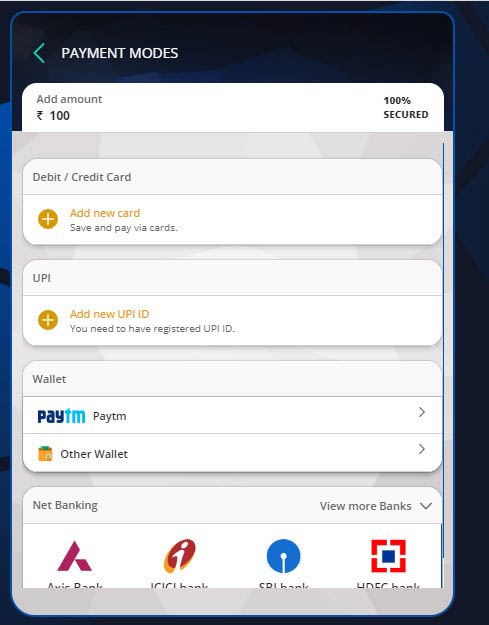 If you want to play in the cash leagues of the PlayerzPot and win some cash rewards, then you will need to add some money into its account from time to time. Have a look at the procedure that you need to follow to become eligible to load money on PlayerzPot:
Land on the PlayerzPot website and apps and go to the account section.
Search for the 'Wallet' symbol that would be displayed on the top of the page.
Click on 'Add funds'
Once you click on the above option, you will be taken a page where multiple payments options will be displayed.
You will need to choose any of the payment options such as debit or credit cards, internet banking, UPI, PayTm and more.
Once chosen, you can enter an amount that you are looking to add and then complete the payment.
Your 'Wallet' will now display the added amount.
You are now ready to take on the world by competing in a cash league on the PlayerzPot website/app.
PlayerzPot Review: How to withdraw money from the platform?
After you have won enough amounts on PlayerzPot by featuring in cash leagues and more modes, you would have also earned some money in the process. You can follow some process to withdraw your winnings to your bank account. Take a look: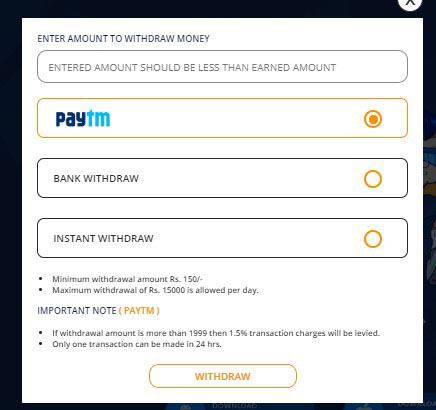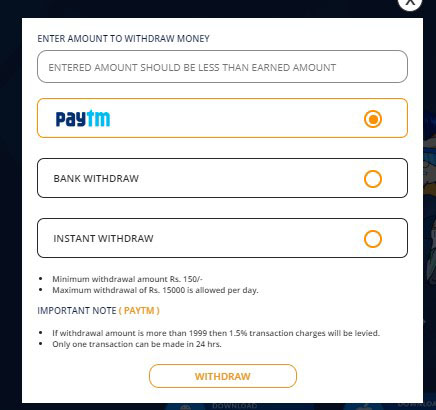 Go to the account section – wallet – of the platform.
Click on the 'withdraw' button.
You will be able to withdraw your amount via the PayTm gratification system and via your basic bank account transfer using your bank account details.
You should ensure to have your account on PlayerzPot verified for the cash withdrawal process.
For any amount above Rs.1,999, you will need to bear 1.5% charges on the withdrawal amount via PayTm. For bank withdrawal mode, you will not need to bear any charges. For an instant withdrawal facility, a user will need to bear 2% charges on the withdrawn figure.
For PayTm, the minimum withdrawal amount is Rs.150 and Rs.15,000 being the maximum. For bank withdrawal, Rs.150 is the least amount, with Rs.5,000 being the maximum. The minimum withdrawal amount is Rs.150 and maximum Rs.15,000 for the instant withdrawal system. PlayerzPot accepts all major credit, debit and Net Banking of leading banks in India.
The only thing is that you won't be able to withdraw your bonus amount and it has to be used to play online fantasy leagues on the platform only.
PlayerzPot Review: The final words
Cricket and life may look alike – you can consider every ball as every minute with every shot to the boundary meaning an opportunity in your life.
This Platform provides you with the opportunity to help you using your Cricket and other skills and convert into a passion. This way, you can convert your enthusiasm for multiple sports into cool cash rewards.
PlayerzPot is one of the leading online fantasy sports platforms that have gained quite a momentum in India. Not only Cricket, but you can also start playing fantasy sports across Basketball, Football, Kabaddi and Hockey.
PlayerzPot has almost everything in its stride to keep you engaged and yet win handsome cash rewards.
From joining the platform to the variety of sports fantasy platforms to adding money into the PlayerzPot wallet to withdrawing cash and more, everything is just bang on.
If you have always loved to play Cricket and other sports during your childhood and wants to do that even now, but unable to do, then PlayerzPot is for you! Not only you can easily use your Cricket and knowledge of sports to use but even start earning a passive income.
The 13th season of the Indian Premier League (IPL) is almost here, and if it's played in 2020, then you may find many of your friends and more joining fantasy Cricket.If you also want to join the bandwagon and kick off earning huge, then you can surely give PlayerzPot a chance. Not only will it help you cherish your dreams of playing Cricket and more once again, but even without having to move to the ground. And you won't mind if you are able to win some real cash by playing on PlayerzPot!  All the best!
Good UI
SignUp Bonus
Fast Withdrawal