March 17, 2021 by KhelTalk
Pros
+ Easy to use Interface + Largest User Base + Biggest Prize Pool
Cons
- Few Promotional Offers - Too much Competition
Dream11 Review
Here you will Get the best Dream11 Review along with Referral Code, Bounces 2021. Kheltalk is the one-stop destination for all the sports fanatics who wish to spice up their excitement with the expertise of their chosen game. It allows a user to make some real money by using their sports knowledge to play Fantasy Sports. We have made a very descriptive Dream11 Review so that you could understand what is this brand is all about. The flagship brand of Dream11 Fantasy Private Limited operates through the Dream11 website along with the Dream11 app. Dream11 handles three separate portals through which it provides several online fantasy games. The gaming platform was founded in 2012 and it offers various sports categories namely cricket, football, Kabaddi, Volleyball, and basketball. You can deposit money into your account simply with your VISA or MasterCard, online UPI portals as well as via Net Banking and its maximum pay-out amount is a cool 3,00,00,000 which can be processed within 1 day.

Dream11 Overview – Everything you need to know
Here is our Brief Dream11 Review, here you'll find everything you need to know about this platform.
How Does Dream11 Works?
This innovative platform was developed and conceptualized by Dream11 Inc. Its app is supported by both Android and iOS operating systems as well as a web variation that is used to play the online game. The site allows the user to create their fantasy team to play in particular tournaments. The users build up their team as the team manager and earn points based on the performance of the chosen player in the actual match.
At the end of the game, points are calculated based on the performance of the players chosen by users and the points are compared with that of other users in that league. This concept of fantasy sport is still at its preliminary stage in India but it is fast gaining popularity. The website claims to have more than 2 million core users. Dream11 is already a globally recognized platform with very lucrative partners such as the Indian's premier soccer competition, the Caribbean Premier League T20 cricket competition, and the NBA.
The site is effortless to navigate with user-friendly features all around. The home page features tutorial material to help new users navigate on the site. Log in and new registration buttons are in clear view at the top of the page for convenience. The registration process is quick and simple. It requires just a functional email address and a password creation process. Users can also sign up faster using their Facebook accounts. Once registration is done, you can instantly pick a sport and a team and get playing!
A variation of the salary cap system most commonly used at DFS sites is also employed on Dream11. Instead of giving players a price, you simply have a cap limit to stick to. For example, in cricket and football contests, each player is assigned a value out of 10 and you have a total of 100 points to spend on your teams. You have to select 11 players for the teams. The site is great for amateur players too since they have full guides on how to play Daily Fantasy Sports on their site as well as readily available explanations on the scoring systems for all games offered.


Dream11 APP Download –
Dream11 App is available for both IOS & Android. You can download the App by using the links below-
Dream11 App Download links are given below –
To download Dream11 Android APK click here!
To download Dream11 IOS App click here!
Dream11 Referral Code
Using our Dream11 Referral Code is super easy & simple.
Here is our Dream11 Referral Code – WAYAB23GH
or simply click on this link here.
How to use Referral Code in Dream11?
Here are some simple steps to get Dream11 Referral Bonus –
Download the latest version of the Dream11 App.
Install this latest version on your Mobile Device and grant it all the permission it requires.
Open the mobile App and click on "Register".
After that in the bottom left side, you'll see and option "Enter Code"
Enter our Dream11 Referral Code " WAYAB23GH " there in the first place holder/
You'll receive INR 100 Referral Cash Bonus.
But in order to receive this Dream11 Referral Bonus, you'll have to verify your Phone Number and email ID.
Here is the Dream11 Login link to get you started!
How to Play Dream11?
The Dream Team
Users can build their own dream team where they are the owner, the coach and the captain of the team. The best performing team is rewarded with cash at the end of the tournament. The homepage of the platform gives access to the latest news, results and the main rankings for the team players. In addition, there is an up-to-date news feed about various live matches going on across the globe.
A section of the site is dedicated to the Fantasy Cricket game which features the top five teams of the tournament. One section highlights the top leagues while another gives information about the five most valuable players who can be selected for your team. You can also view the match schedules which would enable you to keep your team up to date so that you don't miss out on any scoring opportunities in your league. Live scores are also given as they happen to enhance your experience and the live news feed is an efficient way of keeping track of the live-action if you don't have access to online live streams. It's, therefore, possible to follow minute by minute play via the updates on the live system.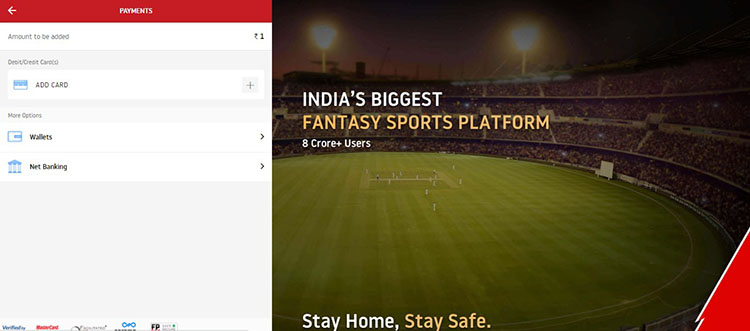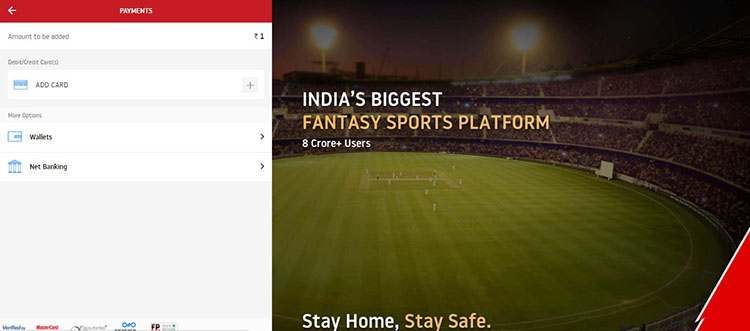 How to Deposit Money on Dream11?
There are various ways to deposit money on Dream11, on Dream11 you can deposit money via –
UPI (G Pay, Phone Pe, BHIM)
MobiKwik
Patym
PayPal
Net Banking
Debit / Credit Card
Depositing money on dream11 is very easy. Just go to the "My Balance" section in your Dream11 account and simply press "Add Cash". There you'll be provided with various deposit options, you can select the deposit option of your choice and successfully make a deposit on Dream11.
How can make a Withdrawal on Dream11?
Withdrawing your winnings on Dream11 is very simple. Before making a withdrawal request on Dream11 you need to fulfill just two basic requirements –
You need to have an approved Dream11 Account ( i.e you must have all your details like personal details, bank account and PAN card updated & approved on your account )
You have at least INR 200 in your Winnings Balance.
If you meet these two conditions then you are eligible to make a withdrawal. After then you can go to my balance and click on "Withdraw". After that, you'll be given an option to enter your amount. Then the amount would be transferred to the bank account you provided.
Dream11 Point System –
Dream11 has a very systematic point system. There are points assigned for every activity & scenario of cricket. Here is what Dream11 point system looks like –
Here is how your fantasy team earns Dream11 points
| | | | | |
| --- | --- | --- | --- | --- |
| Type of Points | T20 | ODI | Test | T10 |
| Being a part of the starting XI | 4 | 4 | 4 | 4 |
| Every run scored | 1 | 1 | 1 | 1 |
| Every wicket taken (excluding run out) | 25 | 25 | 16 | 25 |
| Catch taken | 8 | 8 | 8 | 8 |
| Stumping/Run Out (direct) | 12 | 12 | 12 | 12 |
| Run Out (Thrower/Catcher) | 08-Apr | 08-Apr | 08-Apr | 08-Apr |
| Dismissal for a Duck (only for batsmen, wicket-keepers, and all-rounders) | -2 | -3 | -4 | -2 |
Dream11 Bounce Offee 2021 Points System:
| | | | | |
| --- | --- | --- | --- | --- |
|  Type of Points | T20 | ODI | Test | T10 |
|  Every boundary hit | 1 | 1 | 1 | 1 |
|  Every six-hit | 2 | 2 | 2 | 2 |
|  Half-Century (50 runs scored by a batsman in a single inning) | 8 | 4 | 4 | NA |
|  Century (100 runs scored by a batsman in a single inning) | 16 | 8 | 8 | NA |
|  Maiden Over | 8 | 4 | NA | 16 |
|  4 wickets | 8 | 4 | 4 | NA |
|  5 wickets | 16 | 8 | 8 | NA |
|  2 wickets | NA | NA | NA | 8 |
|  3 wickets | NA | NA | NA | 16 |
|  30 runs scored by a batsman in a single innings | NA | NA | NA | 8 |
|  50 runs scored by a batsman in a single innings | NA | NA | NA | 16 |
Dream11 points for Economy Rate:
| | | | | |
| --- | --- | --- | --- | --- |
|  Type of Points | T20 | ODI | Test | T10 |
|  Minimum overs bowled by a player to be applicable | 2 overs | 5 overs | NA | 1 over |
|  Between 6 and 5 runs per over | 2 | | NA | NA |
|  Between 4.99 and 4 runs per over | 4 | | NA | NA |
|  Below 4 runs per over | 6 | | NA | NA |
|  Between 9 and 10 runs per over | -2 | | NA | NA |
|  Between 10.01 and 11 runs per over | -4 | | NA | NA |
|  Above 11 runs per over | -6 | | NA | NA |
|  Between 4.5 and 3.5 runs per over | | 2 | NA | NA |
|  Between 3.49 and 2.5 runs per over | | 4 | NA | NA |
|  Below 2.5 runs per over | | 6 | NA | NA |
|  Between 7 and 8 runs per over | | -2 | NA | NA |
|  Between 8.01 and 9 runs per over | | -4 | NA | NA |
|  Above 9 runs per over | | -6 | NA | NA |
|  Below 6 runs per over | NA | NA | NA | 6 |
|  Between 6 and 6.99 runs per over | NA | NA | NA | 4 |
|  Between 7 and 8 runs per over | NA | NA | NA | 2 |
|  Between 11 and 12 runs per over | NA | NA | NA | -2 |
|  Between 12.01 and 13 runs per over | NA | NA | NA | -4 |
|  Above 13 runs per over | NA | NA | NA | -6 |
Dream11 points Strike Rate (except Bowlers):
| | | | | |
| --- | --- | --- | --- | --- |
|  Type of Points | T20 | ODI | Test | T10 |
|  Minimum balls faced by a player to be applicable | 10 balls | 20 balls | NA | 5 balls |
|  Between 60 and 70 runs per 100 balls | -2 | | NA | NA |
|  Between 50 and 59.99 runs per 100 balls | -4 | | NA | NA |
|  Below 50 runs per 100 balls | -6 | | NA | NA |
|  Between 50 and 60 runs per 100 balls | | -2 | NA | NA |
|  Between 40 and 49.99 runs per 100 balls | | -4 | NA | NA |
|  Below 40 runs per 100 balls | | -6 | NA | NA |
|  Between 90 and 100 runs per 100 balls | NA | NA | NA | -2 |
|  Between 80 and 89.99 runs per 100 balls | NA | NA | NA | -4 |
|  Below 80 runs per 100 balls | NA | NA | NA | -6 |
The Player who will be selected as the Dream11 team Captain will receive 2X points, whereas the Vice-Captain of your Dream11 team will receive 1.5 times the points.
Help Desk Dream11
The help desk column at the bottom of the home page redirects users to the FAQs page in order to find solutions to common problems. You can also submit your queries regarding deposits, withdrawals, points, and any others via the help desk email address; fantasycricket@dream11.com. The site, however, does not provide any telephonic customer support however the email support usually responds to queries shortly after they are lodged via the support email. If your issue isn't covered in the FAQs, there is a live chat option to help on stand-by.
Dream11 Refund Policy
A monetary refund is only initiated in the event of a 'no result' outcome. If the match ends up having a defined result despite bad light, curtailed overs etc, the match on the platform would proceed as normal and there would be no refund in such a scenario.
Promotions at Dream11
Dream11 gives its users an Rs.100 cash bonus after every referral. You can simply apply the referral code and earn a flat 100 bonus for every invite. When your referred friend starts playing, you both get Rs 100 for free.
Now you know everything about dream11 like what it is, how does it work! You also know that it is a very popular game in India, which means it has a lot of competition. The biggest question in your mind right now would be how do I win on dream11? Don't worry we got you covered! We first told you what is Dream11, now we'll tell you how to win on Dream11!
You can use our Dream11 Referral code – WAYAB23GH to start earning the referral bonus.
Dream11 tips to help you dominate the league and Win Big!
Are you looking to win the grand fantasy cricket league – Dream11? Get ready as we are going to talk about how you can bring home more by investing less fantasy cricket! We have compiled some very useful dream11 tips that will help you gain some tactical edge over your competitors. Dream1 1 is a very popular fantasy sports app in our country, it has the largest user base. That translates into a very fierce completion in Dream11 leagues. It becomes more important when we are aware of the fact that only a few of the participants are able to win and earn money!
Out of the many reasons to win, the Captain and Vice-Captain are the key attributes behind your wins in the fantasy cricket. In this post that you are going to read today, we are going to enlist some proven tips that may help you pick the right team.
But, before we begin with our Dream11 tips, it would be good to know a bit about this fantasy sports India so that even novice could know about it. All set to begin? Let's go!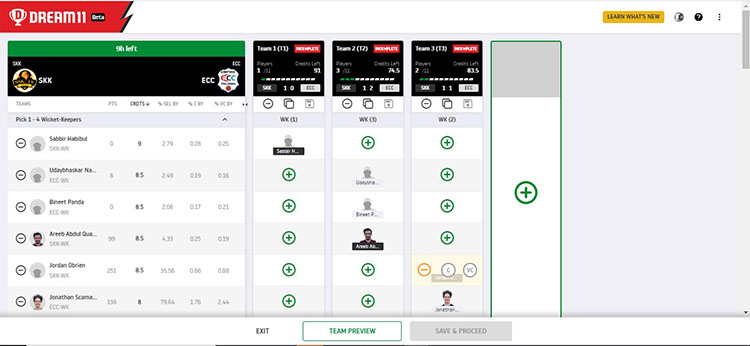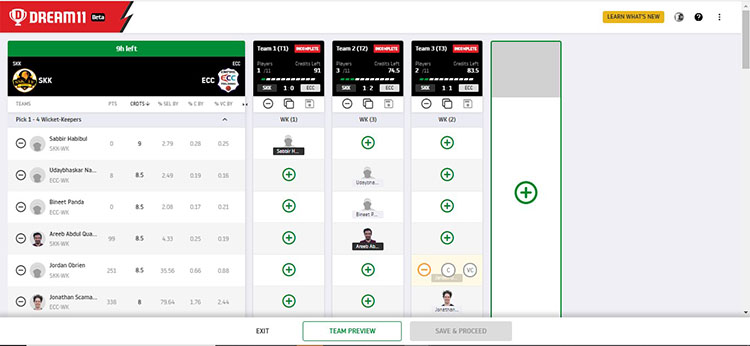 What is fantasy cricket?
Fantasy cricket is a billion-dollar industry, where you can establish your own team during a match and win quick dollars. But, how much you will win will depend on your ability to take risk and attitudes. Dream11 is the torchbearer of the fantasy sports India industry, leading the cricket league.
Let's get going by providing you with some splendid Dream11 tips to win it that will enhance your winning prospects.
Here's how you can start playing Dream11 fantasy cricket
When it comes to playing Dream11, a participant needs to choose 11 players from both teams where you are free to select the team in this order. 1-4 keepers, 3-6 batsman, 1-4 batsmen, 3-6 bowlers. Along with the team structure, you will also need to select the Captain and Vice-Captain. The major thing to remember here is that the better your player performs, the higher will be points that you will gain.
Other things that you will need to remember include – a Captain makes twice (2x), the points grabbed. On the other hand, a Vice-captain makes 1.5 times the points earned, while a batsman makes 1 point on every 2 runs scored.
Here is what other players would help you earn. Have a look:
A bowler can make 10 points on every wicket he takes
A fielder gets 4 points on 1 catch taken
A keeper can help you get 6 points on stumping
You can also get special bonus points when there are higher strike rates, boundaries, a 50 made by a batsman or when a ton scored by a batsman
On the same lines, bonus points are also provided on better economic rates, run out dismissals, maidens for a bowler
Thus, if you are looking to bring home more Dream11 points, it can help you enjoy more cash by Play fantasy sports India.
Here are some basic Dream11 tips & tricks!
– Know the exact playing 22
The very first thing about playing on Dream11 is building your team and knowing 22 players of the match which you are going to indulge in playing. There are a total of 40 players in a match, but only 22 players play the game. Hence, out of the 40, a total of 18 players will not play the game. The reasons for them not playing a match may be players being on rest, injured and unfit and more. Hence, if you include a rested player, you will be able to select him, but doing that will get zero points. It would be suggested not selecting a player that is doubtful to be included in the squad.
Apps such as Cricbuzz, IHDFantasy, and Yahoo Cricket let you select the final 11 from both the teams one hour before the starting of the match. Hence, you can check out from any of these platforms easily.
– You should select a player on his recent form
The next thing is checking out the form of players – he should have at least played five matches. A fit player should be selected because they have more likely to be selected in your team – and also give more points to your team. Famous and consistently performing players such as Virat Kohli, Chris Gayle, Kane Williamson, Ben Stokes are always likely to play a game (given they are fit). Such a pool of players can provide your team with more points to your team. Do you find a new player that is yet to play an international match or without records? Then, you should check out the records of his domestic performance. On average, new players are not noticed by competitors, but it may play a significant role in helping you win. Always be informed to know that if you see that a player has a massive record in the domestic circuit, then you may select him. Thus, you should be considering an uncapped player as well.
– Here is how you should select Captain and Vice-Captain
Now comes the most important part of team selection – choosing the Captain and Vice-Captain – and it is one of the most hardest. Nothing to worry, we have you covered by helping to test all key players as Captain and Vice-Captain that may help you win. Keep reading:
– When you choose a Wicket Keeper as the Captain
Wicket keepers get more chances to catch and stump a batsman when compared to fielders. If your players are able to strike well in batting and take catches, along with stumping, then you will be able to get double the points. You can now change 1-4 wicket keepers. Hence, it is suggested that you select wicket keepers from both sides as Captain and Vice-Captain. For example, selecting Mahendra Singh Dhoni (MSD) as the Captain will help you seize more points. Also, a wicket-keeper is allowed to play at number 3 or 4, and then you can get more points while they can score.
– When you select all-rounder as a Captain
After wicket-keepers, picking all-rounder as captain and vice-captain can also be the best thing. The key advantages of selecting all-rounders as your skipper are many – one of them is that they can provide you with more points in bowling and batting. When you choose renowned all-around performers such as Ravindra Jadeja, Ben Stokes, Shane Watson, it is a great choice to make. Yes, they perform in both innings by bowling and batting, and it is a huge thing to ensure that your player is always in action.
– When you choose a bowler as a Captain     
When you select a bowler as the Captain of your team, it may become tricky for your squad. In this case, your bowler captain needs to take more tickets. It may be hard for a bowler to replicate in each game – picking up 3-5 wickets in each match may not be possible. On the other hand, sometimes even tried and tested and renowned bowlers may not be able to perform well and take wickets, but a part-timer may do that. Thus, if you still insist on picking any other bowler as a Captain, then you should first check his performance in the last 5 matches and then pick the best ones. Considering those bowlers with a better economy rate should be selected. The other thing to note is that when you venture out bowlers as Captain, then they may win you more matches and points in a low scoring match.
– When you select a batsman as a Captain of your Dream11 team
Now the time of the next tip – choosing batsman as a captain is not always the right choice. It means that your luck may or may not work – a batsman that you select may or may not be among runs. But, it is also a probability that your selected batsman will hit a fifty or hundred – it all boils down to your luck and how a player performs on the D-day. You get 1 point on every 2 runs scored by a batsman with added points on boundaries and sixers. It would be suggested that you go with Wicket keeper or All rounder as your Skippers. It is majorly because they will be able to get more points bowling and batting.
On the other hand, a batsman will be able to provide you with more points in only the batting department. However, if he scores less or gets out on duck, then your chances of scoring more will go down the drain.
Without any doubt, anyone who is indulging in fantasy sports India has his intensions to winning huge amounts in a short span of time. Thus, most of the players are always playing in the big league with many competitors. In this grand league, your prospects of winnings are less. It is because there are too many potential competitors with other teams as well. Hence, a user may start to lose money and gets to find a better team only after a certain period of time.
Therefore, if you are a newbie and have recently started playing the Fantasy sports India League such as Dream11, then the trick is not being selfish. During the initial days, you can try out your luck in lesser-known leagues with 2-3 players. This way, you can be a winner even when you have imbalances in your squad. On the other hand, playing directly in a bigger league may prove to be risky. It is because even small errors while playing in a grand league may prove to be unfruitful and may lead you away from the winning zone.
You can also check out our Dream11 tips page to get tips & predictions on daily matches.
What are the vital Dream11 tips to help you earn big and real cash?
You can go through these below-mentioned tips that can help you earn huge and real cash without hassles. Have a look:
Your aim should be pitching conditions beforehand while creating your Dream11 team. Still, you should also not rely on your team to be dependent on the pitch. It is the greatest bumble that multiple contestants are indulging in while paying Dream11 and many other fantasy cricket websites and apps.
Go with what your sixth sense or gut says and never try to be protected extra like other players in the fantasy cricket do.
Many players simply pick players that are most expected to make the final 11 in a team. Similarly, you should also get out and try on a limb.
Have you picked a player who is under praised yet capable of winning the match for your team single-handedly and not performing again? What if you drop him and he starts performing again? Won't be a great miss? Yes, in a case like that, it should be your duty to having trust and faith in him for at least a few matches more. Slow and steady wins the race, and even you may also get the results in your favor a bit later if not sooner.
Other significant elements that you must keep a close eye on in Dream11
Winning small leagues in Dream11 is not impossible if you are able to focus around all wonderful and breaking news on fantasy cricket around the world. You need to be well informed about the genre so that you can avoid pitfalls and be able to be on your way to positivity and wins. Going through news regarding small as well as big leagues is vital as nobody has control over what's going around once a match is live! Hence, you need to learn the game's basics by going through breaking news and giving chances to winning. But, you should also not be hell-bent on including some seasoned players 365 days. It is because they may not be playing due to last-minute issues such as fitness, and rarely for striking a balance in the team. Remember how seasonal bowlers are sometimes benched when pitch conditions are not in their favor – yes those things happen, and that's what keeps the charm of cricket alive years after years.
Bowlers can win your matches, so it's good to take 3-4 experienced mix of seamers and spinners that may have maximum chances of picking wickets together. The same is the case with all-rounder – they keep scoring and taking wickets – some have proven record that some will surely grab a wicket or two or chip in with a handy 30-40 to let you win points and cash.
The final point is checking on the accessibility of a player that you want to play in a match by going through live expert opinions or printed versions in a newspaper. In English cricket, rotation is the norm to keep players refreshed all the time. Hence, you need to be dead sure on this factor before building a fantasy sports India cricket team.
Batting, bowling, wicket keeping, and all-rounder are the positions that you need to be very sure before picking. You must not do that just for the sake of it – you will end up being frustrated and later discontinue from a platform where people are making huge money – all that you need is skills of being relevant to conditions before a match. For the sake of your team, you should never turn deaf to pitch report, weather news, team player update, the press conference of the last match, venue statistics, most successful players of each time at a venue and highest and lowest record, scores being defended and not and much more.
What about the withdrawal of money from Dream11?
To initiate withdrawal of money from Dream11, you will need to check your account. For the confirmation of the same, PAN Card and bank account statement will be needed. You will also be able to transfer photographs of the container card. What's more, you can also provide an image of the landing page of bank net banking for the ledger. Wait and take a break now – stop. At that juncture, you should go your overall winning amount and snap on a pullback – that will be it. Now, your winning amount will be credited to your bank account or record within 4-5 business days.
FAQs
What is Dream11?
Dream11 is India's biggest Single Match Fantasy Game that allows its users to win real cash by just using their cricketing knowledge. Dream11 offers various Fantasy sports like cricket, football & kabaddi. It has a userbase of over 5 million which is growing exponentially.
How to play Dream11?
It is very easy to play on Dream11. Here are some basic tips & steps on how to play Dream11 –
– Choose a match from any current or upcoming series.
– Create your Fantasy Team using your cricket knowledge within a budget of 100 credits.
– After creating the team Join the available Free/Cash Contest available on Dream11.
– After you have entered a contest, just relax and watch your team play.
– If your team has scored the highest in the contest you'll win the contest.
– After you have Won you can easily withdraw your Winnings from your Dream11 account.
Is Dream11 legal and safe?
Dream11 is 100% legal and safe to play throughout India except for Odisha, Telangana, Assam, and Nagaland. Indian High Court stated the Dream11 is a game that requires superior judgment, knowledge of cricket, they also stated that "an element of skill" is involved in determining the result of a dream11 game.
Does Dream 11 really offer real cash prizes?
On Dream11 you can play both free and real money/paid contests. A user has to join a real money contest with a certain fee and by that he can win real cash prizes.
How to win Dream11?
You can easily win on Dream11 if you follow these simple steps. Here are some easy steps that'll help you answer your question "how to win Dream11" –
– Know about every playing 11.
– Don't use your emotions while selecting your team.
– Select your Captain & Vice-Captain carefully.
– Take the weather and Pitch Condition into Consideration.
– Try to keep more all-rounders in your team
Biggest Fantasy Portal
Largest User-Base
Fast & Easy Withdrawal