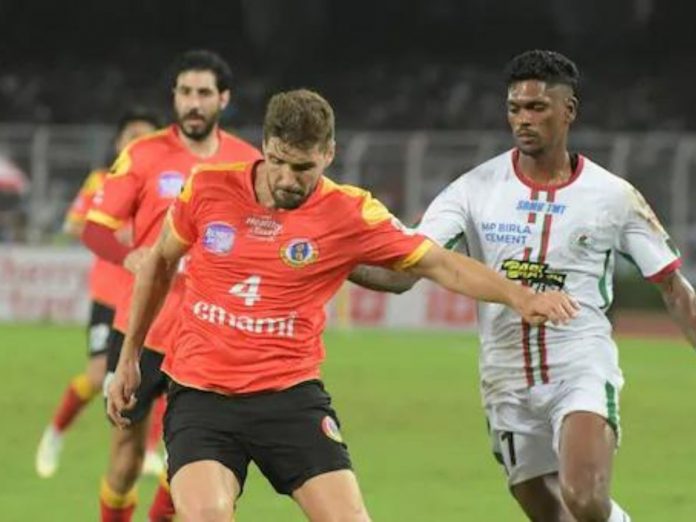 28th August was a golden day for Indian football as it witnessed the iconic Kolkata derby at the iconic Salt Lake Stadium. It was a big day for both the teams as the rivalry stretches back in time and is a well sought-after match.
ATK Mohun Bagan won the game courtesy an own-goal from East Bengal's Sumeet Passi in the extra-time in the first half. Unfortunately, East Bengal could not stage a comeback from that and the second half of the high-voltage clash fell dry in terms of goals.
Since January 2020, ATK Mohun Bagan have been edging past their arch-rivals in all the derbies. With this win in the Durand Cup, the Mariners now stretch their unbeaten run against East Bengal to 6.
ATK Mohun Bagan were good with their attacking intent but East Bengal defenders displayed a masterclass of a performance. The score-line read 1-0.
TRAU FC display resilience against Army Red
On the other hand, we witnessed a thriller of a game at the Khuman Lampak Stadium in Manipur. TRAU FC edged past services team Army Red 2-1 in a nervy game.
It was a come-from-behind victory for TRAU FC as Army Red had opened the scoring in the first half. Liton Shil scored a goal in the first half but TRAU FC were the better team in the second half.
Boirangdao Boro and L. Milan scored goals for the local side and TRAU FC are now in the 3rd position in Group C.
Army Red on the other hand are without a win in their 3 games and would be a tad disappointed with this result. Hyderabad FC and NEROCA FC occupy the top two positions in their group.
Sunil Chhetri-led Bengaluru FC will take centerstage today against Indian Air Force. In the other game of the day, Mumbai City FC will lock horns with Rajasthan United.
Also read: Rajasthan United Durand Cup 2022 Squad & Schedule, Group name, match detail, Captain, Know all