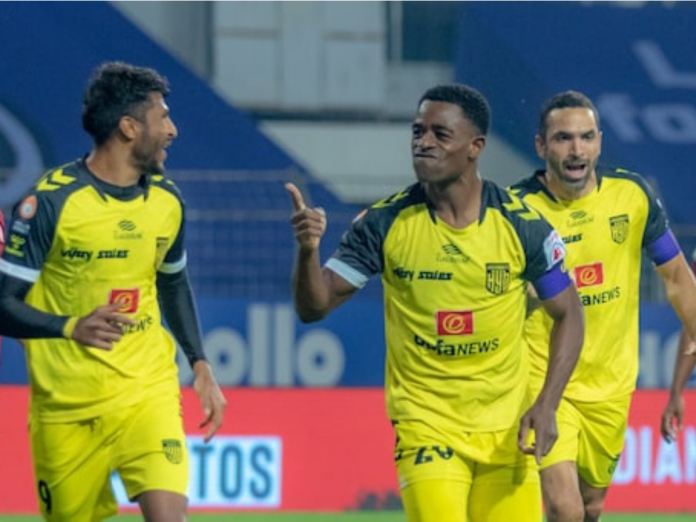 Hyderabad FC will be locking horns with Bengaluru FC in the 2nd semi-final of the Durand Cup 2022. The 131st edition of Asia's oldest-football event has witnessed some stellar footballing action from all teams and Hyderabad FC too has made an impressive Durand Cup debut.
The Nizmas finished at the top of Group C with 3 wins and 1 loss under their belt. They were clinical in most of their performances and had a terrific quarter final as well, where-in they defeated Rajasthan United 3-1.
The 2021-22 Indian Super League (ISL) champions are sheer favourites over their rivals Bengaluru FC in the semi-finals.
In this article, we take a look at 3 reasons why Hyderabad FC have an edge over Bengaluru FC in the Durand Cup semi-finals:
1. The ISL 2021-22 winning trophy will act as a psychological advantage
Hyderabad FC was crowned champions in ISL 2021-22 after an intense penalty round against Kerala Blasters in the finals. The Nizams would definitely be confident and momentum would be on their side. The defending champions of ISL would definitely use that in favour and have a clear edge over Sunil Chhetri's side.
2. They were steamrolling past the opposition with absolute ease in group-stage
If winning the group-stage matches in the Durand Cup was an art, then Hyderabad FC was the Picasso of it. They finished on top of Group C with 3 comprehensive wins in their kitty. They also registered a smooth victory over I-League team Rajasthan United in the quarter finals. Momentum is on their side and the Nizams are rock-favourites to win the semi-final.
3. Bartholomew Ogbeche's hot blistering form
Nigerian footballer Bartholomew Ogbeche bagged the Golden Boot award in ISL 2021-22. He continued that impressive form into the Durand Cup 2022 and is so far, the 3rd leading goal-scorer in this prestigious tournament. He is his side's leading goal-scorer and has netted 5 goals so far in the tournament. Ogbeche's form is certainly a huge positive for Hyderabad FC.
Also read: ISL 2022-23: 5 Foreigners Who Will Make Their Debut In This League