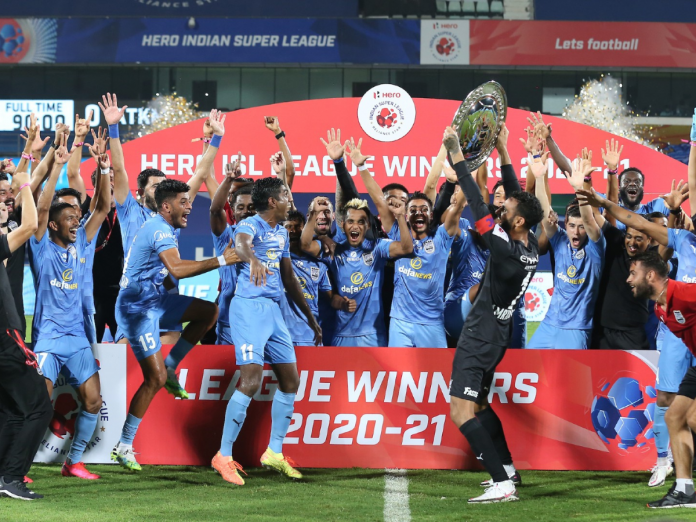 After a disappointing loss in the Durand Cup 2022 final at the hands of Bengaluru FC, Mumbai City FC would be looking to tighten the screws of their team and challenge for the Indian Super League (ISL) trophy in this season.
Head coach Des Buckingham will be a happy coach as two of his team members were in the top two goal scorers list of the Durand Cup 2022 campaign. Lallianzuala Chhangte netted 7 goals in the tournament and won the Golden Boot award.
Scottish playmaker Greg Stewart was another beacon of light in this team as he netted 6 goals in the tournament.
In this article, we take a look at the predicted playing XI of the Mumbai City FC squad:
Goalkeeper: Phurba Lachenpa
After an impressive outing at the Durand Cup 2022 campaign, Phurba Lachenpa is all set to be drafted into the playing XI of the Islanders. The youngster was a regular at Real Kashmir FC but has not always been the first-choice keeper of Mumbai City FC. The custodian from Sikkim is all set to be an asset of Des Buckingham.
Defenders: Mehtab Singh, Rostyn Griffiths, Sanjeev Stalin
The defence department of Mumbai City FC looks quite formidable and has the potential to block some good counter-attacks from opposition teams. At the heart of the defence of Mumbai City FC is 34-year-old Australian Rostyn Griffiths. He played in 17 matches in the A-League last season for Melbourne City FC. Youngsters Mehtab Singh and Sanjeev Stalin are other vital cogs of this defence department.
Midfield: Vikram Pratap Singh, Ahmed Jahuoh, Vinit Rai, Rowllin Borges
Another aspect which is the strength of Mumbai City FC is their midfield region. With the likes of Vinit Rai and Vikram Pratap Singh who are versatile and counter-attack at will, the midfield region is quite bolstered. Moroccan midfielder Ahmed Jahuoh scored 3 goals for the Islanders last season and along with Rowllin Borges, will form an important pair in the midfield region for Mumbai City FC.
Strikers: Lallianzuala Chhangte, Greg Stewart, Jorge Pereyra Diaz
The biggest strength of Des Buckingham's Islanders is their strikers. With the top two scorers of Durand Cup 2022 in their ranks, Mumbai City FC are a juggernaut. They can fire on all cylinders at regular intervals and with their creativity during dribbling, they form a force that would be difficult to stop.
Predicted XI of Mumbai City FC in ISL 2022-23
Phurba Lachenpa, Mehtab Singh, Sanjeev Stalin, Rostyn Griffiths, Vikram Pratap Singh, Ahmed Jahuoh, Vinit Rai, Rowllin Borges, Lallianzuala Chhangte, Greg Stewart, Jorge Pereyra Diaz
Predicted Squad of Mumbai City FC in ISL 2022-23
Phurba Lachenpa, Mohammad Nawaz, Bhaskar Roy, Rahul Bheke, Amey Ranawade, Mehtab Singh, Sanjeev Stalin, Mandar Rao Dessai, Rostyn Griffiths, Vignesh Dakshinamurthy, Serigne Mourtada Fall, Huidrom Naocha Singh, Alberto Noguera, Ahmed Jahouh, Rowllin Borges, Vinit Rai, Greg Stewart, Asif Khan, PC Rohlupuia, Apuia Ralte, Vikram Partap Singh, Lallianzuala Chhangte, Gurkirat Singh, Ayush Chhikara, Bipin Singh Thounaojam, Jorge Pereyra Díaz
Also read: ISL 2022-23: Top 3 Foreign Signings Of Mumbai City FC This Season