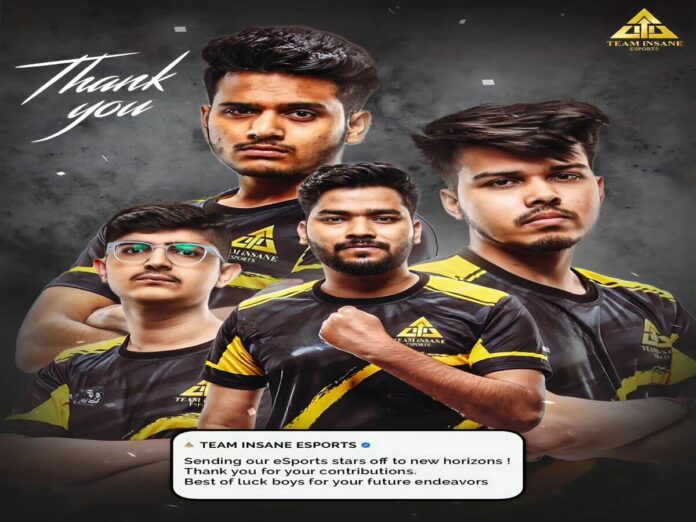 One of India's oldest esports groups is Team Insane Esports. The group fielded teams in many esports games, including Battlegrounds Mobile India (BGMI), Players Unknown's Battlegrounds (PUBG) New State, and Free Fire.
Although the BGMI lineup performed admirably in the Battlegrounds Mobile India Masters Series (BGMS) Season 2 2023 competition, it was unable to repeat that success in future tournaments.
The starting lineup had a solid balance of young, skilled players with experience.
Despite their strong accomplishments in other third-party competitions, the lineup was not able to advance to the Battlegrounds Mobile India Series (BGIS) 2023 LAN Finals.
The BGMI roster of Team Insane Esports has been announced to have split up. To let supporters know about the roster's departure and to wish the players luck in their future pursuits, the company posted on Instagram.
The announcement post read: "Sending our eSports stars off to new horizons. Thank you guys for your contributions. Best of luck for your future endeavors."
Team Insane's BGMI Roster
The following players were on the BGMI roster of Team Insane prior to its disbandment:
Harshh.
Aditya "Aadi" Pawar.
Skipz.
Darklord.
For the Upthrust Esports Diwali Battle 2023, Harshh from Team Insane Esports was already a member of Team 8Bit. 
However, Slug, who competed for the squad in Skyesports Championship 5.0, BGMS Season 2, and BGIS 2023, had also gone to play for Global Esports.
The squad impressed everyone with its aggressive and steady gameplay during the BGMS Season 2 2023 LAN event, putting up its finest performance so far. In this event, it managed to take fifth place.
The team performed well in BGMS Season 2, but it was unable to maintain that level of performance in subsequent competitions, such as BGIS 2023 and Skyesports Championship 5.0, where it placed eighteenth and seventeenth, respectively.
Also Read: BGMI Pro Jelly Roped Into GodLike Esports