Sunil Gavaskar opines that Virat Kohli should play on his strengths in order to regain his peach form with the bat in the ongoing Indian Premier League season. The RCB skipper has managed fifty and two-thirty plus scores with his willow. But, still, Kohli is due to play an astonishing knock for his franchise leading from the front.
Virat Kohli is one of the best batsmen on the planet and RCB fans expect him to come up with a good knock in every game. Although, it is not possible for a player to shine every day. But, it is a fact that Kohli is yet to play a justified knock with his bat. So far he has scored 163 runs in 6 games. Even, he got out after scoring 12 runs against Delhi Capitals to Avesh Khan.
Sunil Gavaskar Has An Advice For Virat Kohli In Order Gain His Peach Form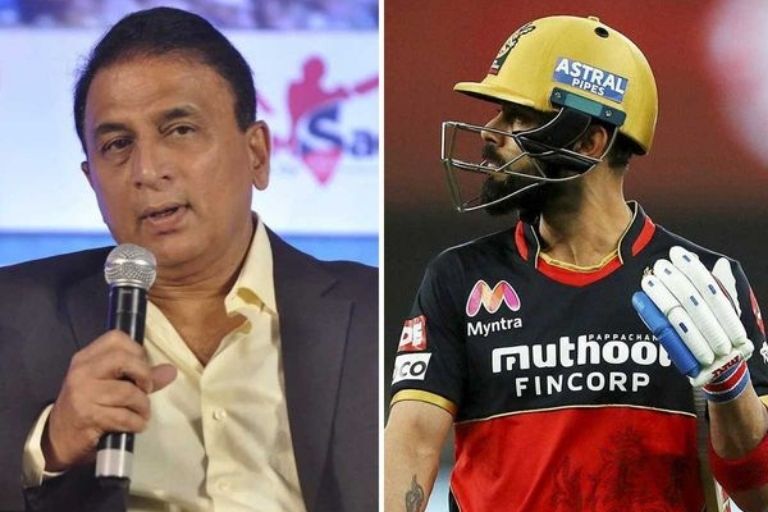 Now, Sunil Gavaskar has come up with advice for Virat Kohli. The former Indian cricketer said that Kohli is yet to click a glittery knock in IPL 2021. As per him, the RCB skipper should punch the ball with his skillful drives over the covers and square leg. And, the latter should not go for single or double by playing the ball towards the third man.
"Yes, he hasn't fired. He sets such high standards for himself that every time he comes out to bat, people expect a big innings from him, a 50-plus innings from him. I just want to say maybe he should not be the tickler, he should be the puncher," Sunil Gavaskar told Star Sports.
"What he tried to do today (on Tuesday) was he tried to tickle the ball for a single, he should be looking to hit the ball in such a way the way he drives, the way he punches it around the extra cover area so that's exactly what he has to do. He has got to play it straight, he has got to not look to guide the ball to the third man because you want somebody like a Virat Kohli to be punching as he does.
"That flick that he played, those are his strengths. He must keep playing to his strengths, he will be backing to getting runs," he added.