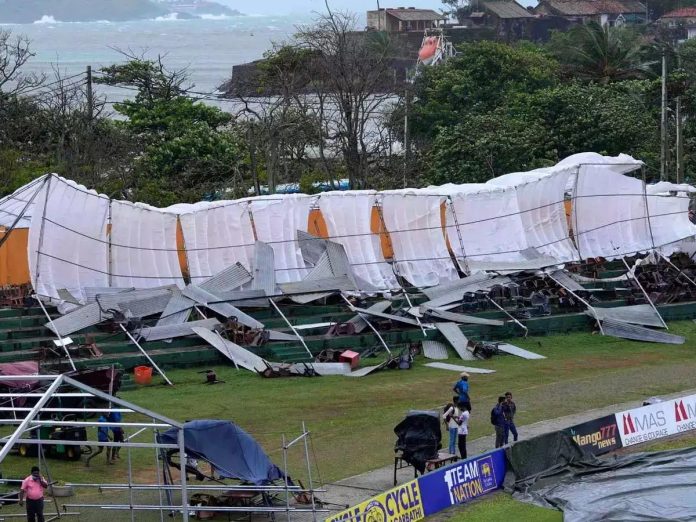 A makeshift Grandstand collapsed at the Galle International Stadium under a barrage of coastal wind and pouring rain. The corrugated roof sheet ripped off the stands causing them to collapse and delaying the start of Sri Lanka and Australia.
According to initial reports, overnight rain and heavy winds hit the stadium and continued well into Thursday. Before the first ball on Day two of the first Test, the gusts of wind hit the roof and eventually caused havoc.
Pictures posted by Commentator Adam Collins show a glass panel fell and smashed in front of the canopy entrance. Fortunately, Nobody was in the stands at the time which was packed to the brim on the opening day of the test.
The Australian team has just arrived on the scene, watching the Ground staff working to secure the ground. The Ground staff at Galle were instrumental in keeping the entire play area covered as the rain blew in sideways.
Despite precautions taken by the staff, Tires and tarpaulins used to keep the tarp sections secure from the rain got blown away along with the rest of the tarpaulin pieces covering the outfield.
They even secured the metal roof sheets by ropes covering the small concrete seating area on the east side of the ground that blew away.
The entire roof then caved in, with officials now considering how to secure the metal pieces before the clash.
The rain continued past the scheduled start of the match at 10 am local time, with ground staff struggling to keep the entire outfield covered amid gusts of wind.
Read more: