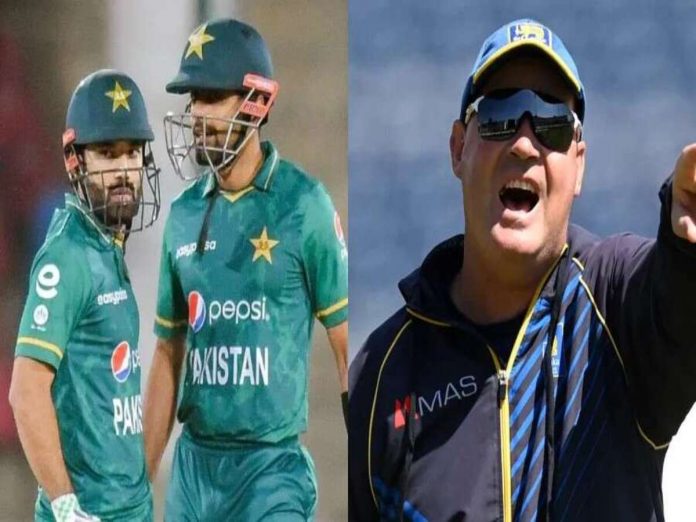 Babar Azam and Mohammad Rizwan shouldn't open for the Men in Green in T20 International matches, according to former Pakistan head coach Mickey Arthur. From 2016 until 2019, he served as Pakistan's cricket team's coach.
After the loss, Arthur agreed with former Indian player Robin Uthappa and stated that the team's approach for batting first in T20 matches has to be changed.
According to Uthappa, the Pakistan team is led by Babar Azam, Mohammad Rizwan, and Shaheen Shah Afridi. He claimed that the Men in Green have a strategy for batting in the second innings, but that they appeared to be "shooting in the dark" when batting first.
The two highest-ranked Pakistani batsmen, Babar and Rizwan, have had great success opening the inning. To add stability to the middle order, he believes that Fakhar should start alongside either of them, with the other coming in at No. 3.
Babar or Rizwan come in at No. 3
On ESPNcricinfo's T20 Time Out, Mickey said, "You'd want to probably send Fakhar Zaman up and have a left-right batting combination so that the bowlers are bowling different angles, and you have Babar or Rizwan come in at No. 3 so that there is a little more depth and someone can play the sheet anchor role for them and hold one end up while the others revolve around these guys."
"I think they should. Fakhar hits the ball in different areas, it frustrates the bowlers a little bit. It is the different angles, you've got a left hand and a right hand. So, spread Babar and Rizwan and you put Fakhar Zaman back at the top," he added.
The Pakistani top order may find it a challenge to switch Babar Azam and Fakhar Zaman's batting positions. The Pakistani middle order is undoubtedly highly aggressive and attacking but also somewhat inexperienced at the same time, so the left- and right-hand combination at the top and Babar batting at number three can keep the scoreboard moving.
Pakistan has a very inexperienced middle order
In contrast, Arthur claimed that Pakistan's middle order is largely inexperienced, unlike under his administration when the team boasted players like Mohammad Hafeez and Shoaib Malik.
"In terms of blueprint, when I was with Pakistan, and we had a more successful time in T20 cricket, we used to set ourselves to get 160 batting first and then rely on our bowlers to squeeze," Arthur said.
"We used to build as best we can, and that was quite a good recipe for us. The difference between that team and the team now is that in the middle, we had Mohammad Hafeez and Shoaib Malik. In the middle now, they are a very young outfit, they don't have much experience, and when you get them three wickets down early, I think they are going to struggle," he concluded.
On September 2, Pakistan will play its second game against Hong Kong, and they might play India again the following Sunday.
Also Read: 5 key players to watch in today's match India vs Hong Kong in Asia Cup 2022