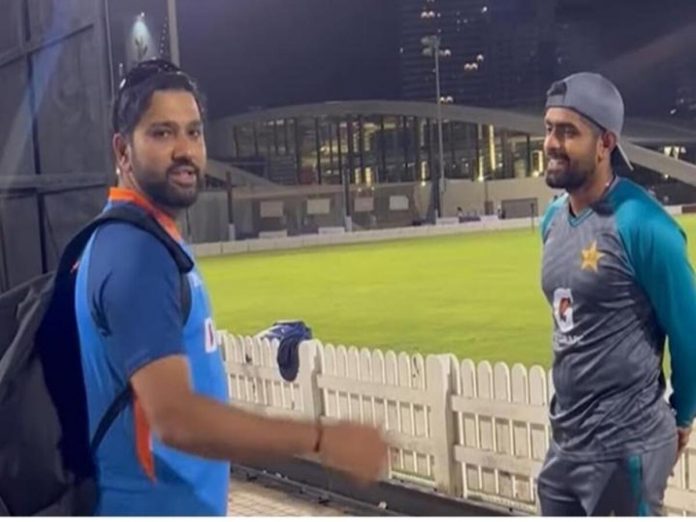 India vs Pakistan may be the mother of all rivalries, but it takes a toll on the players, who must not only perform on the field but also face criticism on social media if they fail. Players on both sides have admitted over the years that they relish the competition and that they have no choice but to embrace it.
The Indian and Pakistan national team captains Rohit Sharma and Babar Azam caught up for a candid discussion during the two teams' training session in Dubai ahead of the showpiece Asia Cup showdown between the two sides at the Dubai International Cricket Stadium on Sunday (August 28).
Babar Azam was observed blushing several times throughout their candid conversation. This is not the first time players from Pakistan and India have met. Previously, a video of Shaheen Shah Afridi meeting Virat Kohli, Rishabh Pant, and KL Rahul went viral.
Captain meets Captain
After the two teams ended training on Friday, Rohit and Babar were captured for an interaction, which was uploaded on the official Pakistan Cricket Board's social media account. Rohit can be heard suggesting to the Pakistan captain that he should marry in a humorous exchange.
Rohit said, "'bhai, shaadi kar lo' (Brother, get married) to which Babar replied 'nhi, abhi nhi' (No, Not Now").
©️ meets ©️#AsiaCup2022 pic.twitter.com/OgnJZpM9B1

— Pakistan Cricket (@TheRealPCB) August 27, 2022
IND vs PAK: Sunday Clash
The match on Sunday will be the first between the two teams since the 2021 T20 World Cup. Last year, the Babar-led team defeated India by 10 wickets at the Dubai International Cricket Stadium in a historic victory, they're first over the Men in Blue in either a T20 or 50-over World Cup tournament.
Also Read: IND vs PAK Asia Cup 2022: 3 milestones Virat Kohli might surpass this Sunday