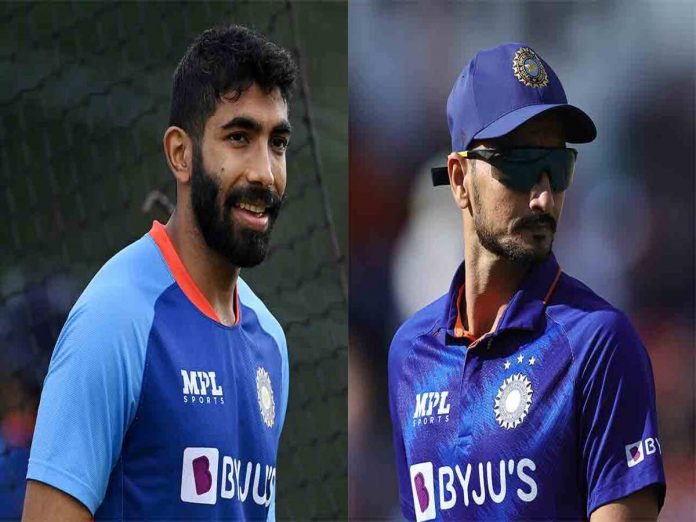 Only a few months remain until the eagerly anticipated T20 World Cup 2022, and the Rohit Sharma-led team India wants to start preparing now. The injuries to India's top players ahead of the T20I World Cup, which will be played in Australia later this year, have caused the country to suffer serious setbacks.
Indian pacer Jasprit Bumrah was ruled out of the Asia Cup, which is being played in the T20I format, due to a major injury. Unfortunately, Harshal Patel, India's main T20I bowler, is also unavailable due to injury concerns.
The Indian camp, though, took a significant hit prior to the Sunday marquee match. After receiving a knee injury diagnosis, all-around player Ravindra Jadeja was forced to withdraw from the rest of the 2022 Asia Cup.
There are already two months until the World Cup, which is approaching quickly. Teams from all over the world are working hard to get ready. In light of the absence of Jasprit Bumrah, Harshal Patel, and Jadeja, India will need to reevaluate their plans for the occasion.
Bumrah's absence will be a big setback for India
Reetinder Singh Sodhi, a former all-rounder for the Indian National Cricket Team, stated during a discussion on India News Sports that it would be extremely difficult for pacers like Avesh Khan, Mohammed Siraj, and Prasidh Krishna to replace Bumrah for a prestigious competition like the ICC Men's T20 World Cup 2022. He stated:
"Jasprit Bumrah's absence will be a big setback for India. The likes of Avesh Khan, Mohammed Siraj, and Prasidh Krishna have done well. However, to fill the shoes of Jasprit Bumrah, and that too for the T20 World Cup, will be very challenging.
"It will be a disappointment if he doesn't get fit for the [T20] World Cup. His four overs are crucial as the opposition batters don't look to take chances against him."
Axar is a good replacement, but couldn't be used as a floater
Former India bowler Irfan Pathan remarked that Axar Patel was indeed a good replacement but couldn't be utilised as a floater like Jadeja in the batting order.
"Axar Patel is the absolutely correct like-to-like replacement. The only problem is that Jadeja had become such a fantastic batter that you could have batted him up the order, you might not be able to do that with Axar," he said in an interaction with Star Sports.
The return of Ravindra Jadeja to the Indian team as soon as possible was another wish he had.
"You will get good bowling and fielding, there is no problem about that, but there will definitely be some issues regarding that change you could have done in the batting. So we hope that Ravindra Jadeja comes back after getting fit as soon as possible," Irfan Pathan added.
India will surely miss Bumrah
The management of the Indian team is aware that Bumrah would not be available in the upcoming months, and they have been planning appropriately, according to former wicketkeeper-batsman for the India National Cricket Team Saba Karim, He stated:
"Jasprit Bumrah has been an impactful player for India across formats. But it seems that India has kept in mind that Bumrah may not be available in the future and have prepared accordingly.
"This is why we see so many new faces in the side. The management has given them consistent opportunities to find an option for Bumrah's replacement. But with that said, India will surely miss Bumrah as he has been a top performer in white-ball cricket."
Also Read: Asia Cup 2022: Mohammad Rizwan suffers from a sprain in his right leg, will go for an MRI scan today