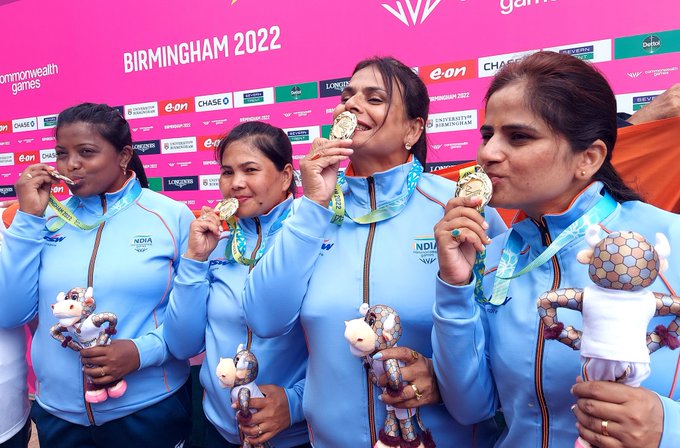 Welcome to the Kheltalk's live coverage of the Commonwealth Games 2022, Day 5. India won four medals, two gold and two silver on day 5. With 13 medals, India remains sixth in the medal tally. As of now, India has won a total of 13 medals, five gold, five silver, and three bronze.
13. India's Women's Fours team won the Gold Medal Match for the first time ever with a score 17-10 against South Africa.
12. India's Men's Table Tennis team beat Singapore in the final to clinch the Gold Medal, India's fifth Gold in the competition so far.
11. India's Mixed Badminton team won the silver medal with Gopichand on the Commonwealth Games podium after 24 years.
10. Vikas lifted 191 kg in his second lift in Clean and Jerk, taking his total to 346 kg and winning the Silver Medal in the Men's 96 kg weightlifting final.
9. India's Harjinder Kaur secured a Bronze in the Weightlifting event in the 71 kg division taking the overall medal tally to nine. She successfully lifted 93kg in the 'Snatch' category in her third attempt, and 119kg in Clean and Jerk.
8. In Judo, Vijay Kumar Yadav bagged a bronze medal in Men's 60kg finals at the CWG 2022 on Monday. The 26-year-old defeated Petros Christodouildes of Cyprus to secure the eighth medal for India.
7. Shushila Devi Likmabam cliches the bronze medal in the Women's Judo 48 kg final. She lost 25-4 to Michaela from South Africa.
6. P. Gururaja clinched a Bronze Medal in the Men's Weightlifting 61 kg weight category at the Birmingham Commonwealth Games, 2022, on July 30.
5. Sanket Mahadev Sargar opened India's medal count at the Commonwealth Games 2022 by claiming silver in Men's Weightlifting 55kg category.
4. Bindyarani Devi secured a silver in the Women's Weightlifting 55kg category.
3. Weightlifter Achinta Sheuli lifts a record 313 kg in the 73kg division to clinch the third Gold Medal for India. The 20-year-old lifted 143kg in snatch and 170kg in clean and jerk to top the field ahead of Malaysia's Erry Hidayat Muhammad.
2. Jeremy Lalrinnunga lived up to his top billing as he clinched the second gold medal in Men's Weightlifting 67kg category on Day 3 at the Commonwealth Games 2022.
1. Olympian weightlifter Mirabai Chanu bagged the first Gold Medal for India with a record-smashing performance in the Women's Weightlifting, 49 kg category.
Here are the Updated standings after Day 4 at the CWG 2022:
| | | | | | |
| --- | --- | --- | --- | --- | --- |
| Ranking | Country | Gold | Silver | Bronze | Total |
| 1 | Australia | 42 | 32 | 32 | 106 |
| 2 | England | 31 | 34 | 21 | 86 |
| 3 | New Zealand | 13 | 7 | 6 | 26 |
| 4 | Canada | 11 | 16 | 19 | 46 |
| 5 | South Africa | 6 | 5 | 5 | 16 |
| 6 | India | 5 | 5 | 3 | 13 |
| 7 | Scotland | 3 | 8 | 15 | 26 |
| 8 | Wales | 3 | 2 | 8 | 13 |
Updated as on 03rd Aug 2022
Commonwealth Games Women's T20 Points Table
Group A
| | | | | | | | | |
| --- | --- | --- | --- | --- | --- | --- | --- | --- |
| Position | Team | Matches | Won | Lost | Tied | NR | Points | NRR |
| 1. | Australia Women | 2 | 2 | 0 | 0 | 0 | 4 | +2.832 |
| 2. | India Women | 2 | 1 | 1 | 0 | 0 | 2 | +1.165 |
| 3. | Barbados Women | 2 | 1 | 1 | 0 | 0 | 2 | -1.794 |
| 4. | Pakistan Women | 2 | 0 | 2 | 0 | 0 | 0 | -1.768 |
Updated as on 02nd Aug 2022
Group B
| | | | | | | | | |
| --- | --- | --- | --- | --- | --- | --- | --- | --- |
| Position | Team | Matches | Won | Lost | Tied | NR | Points | NRR |
| 1. | England Women | 2 | 2 | 0 | 0 | 0 | 4 | +1.050 |
| 2. | New Zealand Women | 2 | 2 | 0 | 0 | 0 | 4 | +0.650 |
| 3. | South Africa Women | 2 | 0 | 2 | 0 | 0 | 0 | -0.650 |
| 4. | Sri Lanka Women | 2 | 0 | 2 | 0 | 0 | 0 | -1.050 |
Updated as on 03rd Aug 2022
Read more: CWG 2022 India Schedule Day 5, 02nd August: All matches that you need to know