As the ENG vs NZ innings went on Kiwi All rounder Daryl Mitchell hit a classy six which landed straight into a spectator's glass of beer, during the 56th over of the ongoing second Test at Trent Bridge, Nottingham. Meanwhile, the debutant Matty Potts was left hand gesturing exactly what happened – how the ball landed straight into the beer.
The Right-handed batsman scored 190 runs in New Zealand's first innings against England. followed by a ton in the second innings of the first Test against England. and now the 31-year-old batsman is continuing his campaign in the ongoing second Test at Trent Bridge, Nottingham.
The batsman led the batting attack by scoring 190 (318) with 23 fours and 4 maximums in the first innings after England won the toss and decided to bowl first. Mitchell and Tom Blundell outdid themselves scoring 106 off 198, which enabled New Zealand to post a target of 553 during the first innings.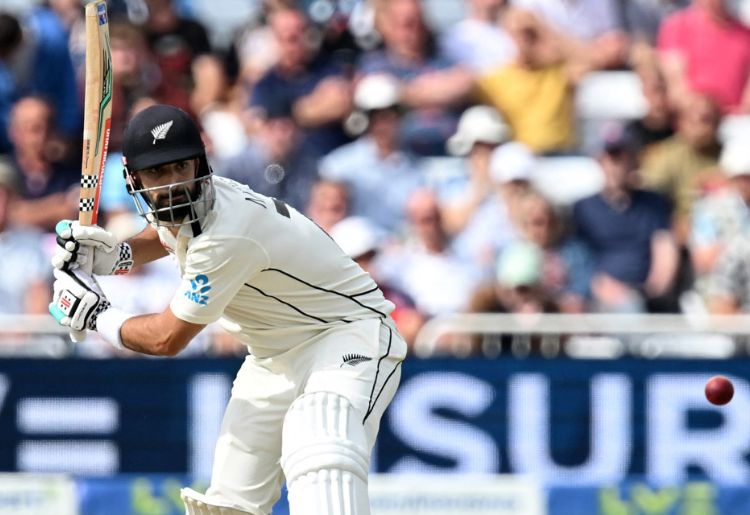 Apart from entertaining the crowd with his impressive collection of strokes full of conviction, Mitchell also hit a maximum which landed straight into a fan's pint of beer. Luckily the women and the spectators were not harmed in any way. The woman got a replacement along with an apology from Daz Mitchell. This occurred during the 56th over, bowled by England's off-spinner Jack Leach.
Many fans cheekily said Daz was just making sure that spectators remain vigilant of their surroundings, eyes wide open. Watch the video of the magnificent shot by Mitchell and Potts, the nightwatchman gesturing to others about what happened.
Matthiew Potts has been the standout bowler in county cricket, he has picked up 35 Championship wickets at 18.57 for Durham. Ben Stokes, the new English cricket team's skipper, has previously played shoulder to shoulder with Potts, Even Rob Key, the managing director of the men's cricket team is impressed with Potts' wicket-taking ability.
The 'The Barmy Army' later made public that the Kiwis have apologized to the female fan, named Susan, with a replacement glass of beer.
"Susan – the lady earlier who Daryl Mitchell's pint hit – has been given a replacement by the Kiwi team," the Barmy Army.
Read More:
Why Pakistan Cricket Team Faced 5-Run Penalty?
Sunil Gavaskar feels India Doesn't Have Wicket-Taking Bowlers After Men in Blue Suffer Defeat in 2nd T20I