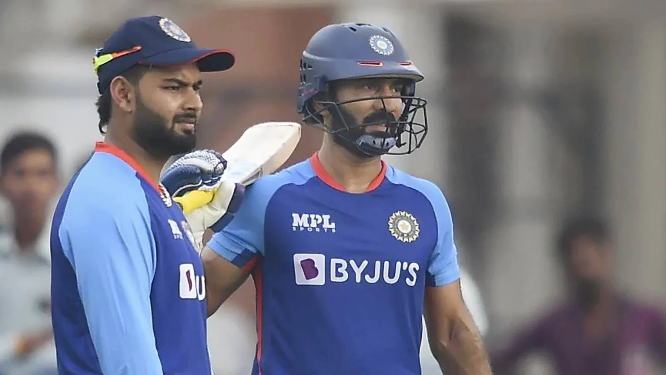 The T20 World Cup 2022 is less than two months away, and India's team management has nearly finalised the final 15 for the grand event in Australia. However, before going to Australia, the Men in Blue will compete in the Asia Cup 2022, which begins on August 27 in the United Arab Emirates.
Pant's spot in the T20Is has been questioned ever since Karthik made his India comeback. The inability of the southpaw to convert his starts and the senior hitter to perform in practically every game has created a fresh conundrum for management on who to play.
Also Read: The next Goal is to Win T20 World Cup 2022 for India, says IPL 2022 Winning Captain Hardik Pandya
Pant or Karthik, what expert thinks?
Experts and veterans, however, believe that India should select one of the two in order to offer more balance to the squad by bringing in Hardik Pandya and bringing back Virat Kohli.
Since June, India has used Karthik and Pant in the same T20I lineup for the majority of the matches. They have played together in the home series against South Africa and the away series against the West Indies, with the youngster playing wicketkeeper and the veteran finishing.
"We don't think about those lines," says Pant
When questioned about the fight for his spot in Team India for the Asia Cup 2022, wicketkeeper batter Rishabh Pant responded appropriately.
In an interview with Zee Hindustan, Pant discussed the potential threat that Karthik poses to his position in the T20I lineup for the Asia Cup and said, "We don't think about those lines. We, as individuals, always want to give our 100 percent to the team. The rest depends on the coach and the captain and how the team could get an advantage from that."
Karthik and Pant were both not included for the August 18-starting Zimbabwe tour. The pair will now compete in the Asia Cup, and it is unclear which one of them will start in the starting lineup. Both wicket-keeper batsman has the potential to hits big shots whenever the team is in need.