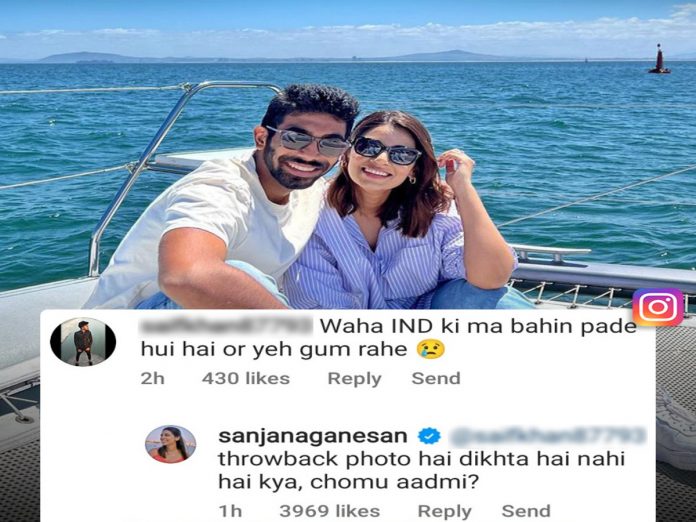 Sanjana Ganeshan, a TV host and wife of Jasprit Bumrah, has added her name to the expanding group of those who support Arshdeep Singh, an Indian pacer. The left-arm pacer has received a lot of online teasing for missing a catch during a thrilling India vs. Pakistan game on Sunday in Dubai (September 4).
She asked everyone in an Instagram post to stop discriminating against people based on their race and religion and instead use social media to make the internet a better place for all of us.
"While I do think it's important to stand up to internet trolls and bullies, I do not agree with dragging someone's religion, nationality, ethnicity or identity into the matter and I sincerely urge you to consider doing the same."
"Internet trolls aren't the way they are because of their religion, ethnicity or nationality, it's just a lack of common sense. I promise to keep trying to make the internet a better place, taking down one chomu aadmi at a time."
Sanjana reacted accordingly to an Instagram user who had ridiculed the Indian fast-bowler Jasprit Bumrah in a throwback post earlier on Monday.
She replied to the user:
"throwback photo hai dikhta hain ahi hai kya, chomu aadmi?" (It's a throwback photo, can't you see? Idiot!)
Bumrah is now undergoing rehabilitation
The user's statement caught us off guard. As Bumrah is now undergoing rehabilitation at the National Cricket Academy (NCA) in Bengaluru. The right-arm pacer was injured in the back and was later discovered with a niggle.
At the NCA, the speedster is recovering swiftly. Bumrah's return for the T20I series against Australia and South Africa in September-October will be hoped for by Rohit Sharma and company. In the eagerly anticipated ICC T20 World Cup in Australia, he will be a crucial cog for the Men in Blue.
Also Read: Road Safety World Series 2022: India Legends Squad, Sachin, Raina & Yuvraj 2011 WC Winners Join The List