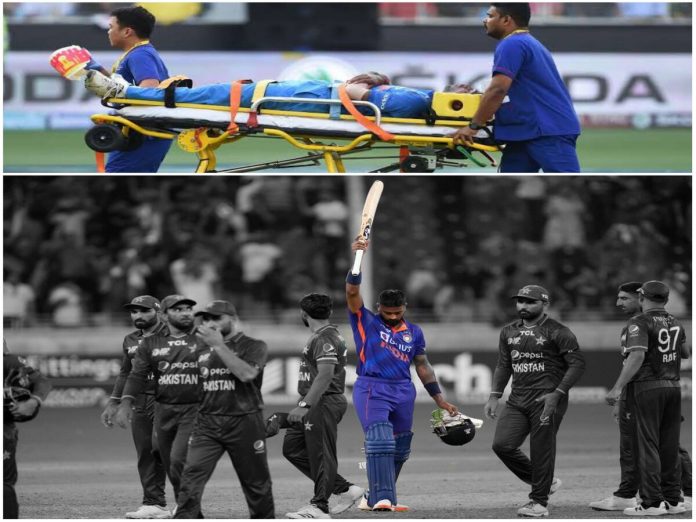 India defeated Pakistan by 5 wickets in its first arch-rival match of Asia Cup 2022. Today If we are celebrating the win over Pakistan in the opening game of the Asia Cup, Hardik Pandya, and Ravindra Jadeja made a significant contribution to that victory. Both players combined for 52 runs for the fifth wicket, but when Jadeja was bowled out with the team still in the middle, Pandya grabbed control and sealed the victory by smashing a six in the final over.
The left-arm all-rounder Ravindra Jadeja made 35 off 29 balls, while Pandya made 33 off 17 balls. After the battle, they both spoke candidly and revealed what was going through their minds when they were in the middle ground in this high-stress contest.
"The comeback is greater than the setback," tweeted Hardik Pandya
The comeback is greater than the setback 🇮🇳 pic.twitter.com/KlnD4GZ4ZO

— hardik pandya (@hardikpandya7) August 29, 2022
The all-rounder duo chat up – Watch
Both have opened up about their partnership and plan in a video that BCCI has posted. Jadeja provided an explanation for the change in his batting order in this video. He had arrived with the intention of making aggressive plays against the spin spinners, according to Jadeja. He emphasised the significance of his collaboration with Hardik.
From @hardikpandya7's emotional Asia Cup journey to @imjadeja's solid batting display! 👍 👍

The all-rounder duo chat up after #TeamIndia win their #AsiaCup2022 opener against Pakistan – by @ameyatilak

Full interview 🎥 🔽 https://t.co/efJHpc4dBo #INDvPAK pic.twitter.com/MJOij6bDRl

— BCCI (@BCCI) August 29, 2022
Hardik stated that while Team India's top three have always contributed to its success, we are now also receiving opportunities and are capable of doing well. Pandya also recalled a time when he had to leave the field against Pakistan during the 2018 Asia Cup owing to an injury. Hardik also recalled the people who gave him the most support while he was hurt.
What was going through your head when I got out in the last over, Jadeja questioned Pandya. Pandya commented on this by saying, "7 runs didn't seem too much to me." Even if there had been 10 fielders outside, as he claimed, I would not have bothered. No pressure existed in my head. I think the bowler was under pressure. He was going to mess up, that much I knew.
Also Read: PM Modi, Rahul Gandhi, and Amit Shah congratulate Team India for a nail-biting win over Pakistan in the Asia cup