India's top two middle-order batsmen including Ajinkya Rahane, and Cheteshwar Pujara are going through a rough patch in international cricket. They are being heavily criticized by the cricket analysts and fans for poor performance with the willow. Ashish Nehra, the former Indian pacer has come forward backing Pujara and Rahane. Meanwhile, he also said that Virat Kohli is also going through a rough phase and it happens with players.
Cheteshwar Pujara has recorded 0,16, 0, 47, 26 & 22 scores in the past six innings and Ajinkya Rahane has not smashed a singleton in past many games for Team India in red-ball cricket. On the other hand, Indian Test skipper Virat Kohli has also failed in finishing his century drought in cricket. For the past three years, Virat has not managed a single ton with his willow and fans are waiting for the Indian skipper to make a comeback.
Ashish Nehra bcks Rahane and Pujara for South Africa Test series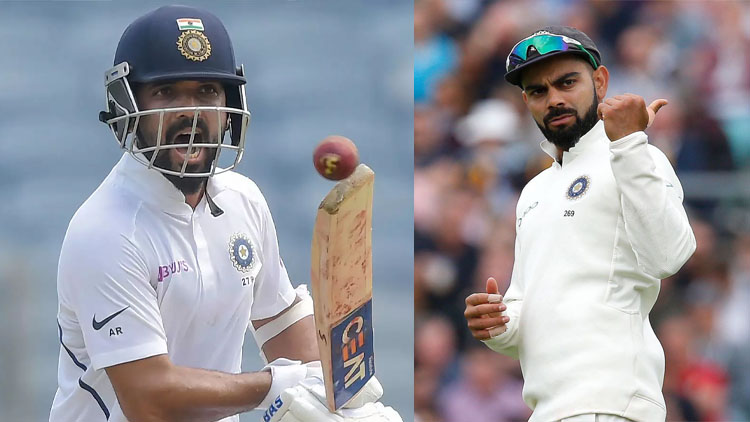 In an interview, Ashish Nehra said that Ajinkya Rahane and Cheteshwar Pujara will soon start making runs with the bat. As per him, it is known that Virat Kohli is the skipper of Team India and we know what he has done for Team India. But, he is also going through a rough phase. However, questions are being raised only on Rahane and Pujara. The former Indian bowler feels that they should be given some time to manage a strong comeback with the bat.
"Even Virat Kohli has similar numbers but people are not questioning his place in the team. Obviously, he is the captain and what Kohli has done is on a completely different level from the two batters we are talking about. It is not fair to compare, but Rahane and Pujara have also been second to none at their peak, especially the latter," Nehra said on Cricbuzz.
"If you have backed a player like Rahane for the 1st Test, it would be better to carry on with him for the rest of the series. Obviously, Rahane was the one who was out (officially due to injury) when Kohli came back for the second Test against New Zealand, though he led the team in the first," he stated.
Nehra also mentioned that bringing new players in the side between the Test series is a very tough decision. And, this can go against Team India as well.
"Agreed, both Pujara and Rahane have been in big trouble of late. But changing players in the middle of an important series is a big decision," Nehra added.