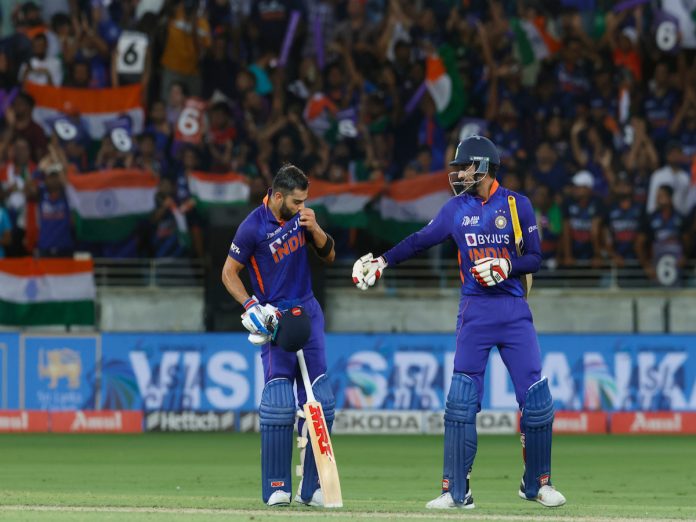 India lost by five wickets in a gripping Super 4 match against Pakistan at the Asia Cup 2022. Mohammad Rizwan scored an aggressive 71. Chasing 182 to win, Pakistan accomplished the feat with one ball remaining thanks to a crucial 73-run partnership between Rizwan and Mohammad Nawaz, who scored 42. The Men in Blue failed to successfully defend the 182-run goal, negating Virat Kohli's stunning 60-run effort.
India, though, still has a chance to go to the tournament's final game if everything goes their way. India and Pakistan might still clash at the summit on September 11 in Dubai. It will be their third encounter because they previously faced off last Sunday (August 28), with India defeating Pakistan by a margin of five wickets.
How India can reach to Asia Cup 2022 final?
India and Pakistan are grouped with Afghanistan and Sri Lanka in the 'Super 4' round-robin format, where a top-two finish would set up yet another Sunday clash.
Pakistan and Sri Lanka each won one game, hence India needs to defeat Sri Lanka on September 6 and Afghanistan in the remaining two games (September 8). If India wins their next two games, Afghanistan will also be eliminated from the competition.
Will NRR is important for deciding Top-two in Asia Cup 2022?
Sri Lanka will be eliminated from the campaign if India wins their final two games and Pakistan defeats the island nation. However, the Net Run Rate (NRR) enters the picture if Sri Lanka wins their next two games. India must win the following two games by significant margins to advance to the championship game. Currently, Sri Lanka (+0.589) and Pakistan (+0.126) are ahead of them in the points table with two points each, and they have an NRR of -0.126.
After Pakistan's victory on Sunday, Rizwan said that his colleagues had discussed the match between India and Pakistan as a "best of three-match series." Since over ten years ago, political unrest has caused a halt to bilateral series between the two nations.
Schedule for upcoming Super 4 matches
6th September: India vs Sri Lanka (Venue – Dubai)
7th September: Pakistan vs Afghanistan (Venue – Dubai)
8th September: India vs Afghanistan (Venue – Dubai)
9th September: Pakistan vs Sri Lanka (Venue – Dubai)
When will the final be played?
The Asia Cup 2022 final is scheduled for the 11th of September in Dubai.
Also Read: 'Many had my number but only MS Dhoni messaged me, when I left test captaincy', says Virat Kohli