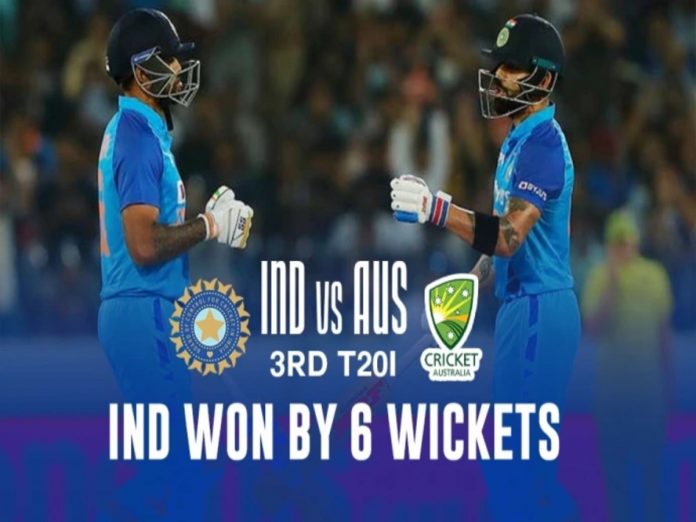 IND vs AUS: While the Men in Blue registered a win against Australia 2-1 in the T20I series, which concluded on Sunday in Hyderabad with India's 6-wicket victory, Indian skipper Rohit Sharma shattered several records as well.
India won by 6 wickets in Nagpur after losing by 4 wickets in Mohali. India completed the chase of 187 in Hyderabad with just one ball remaining. All three of the games, which the chasing side ultimately won, were decided in the last over. This made for an exciting, closely contested series between the two nations, who are both heavy favourites to win the T20 World Cup. Let us have a look at the records that Rohit Sharma broke while achieving this mammoth feat.
1. Most Wins in T20I in 2022 – 21
The team with the most T20I victories in a calendar year is now Team India after their close victory over Australia in Hyderabad in their last game. Pakistan had previously held that record. India's victory over Australia became their 21st T20I victory of 2022. Pakistan held the previous record with 20 T20I victories in 2021.
2. Most Wins as T20 Captain India – 33
India has now won their 33rd T20I game under Rohit Sharma's captaincy. Rohit Sharma is now the second-most successful captain of India in the T20I format, surpassing Virat Kohli's record of 32 victories in T20Is while serving as captain. Compared to Kohli's 32 victories in 50 games (including two Super Over victories), Sharma has 33 victories in 42 games. The first place is held by  MS Dhoni, who has led his team to the most T20 victories with  42 matches won by the Indian squad when he served as captain. He achieved this feat in 72 matches.
3. 9th Consecutive Series Win
After taking over as Team India's captain from Virat Kohli, Rohit Sharma has led the Indian cricket team to nine straight series victories as captain, including the recent 2-1 triumph against Australia. Rohit Sharma has truly done a tremendous job as captain.
Also Read: IND vs AUS: 3 Records That Team India Made After 2-1 Series Win Over Australia