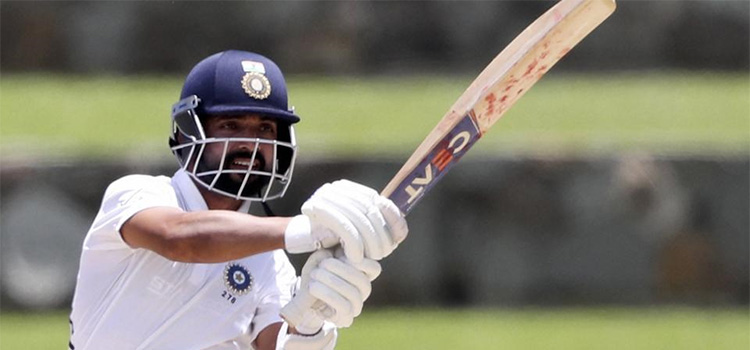 First Session- key dismissals – On their road to the ICC World Test Championship, India had to struggle again West Indies in their first test match. With the start of the first session, India faced severe challenges as they lost first 3 wickets within the first eight overs while they managed to get only 25 runs on the scoreboard. The first two players, Cheteshwar Pujara and Mayank Agarwal, were dismissed by Kemar Roach early in the innings that put lots of pressure on the best Test Batsman, Virat Kohli, who couldn't stay on the crease long enough to get the Indian cricket team out of this crisis, then came Ajinkya Rahane to the rescue.
Second Session- Rahane and Rahul collaboration
With 3 players already back to the pavilion, KL Rahul and Ajinkya Rahane made the best of their efforts to make a comeback. They managed to make a partnership of 68 runs, but unfortunately, Rahul was caught behind by Roston Chase, and that was the end of the first reliable partnership of the innings.
Rahane silences the critics
Indian cricket team management decided to drop Rohit Sharma from the first test match, and selected Ajinkya Rahane and Hanuma Vihari instead. There was a lot of uproar from the fans as Sharma has been in a great form lately. To the fans surprise, Ajinkya Rahane struck hard with his bat, and held the team in an iron grip. That was the time when the team needed a stable performance, and Rahane proved himself a fruitful selection.
Vihari's Dismissal
Rahane and Vihari pushed the scoreline to 175 with an impressive partnership of 82 runs when Vihari was dismissed, and had to go back to the pavilion. This was followed by Rishabh Pant's entry in the field with Rahane and Pant trying to make a good lead.
Rahane gets taken down
With an individual score of 81, Rahane was bowled by Gabriel, and this ended the first innings of the Indian MVP. The match could not be continued on Day 1 beyond that due to rain. At the end of the day, India stood at 203-6.
West Indian Superstars
For West Indies, Kemar Roach and Gabriel were the ones to hit the bails and make the Indian team look handicapped. Besides them, the captain, Jason holder, provided excellent support by his valuable bowling spells.
Twitter's Reaction
See how the fans on Twitter reacted to Rahane's magical performance,
Really nice to see @ajinkyarahane88 score in both innings and showing his quality. He has played a crucial role in this test to put India in the driver's seat. @Hanumavihari also has played really well.#WIvIND pic.twitter.com/yjn2t9L2pr

— Sachin Tendulkar (@sachin_rt) August 25, 2019
Bests in Tests 🤙🙌💪
Favorite Pair😍🌻#ViratKohli #AjinkyaRahane@imVkohli @ajinkyarahane88 pic.twitter.com/LUCQoVtkhG

— MADHAV🇮🇳 (@ImMadhav_18) August 25, 2019
PROUD, PROUD, just PROUD of you @ajinkyarahane88 !!👏👏👏 Well played my Man!! I'm so happy for you and today you make all Rahanekars happy too !! Love always ❤ #WIvsIND

— ANKITA (@AnkitaMaji77) August 25, 2019
Century no.🔟 for @ajinkyarahane88 – Quality knock from the vice-captain #TeamIndia #WIvIND pic.twitter.com/0dxwDqTmgd

— BCCI (@BCCI) August 25, 2019
Consistent @ajinkyarahane88 hits over 50 in both innings. Shades of Rahul Dravid! It's remarkable to see how often the #CEAT bat is the magic wand in the hands of the highest scorer for 🇮🇳! #INDvsWI pic.twitter.com/pz5k3OaUvS

— Harsh Goenka (@hvgoenka) August 24, 2019