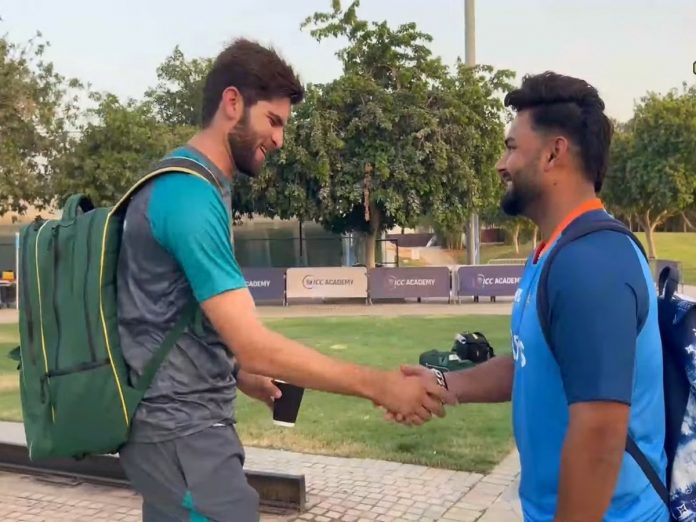 India and Pakistan players have been meeting and greeting each other during training sessions at the ICC Academy in Dubai ahead of their big-ticket showdown in the Asia Cup on Sunday. A day after Virat Kohli and Pakistan captain Babar Azam met, left-arm pacer Shaheen Afridi met with India stars such as Kohli, Rishabh Pant, KL Rahul, and Yuzvendra Chahal.
When Kohli, Rishabh Pant, KL Rahul, and Yuzvendra Chahal arrived for training, Afridi was resting with his leg brace in place. They and others put aside their differences to send their best wishes to the injured left-arm fast bowler Shaheen Afridi.
Despite being ruled out of the Asia Cup 2022 owing to a knee ailment, Shaheen Afridi has travelled to the UAE with the Pakistan squad. As he chatted with the Indian cricketers, the left-arm bowler was seen sporting a knee brace.
Stars align ahead of the Asia Cup 2022
In a video uploaded by the Pakistan Cricket Board, Shaheen Afridi can be seen conversing with the Indian players, who appear to be on their way to a training session at the ICC Academy. Afridi is seen having a lengthy conversation with Virat Kohli, after which the former captain is heard thanking the fast bowler for his best wishes.
Shaheen Afridi is heard playfully informing India wicketkeeper-batsman Rishabh Pant that he is considering batting for Pakistan in the Asia Cup.
Stars align ahead of the #AsiaCup2022 🤩

A high-profile meet and greet on the sidelines 👏 pic.twitter.com/c5vsNCi6xw

— Pakistan Cricket (@TheRealPCB) August 25, 2022
Afridi also met with India vice-captain KL Rahul, who is returning to T20 action after a period of injury and illness. Earlier this month, Rahul led India in a three-match One-Day International series in Zimbabwe. Rahul is yet to play a T20I for India this World Cup season.
The video of Shaheen Afridi talking with Indian players has been widely circulated on social media, with cricket fans from both countries praising the stars' mutual respect.
For the first time, India will be led by Rohit Sharma in a T20I against Pakistan, as the defending champions look to kick off their Asia Cup campaign with a morale-boosting win.
Also Read: Watch: Virat Kohli hits net 'hard' ahead of Pakistan clash; Kuldeep Sen joins as net bowler