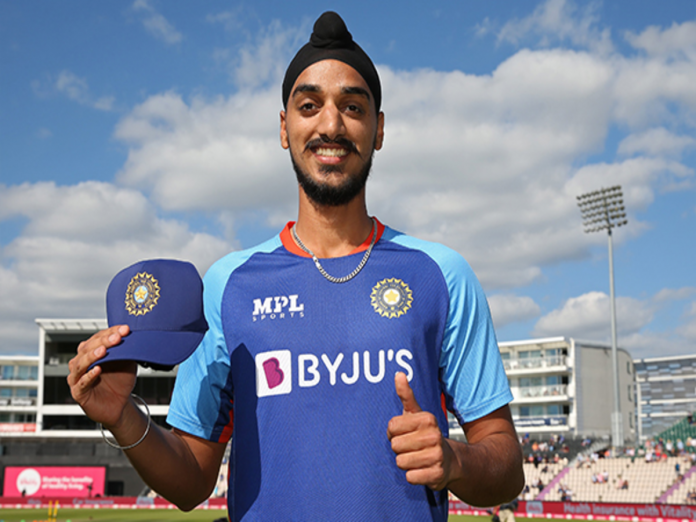 Arshdeep Singh, a young fast bowler for Team India, has come under attack from online bullies after failing to take a simple catch against Pakistan during their Super Four match at the Asia Cup 2022 on Sunday. After reaching the 182-run goal on the penultimate delivery of the final over, Pakistan overcame India by five wickets.
Some of Arshdeep's fans have been abusive and cruel to him on social media, and some have even edited his Wikipedia page to make it appear as though he had connections to the separatist Khalistani movement. His page was altered by an unregistered user, who changed multiple instances of the word "India" in his profile to "Khalistan."
Arshdeep fake Khalistan links went viral
Although Wikipedia editors quickly reverted the edits, images of his profile with the fake links to Khalistan quickly went popular on social media. On Monday at 12:28 AM IST, the modifications were made. Before altering it to "Major Arshdeep Singh Bajwa," the person also changed the cricketer's name to "Major Arshdeep Singh Langra." The cricketing statistics for Arshdeep were also altered.
Indian Government slams Wikipedia
The Indian government has chosen to question executives from Wikipedia after becoming aware of the situation. According to reports, the Ministry of Electronics & IT summoned website representatives on Monday to ask how false information was added to the cricketer's page.
According to reports, the Indian government is concerned that such harmful misinformation could disrupt inter-communal peace and put Arshdeep's family in danger of lawlessness.
Arshdeep Singh during the India-Pakistan clash
When Indian bowlers rallied back and took several wickets in rapid succession to liven up the match, Pakistan was cruising to victory. Pakistan needed 34 runs to win in the 18th over, which was bowled by spinner Ravi Bishnoi, but Arshdeep fumbled a straightforward catch of batsman Asif Ali.
India may have won the game if the catch had been made, but Pakistan ended up winning the match easily because to Asif's 16 runs off an 8-ball innings to send his team home. Even though he dropped the catch, Arshdeep bowled brilliantly in the 20th over with 7 runs needed to defend off the final six balls.
Also Read: IND vs SL Today Match Prediction, Super 4, Asia Cup 2022, 6th September