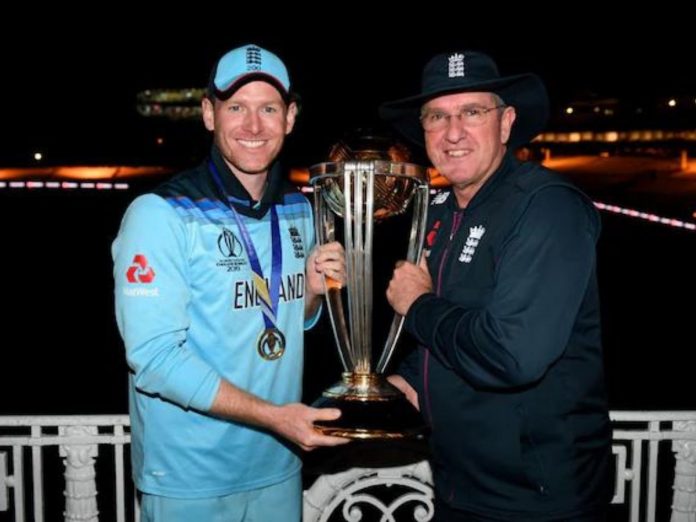 The Punjab Kings (PBKS) are one of the very few franchises in the Indian Premier League (IPL) that have failed to lay their hands on the coveted IPL trophy even once. Formerly known as Kings XI Punjab (KXIP), PBKS have had a torrid time in IPL off-late. They had appointed former India captain Anil Kumble as their head coach in 2020 but the lanky leg-spinner failed to turn the fortunes of the Punjab-based outfit. PBKS finished 6th in 2021 and also in the 6th position (out of 10 teams) in 2021.
Anil Kumble's contract expires in September 2022 and the management of Punjab want new faces at the helm in IPL 2023. According to reports, the famed English duo of Eoin Morgan and Trevor Bayliss might be approached by Punjab Kings. Here we dissect 3 possible reasons why Punjab Kings can sign Morgan and Bayliss as a part of the new coaching setup:
1. Trevor Bayliss has won the IPL twice with KKR
Trevor Bayliss is a highly-decorated coach in the IPL and made Kolkata Knight Riders (KKR) win the IPL twice in 2012 and 2014 under his astute tutelage. He has been a revolutionary coach and his coaching techniques are praiseworthy. Bayliss has also coached Sunrisers Hyderabad (SRH).
2. The Morgan-Bayliss partnership can bode well for PBKS
The revolution in white-ball cricket for England was brought on by skipper Eoin Morgan and coach Trevor Bayliss. The duo steered England to lift their maiden ICC ODI World Cup in 2019 and it attracted a lot of plaudits and recognition for the duo. Both of them share a very unique bond and their connect can make Punjab lift their maiden IPL title in IPL 2023.
1. Eoin Morgan has won the ICC ODI World Cup as a captain
It is no secret that Morgan was a world-class captain. He powered England to their inaugural World Cup win in ODIs in 2019 and triggered a massive change in white-ball cricket for England. Eoin Morgan made sure that England are a heavyweight team in ODIs. Morgan has also captained KKR and had a brilliant stint as their captain in IPL 2021. KKR were in the 7th position in the IPL before Covid-19 struck the league. Upon its renewal, KKR jumped to the playoffs with consistent performances and became the eventual runners-up in IPL 2021.
Also read: "I personally have experienced times where I felt alone", Virat Kohli opens up on mental health battles and fitness