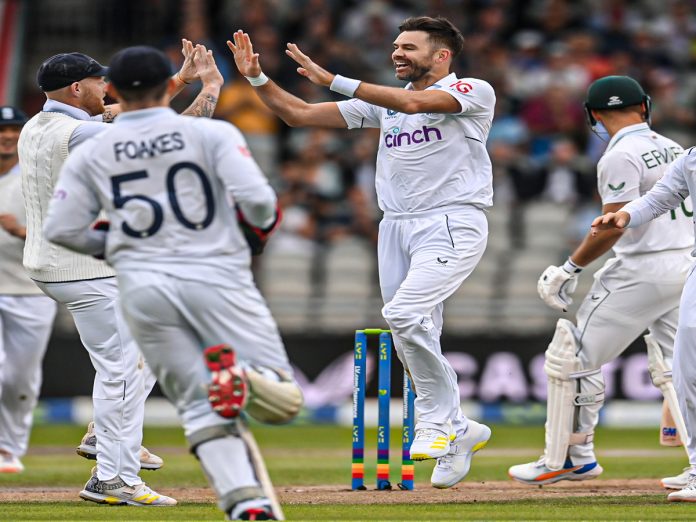 James Anderson, England's renowned fast bowler, has just left Glenn McGrath behind in the current Test series against South Africa. He is now the leading wicket-taker in international cricket. Anderson has 951 wickets across all formats of cricket. These include 664 Test wickets, 269 ODI wickets, and 18 T20I wickets.
James Anderson made some amusing revelations in a Tiktok video lately. He, along with fellow Teleenders podcast hosts, reveal which words and phrases he has muted on Twitter in this TikTok video.
James Anderson reads muffled words and phrases in this video, revealing the names or hilarious terms of his opponents from Australia, South Africa, and India.
Muted words of James Anderson on Twitter – Watch
Muted words of James Anderson on Twitter include Pant, Mcgrath, Clouds and more. pic.twitter.com/gXdu5a9Ouk

— Johns. (@CricCrazyJohns) September 1, 2022
Anderson, for first off, has the word "Australia" muted, along with various references to the calf injury that forced him to miss the 2019 Ashes after only four overs and also forced him to miss the first Test of this winter's Ashes series, including "calf," "injury," "injured," "done," and "finished."
Anderson also had the phrases "cloud", "clouds", and "clouderson" muted, as some fans say he is only effective at home, despite his superb away record over the last five years.
Glenn McGrath, Australia's all-time leading wicket-taker, is also muted, despite being one of the game's most prolific seamers.
Another cricketer Anderson has muted is India's Rishabh Pant, as have the phrases "reverse", "reverse sweep", "sweep", and "sweeping" after Pant crazily reverse swept Anderson for four last year while bowling with the new ball.
The final two terms on Anderson's list of muffled words are humorous "w*** bowler" and "worse than Steyn," given the continuous argument over who was better throughout their respective careers.
Also Read: IPL 2023: Reliance and Viacom18 lead am investment chart, Voot wants to increase viewership via IPL