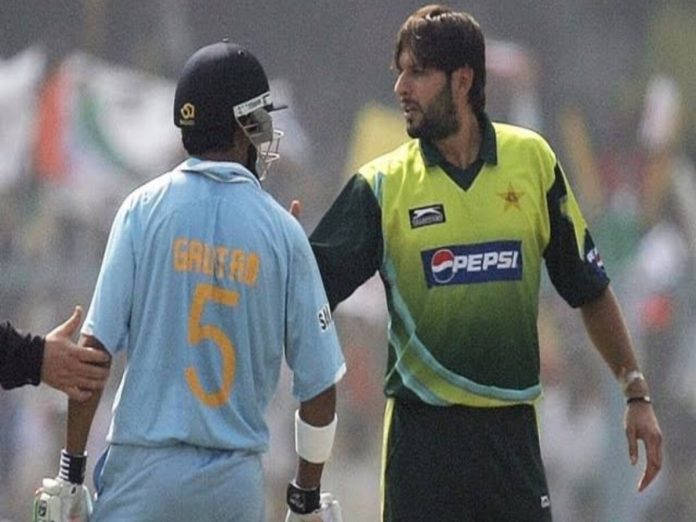 These days, whenever India and Pakistan play each other in a cricket match, there is typically a lot of friendliness there. India defeated Babar Azam's team by a thin margin of five wickets in the Group A match of the Asia Cup on Sunday.
Both players got along well with one another during the game. It hasn't always been the same, though. Players from India and Pakistan occasionally lost their cool, and one of the continuing confrontations involved Shahid Afridi and Gautam Gambhir.
The bond between Shahid Afridi and Gautam Gambhir is well known throughout the cricket arena. During their playing days, Gambhir and Afridi got into some heated arguments, and they still make fun of one another today. Afridi created headlines ahead of India's match against Pakistan in Dubai on Sunday (August 28) by saying that "no one in Team India loves Gautam Gambhir."
Shahid Afridi on Gautam Gambhir – Watch
The former Pakistani captain continued to emphasise Gambhir on Sunday when appearing on Aaj Tak as a member of the expert panel on Pakistan's Samaa TV. Afridi stated that no one, not even Indian players, participated in the discussion with Harbhajan Singh.
"It's not like I have had a fight with any of the Indian players. Yes, sometimes there are some arguments with Gautam Gambhir on social media. And I think that Gautam is a sort of character which no one likes even in the Indian team," Afridi said
This is wrong statement by Afridi 😡@GautamGambhir always will be hero whole india …..Afridi says India team hi pasand nhi karti what nonsense🤬 don't speak anything about gauti sir🌍
We loved ❤️ Gautam gambhir pic.twitter.com/iugWFXPZ91

— AJ (@biharshain) August 28, 2022
Fans are not happy with Harbhajan's response
While Afridi's comments on Gambhir quickly made headlines, Harbhajan's casual response caused a great deal of uproar on social media. The way Bhajji responded to Afridi's statement, in which he disparaged his old teammate, didn't impress Twitter fans.
On Sunday, India defeated Pakistan by winning the game after chasing down a 148-run mark in the final over. Hardik Pandya had a game-winning effort (3/25 and 33*). The team will now face Hong Kong on August 31 in the group match.
Also Read: Hardik, Jadeja, and Bhuvi shine as India beat Pakistan in a nail-biting contest in Asia Cup 2022