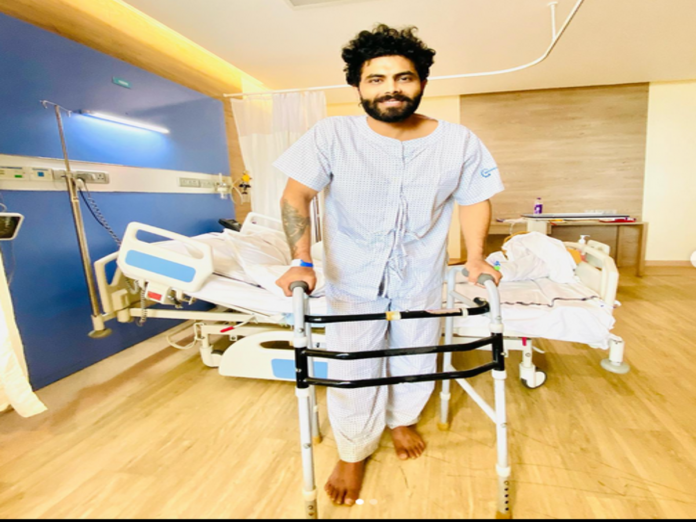 Senior India left-arm spinner Ravindra Jadeja has undergone a major knee surgery which is expected to keep him out of action for an indefinite period of time. However, Ravindra Jadeja confirmed that the surgery went well. Now, soon we can see him at NCA Bengaluru for rehabilitation.
In Jadeja's latest Instagram post, he thanked his fans, BCCI, and all his well-wishers. If things go well, we may see Jaddu playing for India in T20 WC 2022.
I Will start my rehab soon
The Jadeja post reads, "The surgery was successful. There are many people to thank for their support and involvement – BCCI, my teammates, support staff, physios, doctors, and fans. I will start my rehab soon and try to get back to soon as I can. Thank you to everyone for your kind wishes."
With his all-around skills, Jadeja, who participated in the team's first two Asia Cup games against Pakistan and Hong Kong, provides the team with the necessary balance. Rohit Sharma's team would suffer greatly from the 33-year-old veteran's absence.
Earlier, a senior BCCI official told PTI, "Jadeja's right knee injury is pretty serious. He is supposed to undergo a major knee surgery and will be out of action for indefinite period of time. At this point, if one goes by the assessment of the NCA's medical team, one can't put a timeline on his imminent international comeback."
Will Ravindra Jadeja play in T20 WC 2022?
"Jadeja, he has injured his knee. Obviously, he is ruled out for the Asia Cup. He's under the care of the medical team, he has gone to see the doctors, he has gone to see the experts," Dravid said in a press conference.
The World Cup is a fair way away, so we don't want to jump to any conclusions and rule him out or rule him in. We'll see how it goes," he went on to say. It's part of sports. People get injured. It's part of our job to try and manage them, manage how it goes," added Dravid.
"A lot will depend on the rehab and the severity of the injury. We'll see how it goes. I don't want to rule him out or make too many comments until we have a much clearer picture and we have a better idea. Specially the World Cup is 6-7 weeks away now," said the former India captain.
Jadeja has bowled over 7000 overs in close to 630 games across formats during his senior career (domestic and international), which also includes domestic first-class, List A, and IPL matches. This includes 897 wickets.
Also Read: 3 Reasons Why We Won't Be Seeing Trio of Jadeja, Dhoni & Raina in IPL 2023 Together