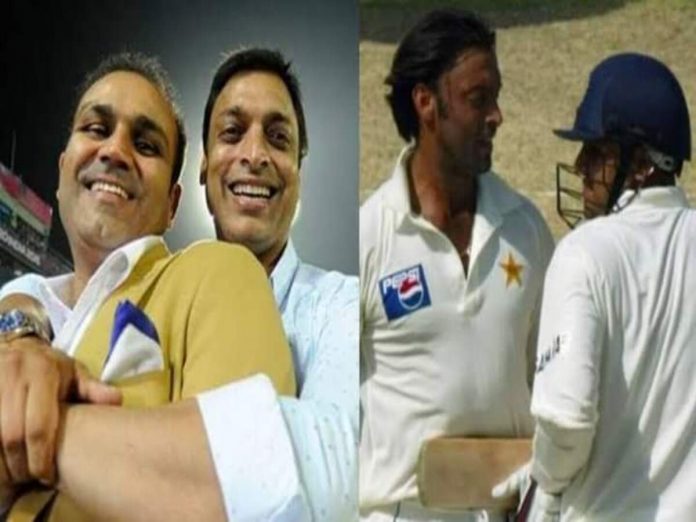 Cricket matches between India and Pakistan are not just typical regular matches. Following the games, there is typically a lot of banter between cricket fans and ex-players. During a pre-game interview with an Indian journalist on Sunday, prior to the start of the highly anticipated Asia Cup 2022 match between India and Pakistan at the Dubai International Stadium, former Pakistani cricketer Shoaib Akhtar became enraged.
As we know Virender Sehwag reportedly said to Shoaib Akhtar, "Baap baap hota he, aur beta, beta." However, when an Indian reporter brought up the story to the Rawalpindi Express, he flatly rejected it.
After India defeated Pakistan by 5 wickets in their Asia Cup opening, the phrase "Baap, baap hota hai" started trending on Twitter. The hashtag was used by many fans to comment on the subject, and the conversation even reached the media rooms. However, Akhtar claimed that such a dialogue was never had in a conversation with a journalist.
Shoaib Akhtar denied Sehwag's statement – Watch
Journalist: Woh toh pata hain hume ki Viru ne aapko kaha tha ki 'Baap baap hota he, aur beta, beta'. Uske ilava aise kuch incident jo kisiko na pata ho aur aap aaj bara exposé karte hai?.
Shoaib Akhtar: First thing, agar yeh cheez usne mere muh pe boli hoti toh woh bachta nahi. Mujhe nahi pata usne kab kaha yeh aur kis waqt kaha. In fact ,maine khud usse ekbar pucha tha ki aise koi statement di hai ki nahi. Usne seedha bola 'nahi'. Dusra baat yeh hai, aap jo program kijiye, aap zarur baatein kijiye, bara khusi ka mauka he but kaam qabil e izzat ho. Main sabka izzat karta hu, aap logon ki izzat karta hu. Bohut badi fan following hai India mein. Aur main humesha koshis karta hu ki aise baat na karu jisme do mulk ke beech zyada faasle badhe. And I'm not liking this one bit. I'm being very honest with you. Usne yeh kaha, usne yeh kaha. Let's come back to cricket. Bohot si ache baat kar sakte hai. I request you. Jis tarah yeh program hota he woh ache nehi lagta mujhe, wohi cheez baar baar repeat karna."
Here's the video of the same:
Shoaib Akhtar is on fire 🔥🔥🔥 pic.twitter.com/A1XtrmveZN

— Taimoor Zaman (@taimoorze) August 27, 2022
Would he survive after saying something like that to me?
Akhtar has previously denied Sehwag's claim that he ever said anything. The seasoned player gave a similar response two years prior in an interview with Pakistani news organization ARY News, adding, "Would he survive after saying something like that to me? Would I leave him? I would beat him up at the ground and then at the hotel. The story has been made up."
Also Read: 'No one likes Gambhir, even in Indian team,' Harbhajan shamelessly laughs on Afridi's remark; Watch