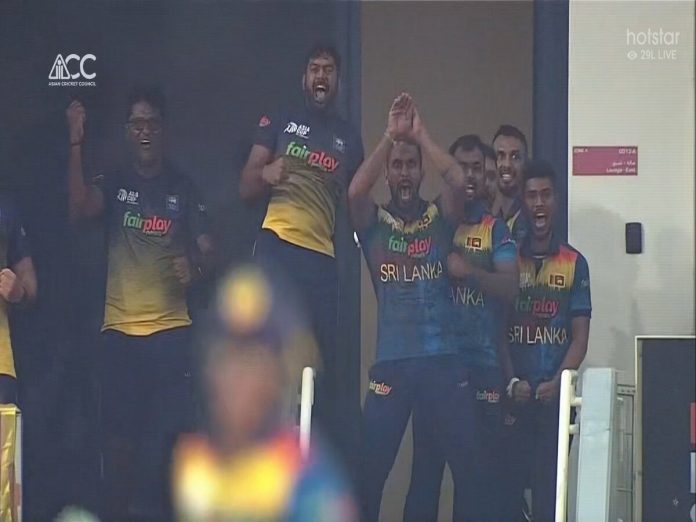 Sri Lanka performed well in their second match of the Asia Cup 2022, registering a 2-wicket win against Bangladesh. In the Asia Cup, the Sri Lankan team made a tremendous comeback and made its place in the Super Four of the Asia Cup. 
With this defeat, now Bangladesh's journey in the tournament has come to an end. At the same time, after the victory of this Sri Lanka team, all the players of the team celebrated fiercely outside the dressing room.
After the victory of Sri Lanka, the serpent dance once again dominated the cricket field. Nagin dance was performed by Bangladesh for the first time on the cricket field. But this time the bet backfired. Sri Lanka took revenge of the Nagin dance after four years from Bangladesh. However, only Sri Lankan player Chamika Karunaratne was seen doing the serpent dance.
Watch Chamika Karunaratne's Nagin Dance
Chamika Karunaratne's Nagin dancing video is currently going viral on social media. This is frequently watched by fans. Other Sri Lankan players, besides Chamika Karunaratne, are clearly seen in this video enjoying the triumph. Tellingly, there was a point in the game when it appeared that the Bangladeshi squad might prevail. The Sri Lankan players, though, played wonderfully in the final over of the innings to rip Bangladesh's triumph from their grasp and send the squad packing.
What a view
Nagin Dance 🐍 🐍 By Chamika karunaratne #AsiaCupT20 #BANVSSL @ChamikaKaru29 pic.twitter.com/47yxsHLelL

— Sumit Raj (@Iam_SUMITRAJ) September 1, 2022
Reminiscing of Nidahas Trophy:
Chamika Karunaratne of Sri Lanka celebrated his victory over Bangladesh by performing the Nagin Dance as perfect retaliation after four long years. Players on the Bangladesh National Cricket Team performed the Nagin Dance in 2018 to celebrate eliminating Sri Lanka from the Nidahas Trophy.
The teams had a verbal exchange prior to the game because the Sri Lankan captain said that Bangladesh only possessed Shakib Al Hasan and Mustafizur Rahman as world-class bowlers.
The Sri Lankan captain's stance did not sit well with Bangladesh team director Khaled Mahmud, who claimed that Sri Lanka's lineup lacked any elite bowlers when he was questioned about it during a news conference.
Also Read: Will Mohammad Shami be included in Australia and South Africa series after Asia Cup 2022?