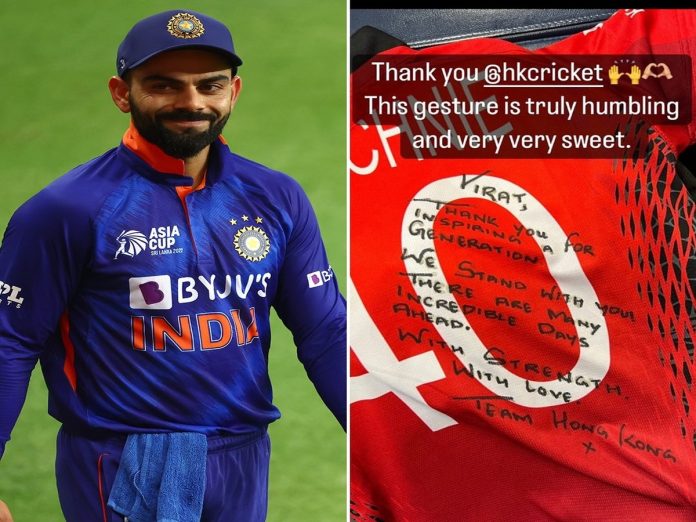 One of Team India's biggest gains from their victory over Hong Kong in the Group A match of the Asia Cup 2022 was the presence of former India captain Virat Kohli.
Kohli scored an outstanding unbeaten knock of 59 runs in 44 balls against Hong Kong on Thursday after scoring 35 runs in the match against Pakistan on Sunday. While the 33-year-old garnered cheers from fans around the world of cricket, the Hong Kong team also paid homage to the international cricket great following the game.
Hong Kong made the choice to give Kohli a team shirt with a heartfelt message written on it despite losing the game by a score of 40 runs.
"Virat, thank you for inspiring a generation. We stand with you! There are many incredible days ahead. With strength, with love, Team Hong Kong," the message read. After the game, Kohli shared a photo of the Hong Kong shirt on his official Instagram account and thanked the players for their thoughtfulness.
'This gesture is truly humbling,' says Virat Kohli
"Thank you Hong Kong cricket, this gesture is truly humbling and very very sweet," Kohli wrote in the Instagram story.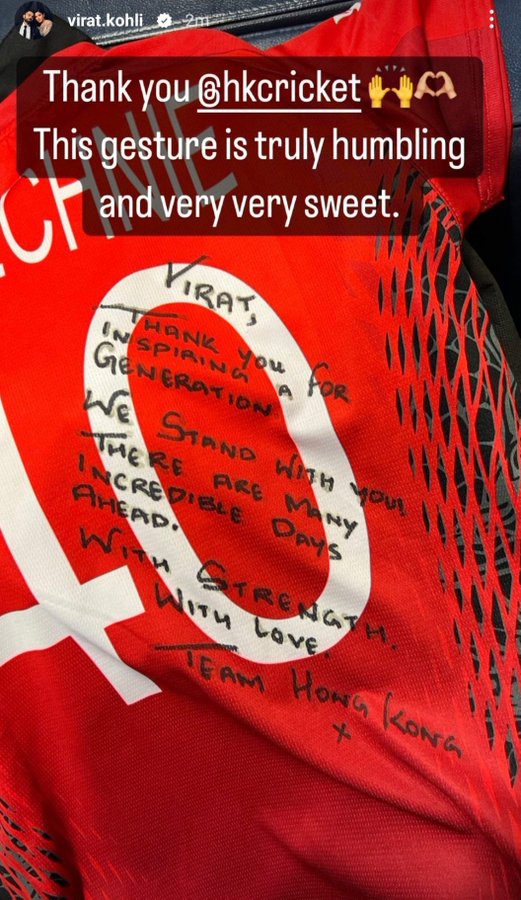 The picture of consistency
Virat Kohli is well-known throughout the world and has long held himself to extremely high standards. Before he lost his stellar form in the last three years of international cricket, the 33-year-old was regarded as the picture of consistency. Despite this, India gave Kohli a long rope because they recognise his value and knew it would eventually pay off.
It is important to note that Kohli had a month-long sabbatical before the Asia Cup 2022 because he didn't score many runs during India's tour of England that year. Despite the fact that this was Kohli's second fifty for India in the last five T20I matches, he was thought to be out of form.
Also Read: Afghanistan matches in Asia Cup 2022 Super 4's, Teams name, Date & Time, When & where to watch Live streaming