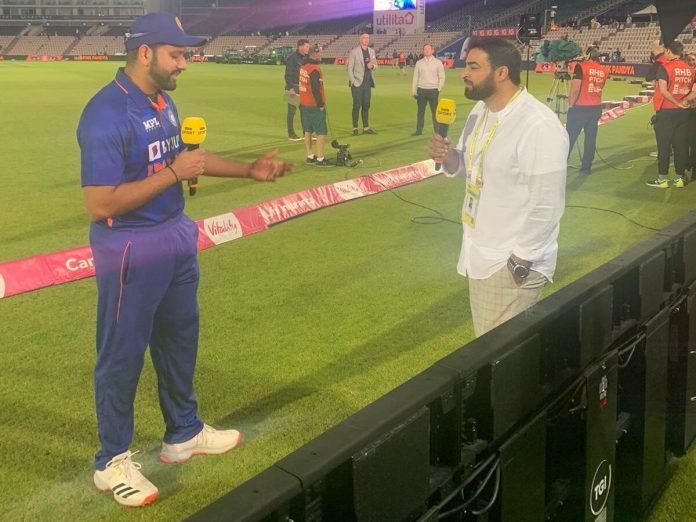 Cricket fans across the subcontinent are ecstatic that the Asia Cup has returned after a four-year absence. The multi-nation competition kicks off Saturday in the UAE, with Sri Lanka and Afghanistan facing a battle in the opener. The match between arch-rivals India and Pakistan, which takes place on Sunday in Dubai, is certainly the most thrilling component of this competition.
Just a day before the start of the Asia Cup, India captain Rohit Sharma was seen questioning some journalists about recent rumours regarding his colleagues Yuzvendra Chahal and his wife Dhanashree Verma. Earlier this month, various stories surfaced claiming that Chahal and his wife are not getting along.
Rohit had a lighthearted interaction with the attendees at the training facility on Friday. Yuzvendra Chahal arrived when the Indian captain was watching his team's drill from the boundary line.
After the two exchanged some words, Rohit asked the media persons who propagated rumours about the leg-poor spinner's relationship with his wife Dhanashree Verma. Mufaddal Vohra posted a video of the conversation on Twitter.
Rohit Sharma asking journalists on who started the fake rumours on Yuzvendra Chahal's personal life. 😂 pic.twitter.com/A6V9fkz9R1

— Mufaddal Vohra (@mufaddal_vohra) August 27, 2022
The question seemed to have created a ruckus among the journalists as one of them could be heard saying, "Mere baare mein koi bol de to aaj hi resignation. Suno main bata dun kisne chalai (If anybody can prove it's me then I'll resign right away. Let me tell you who spread it out)".
Rohit curiously asked him to speak out the name but the journalist denied it, stating that it won't be right. However, he hinted, "Yahin par hai par naam nahi bolunga (He's here but I won't take the name)."
It was soon clear that Rohit and Chahal were tugging the guy whose voice could be heard in the video's leg. Even the journalist stated that it wasn't him.
Yuzu Chahal – Dhanashree Controversy
Dhanashree changed her name on Instagram last week, dropping the surname Chahal. Chahal's claim about establishing a "new life" fueled the speculation. These developments have fueled conjecture that everything is not well between husband and wife, with some even predicting that the couple will divorce.
On Sunday, Dhanashree sent a lengthy Instagram message in which she addressed some personal news about her knee condition as well as 'strange news' about her supposed divorce.
Also Read: 'Bringing IPL experience to Sri Lanka side will create lots of positivity': Bhanuka Rajapaksa ahead of Asia Cup 2022