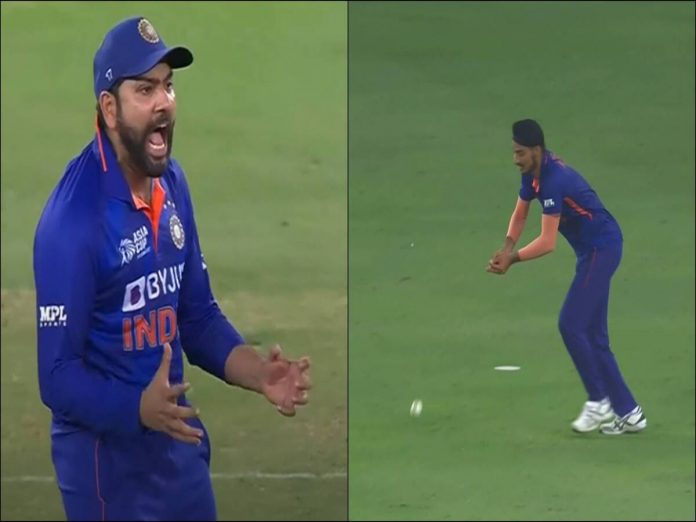 Pakistan upset India by five wickets in a last-over thriller on Sunday in the Super-4 match in Dubai to revenge their defeat by the same margin the previous weekend. The present Asia Cup 2022 has already included some incredible matches, and there was another addition.
The Super Four round game of the current Asia Cup turned out to be the most recent of the last over thrillers that India and Pakistan have been producing. Pakistan was able to maintain composure and completed the 182-run innings with just one ball remaining.
Even though the Men in Green batted brilliantly throughout the frantic chase, Asif Ali's dropped catch from Arshdeep Singh ultimately proved to be the game's turning moment.
After the catch was missed, Rohit Sharma appeared to be upset. Watch here:
September 4, 2022
IND vs PAK – 18th over of the innings
When Ravi Bishnoi was bowling the 18th over of the game, the incident took place. The flighted delivery Asif Ali attempted to slog sweep barely yielded a top edge. The person who quietly slid under the ball was Arshdeep. But unexpectedly, and much to everyone's dismay, the left-arm pacer fumbled the catch.
The ball probably passed right through his hands because he probably took it too lightly. The Indian team members in the middle, along with the rest of the crowd, all had their hands on their heads. At covers, Rohit Sharma was fielding and enraged by the missed opportunity.
Although he didn't yell at Arshdeep Singh, it was obvious that he wasn't pleased with the effort made. Asif Ali ended up scoring 16 runs off of 8 balls at that vital point in the game, which was significant in the overall scheme of things.
Arshdeep in the last over
Even though Asif was trapped in front of his stumps by Arshdeep in the final over since only two runs needed to be scored off the final two balls, it was already too late. With the penultimate ball of the game, Iftikhar Ahmed completed the necessary steps to give Pakistan a stunning victory.
Also Read: Netizens troll Arshdeep after he dropped match winning catch against Pakistan, call him 'Khalistani'; Watch