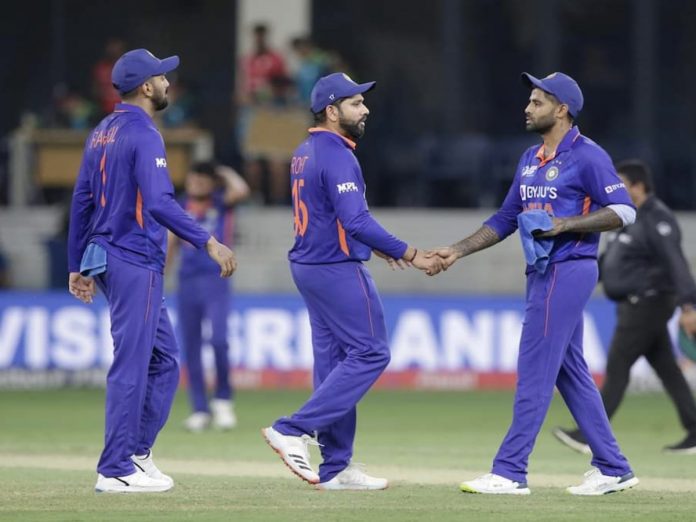 Suryakumar Yadav, the star batter of the previous game has supported struggling opener KL Rahul despite his terrible recent performance. He mentioned that the team's vice-captain had only recently made a full recovery from an injury and might need some time to settle in.
Rahul hit 36 runs against Hong Kong on Wednesday in Dubai during the Asia Cup 2022 match (August 31). He required 39 balls for the same total, though, and did not appear to be in good rhythm while he was at the crease.
After 13 over, Rahul was dismissed by Mohammad Ghazanfar with India on 94 for 2. To advance the team to a commanding total, Suryakumar had scored 68 runs off just 26 balls.
The hitter was questioned if he would be seen opening the innings as part of Team India's experimentation at a news conference after the game. The 31-year-old responded cheekily:
"Aap bol rahe ho ke KL bhai ko nahi khilana chahiye? (So you mean to say that KL should be dropped?)."
Suryakumar Yadav replies to a question on KL Rahul's inclusion in the team. pic.twitter.com/1pVdUvuh0e

— Mufaddal Vohra (@mufaddal_vohra) September 1, 2022
Suryakumar stated that he is ready to bat at any position that benefits the team while supporting Rahul. He stated:
"He (Rahul) is coming back from injury, he also needs some time. We have some time right now. As far as I am concerned, I have always said that I am very flexible to bat at any number. I have told the coach and captain that make me bat at any number, but just play me."
"Things will go on. There are a lot of things we are also trying. Instead of doing it at practice, it is better to try those things during a match. We will get a better idea, so we will see how it goes," he added.
India in Super 4 of Asia Cup 2022
India has advanced to the Asia Cup's Super Four Stage after two dominant victories against Pakistan and Hong Kong. The team led by Rohit Sharma was able to perform flawlessly with both bat and ball in both contests. India will now face the winner of Sunday's opening Super Four Stage game between Pakistan and Hong Kong.
Also Read: How to watch live streaming of SL vs BAN Asia Cup 2022 in India today