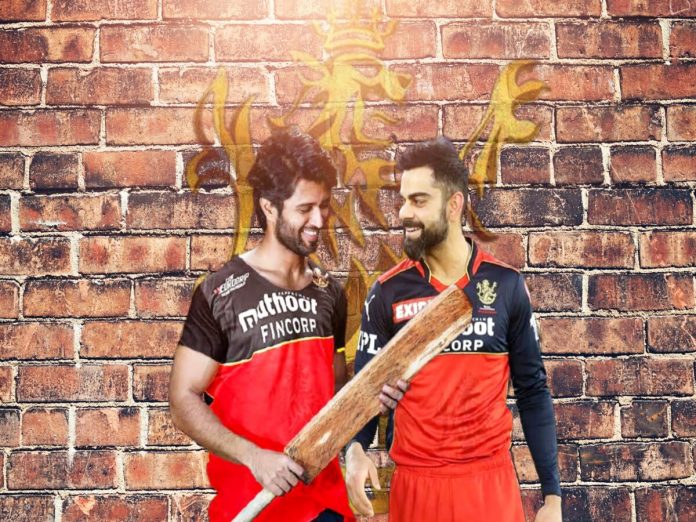 In a recent public appearance, well-known South Indian hero Vijay Devarakonda expressed his desire to portray former Indian captain Virat Kohli in a biographical film. The actor claimed that Sushanth had no choice but to portray Virat Kohli because he had already played the character of MS Dhoni. The actor's response elicited a range of responses on online discussion boards.
On Sunday, Deverakonda attended the eagerly awaited India vs Pakistan Asia Cup match while promoting his most recent film, Liger. The hosts asked him which player he would like to play on the big screen before the game. The media were interested in the 33-year-response.
Vijay Deverakonda, the actor of Arjun Reddy, stated his interest in acting in a Virat Kohli biography. When he was questioned about the subject of his ideal biography, he replied, "Dhoni Bhai biopic already done by Sushant so I'm interested to do Virat anna biopic"
Who will be lead in Virat Kohli's Biopic?
Since Mahendran Singh Dhoni, the former captain of the Indian cricket team, became a national sensation with his book "MS Dhoni, The Untold Story," making biographical films on sports figures has become a trend in Indian cinema. A movie is being developed about the successful event of India winning the world cup in 1983 because cricket is the most popular sport in India. "Sachin: A Billion Dreams" is the name of a Sachin Tendulkar-centered sports documentary movie.
Who will play Virat Kohli, the abrasive captain, is currently the subject of the biggest debate in Indian cricket and film. Kohli boasts numerous records in cricket and still has a long way to go in his career despite being the player to achieve 23,000 runs the fastest.
Kohli has the highest T20I average
On Wednesday, renowned Indian hitter Virat Kohli broke the record for the highest T20I average. Virat has now amassed 3,402 runs in T20Is at an average of 50.77 in 101 games. In the format, he has 31 half-centuries, with the highest individual score of 94*. He has a 137.12 strike rate.
Mohammed Rizwan, a hitter for Pakistan, who has played in 57 games with an average of 50.14, has been passed by him. Following them are the New Zealander Devon Conway (average: 47.20 in 23 games), the star Pakistani hitter Babar Azam (average: 44.93 in 75 games), and the Indian batter Manish Pandey (average of 44.31 in 39 matches).
Also Read: Why did Rohit Sharma ask Virat Kohli to bowl against Hong Kong after 6-years?